News Headlines
Tue, Nov 21
Tue, Nov 07
Wed, Nov 01
Tue, Oct 31
Mon, Oct 23
More news »
If you buy through a link on this site, we may earn an affiliate commission at no extra cost to you.
Learn more

Cooler Master MM712 Introduction
Cooler Master's MM712 mouse continues on the prior lightweight mouse design trends of the MM710 and MM711, while going back to a conventional design. The MM712 ditches the hexagonal cheese grater look and still manages to stay lightweight at under 59 grams.
The MM712 uses a PixArt optical sensor capable of up to 19,000 DPI. The MM712 is a hybrid wireless design that can operate for up to 80 hours in lag-free 2.4 GHz mode or up to 180 hours in Bluetooth 5.1 mode. Users can also connect the detachable Ultraweave cable that comes with an adapter for the wireless USB dongle.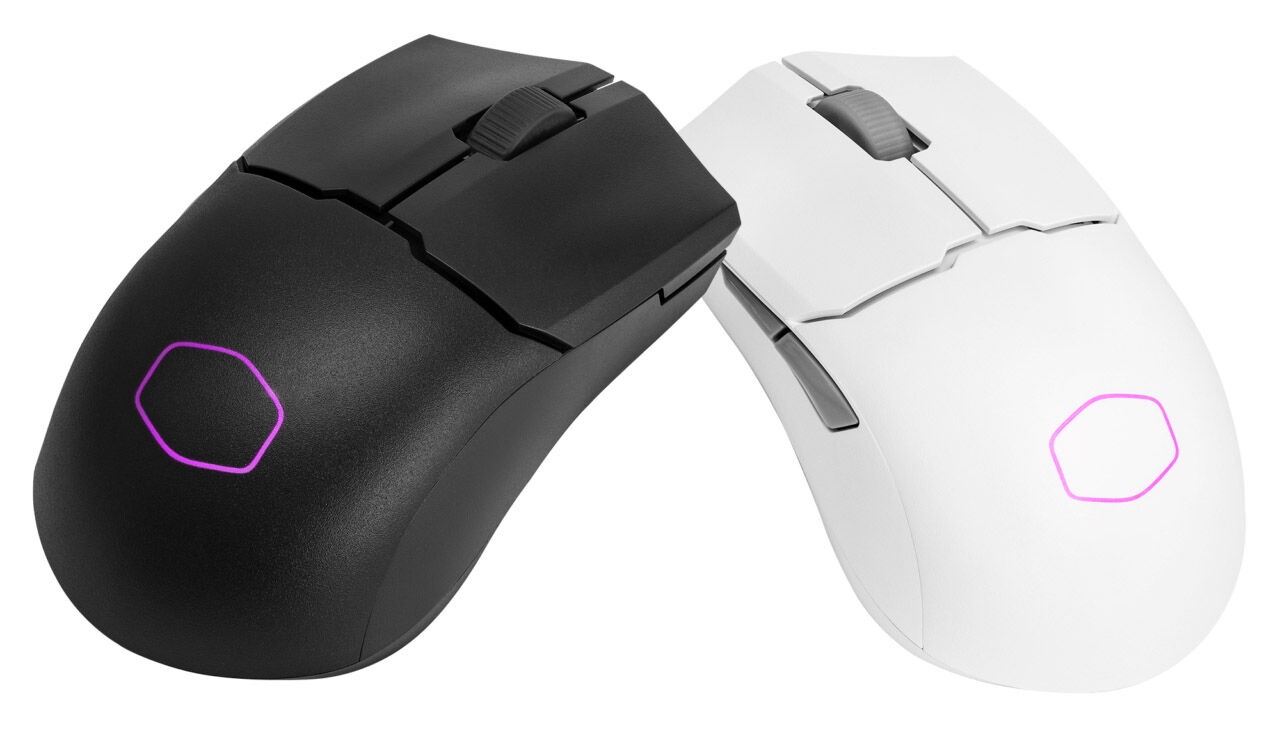 Cooler Master MM712 Closer Look
The packaging for the MM712 is standard for Cooler Master. The front shows the white MM712 in an isometric view with several of the main features listed along the bottom. The back of the box lists more of the features, including the hybrid wireless technology used, the 58g lightweight design, the ultraweave USB cable, pure PTFE mouse glide feet, and MasterPlus software. Bundled accessories include the Ultraweave USB-A to USB-C cable, and a USB-C to USB-A adapter that allows connection to the USB wireless dongle.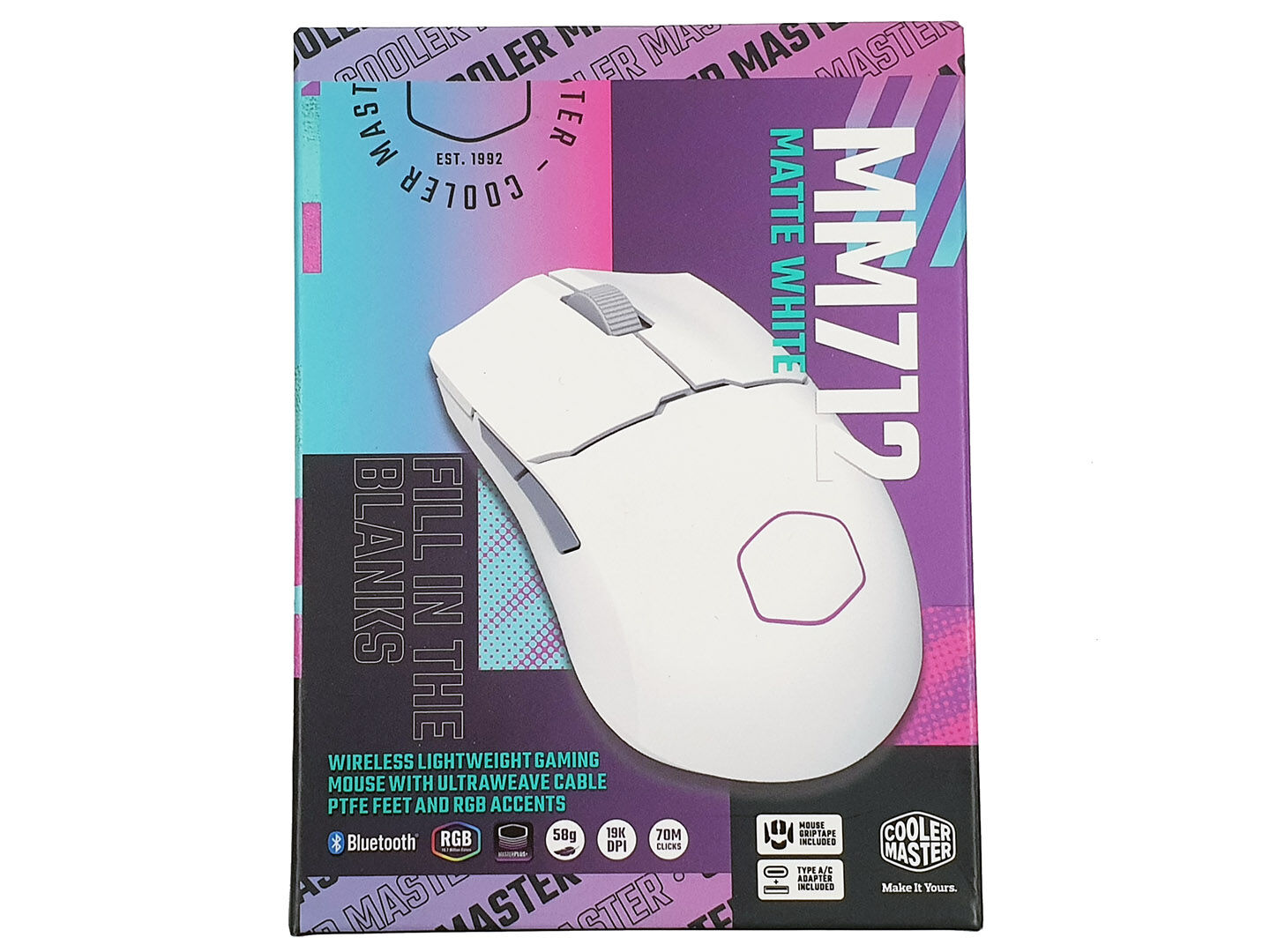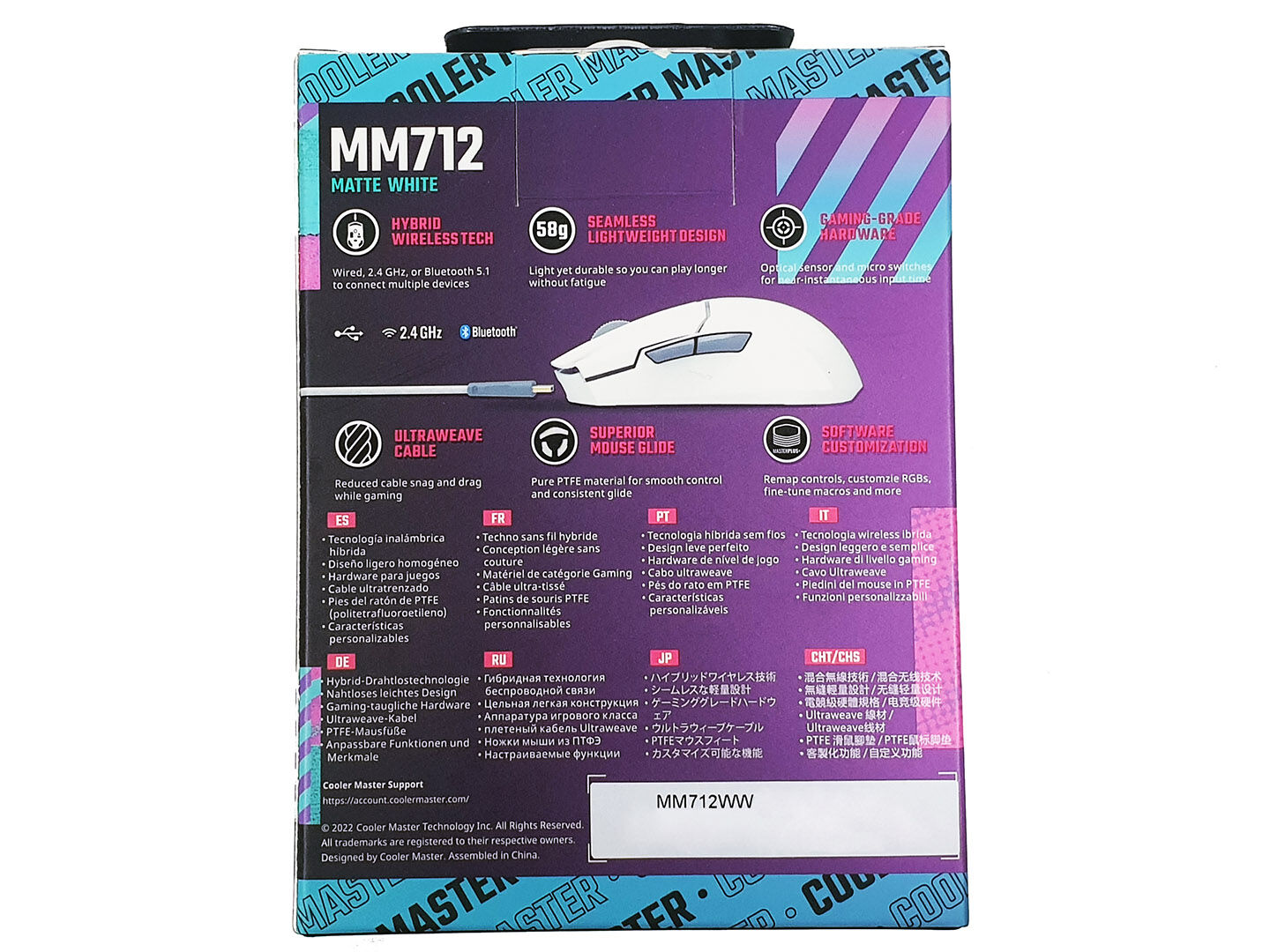 The MM712 is nearly identical to the MM711, minus the edgey holes. The layout looks solid, and the mouse feels well in the hand while being on the smaller side. Flipping the mouse over shows how the optical sensor is more forward than most mice, so it may take some adjustment for new users. There is an LED and button for pairing, and a switch for toggling between Bluetooth, USB, and wireless modes. A wider button near the large MM712 logo allows for DPI switching. A hatch near the optical sensor conveniently holds the USB wireless dongle when not in use. The left side of the mouse has two buttons that are forward enough that even palm-grippers should be able to toggle both buttons – a problem for many other mouse designs. The right side is easily grasped by your pinky for mouse lifting or traversal.
The left and right click buttons feel solid and click well, and don't seem to pinch any errant fingers that might be resting besides them. The scroll wheel moves very well in "clicks" with a good grip from the rubber. The middle mouse button clicks are crisp too. The MM712 feels like a winner, but we'll have to get it installed and tested to truly find out.
Cooler Master MM712 Software
Right out of the gate I get prompted with firmware updates for the MM712 and MasterPlus software. It all worked properly, and after a few minutes I was able to open up MasterPlus. The overview screen shows any currently installed Cooler Master products that are supported by the software, as well as general system hardware conditions.
The MM712 configuation itself has six tabs options. The first are wireless settings for sleep and low power mode timing. The second tab is for button control where you can reprogram the buttons, and use mouse combos for changing the DPI or colors if enabled. You can click and hold the mouse wheel to use the other buttons in a combination; by default the left and right click are not set up, and the side button swaps colors. The performance tab is where its at to tweak settings for gaming! Cooler Master now allows you to unpair the X and Y axis sensitivity, which is very helpful in FPS games. I usually reduce the Y axis down to 95%, or sometimes as low as 90% of the X-axis to keep the mouse in the sweet spot in FPS games. You get up to 7 DPI profiles too, although I generally recommend using less so you can swap between them faster and easier. Another nice feature is the surface tuning feature to help maximize your mouse accuracy.
RGB lighting worked well, every color and LED mode seemed to work as intended. The LED speed is fun for the color cycling (rainbow effect) on a spectrum of slow to fast, but it felt more like moderate to very fast. The macros tab works as expected; you can record/import/export any combination of key presses and their delays to help you automate some tasks, which you can then bind to a function or button combination. Lastly is the profiles tab, where you can store up to five user profiles, and export or import them from files.
Cooler Master MM712 Specifications
| | |
| --- | --- |
| Product Number | Black: MM-712-KKOH1, White: MM-712-WWOH1 |
| Mouse Grip Type | Palm, Claw |
| Material | ABS Plastic, Rubber, Plastic |
| LED Color | RGB, 16.7 million colors |
| Mouse Sensor | PixArt Optical Sensor |
| CPI / DPI | 400-800-1200(Default)-1600-3200-8000-19000 |
| Mouse Tracking Speed | 400 ips |
| Mouse Lift Off Distance | < ~2mm / Adjustable |
| Mouse Polling Rate | 2.4GHz/Wired Mode: 1000 Hz, BT Mode: 125 Hz |
| Angle Snapping | Yes |
| Mouse acceleration | 50g |
| Mouse Lifespan (L/R switches) | Optical Switches, 70 Million |
| Mouse Buttons | 6 |
| Connectivity | Wired, 2.4 GHz, Bluetooth 5.1 |
| Battery Capacity | 500mAh |
| Battery Life | Bluetooth Mode: 180hrs (with LED Off), 2.4GHz Mode: 80hrs (with LED Off) |
| Charging | Support Wired charging |
| Compatible OS | Windows 8+, macOS, Android, iOS |
| Software | Yes, Cooler Master MasterPlus+ Support |
| Mouse Cable | Detachable Ultraweave Cable, 1.8 M (Type-C to Type-A) with Gold-plated |
| Mouse Dimensions | 116.5 x 62.4 x 38.3 mm / 4.587 x 2.457 x 1.508 inches (L x W x H) |
| Mouse Weight | < 58g / 0.13 lbs (w/o Dongle & Cable) |
| Mouse Warranty | 2 years |
| Product | Mice |
| Series | MM Series |
Information Courtesy of Cooler Master @ https://www.coolermaster.com/catalog/peripheral/mice/mm712/
Cooler Master MM712 Conclusion
The Cooler Master MM712 wireless gaming mouse is very capable with a battery that lasts for days, as well as an accurate sensor (that may take some time to get used to), vivid RGB lighting, and easy configuation through both the MasterPlus software and combo button capabilities! The MasterPlus software unlocks potential for anyone willing to take the time to set up profiles.
The Cooler Master MM712 is available now at major retailers including Amazon for $68.37 USD. The black model can be found on sale for $59.50. Amazon also offers a limited 30th Anniversary edition for $59.99 as well.
If you're in the market for a great gaming mouse, the Cooler Master MM712 is a solid choice.

---
Comments