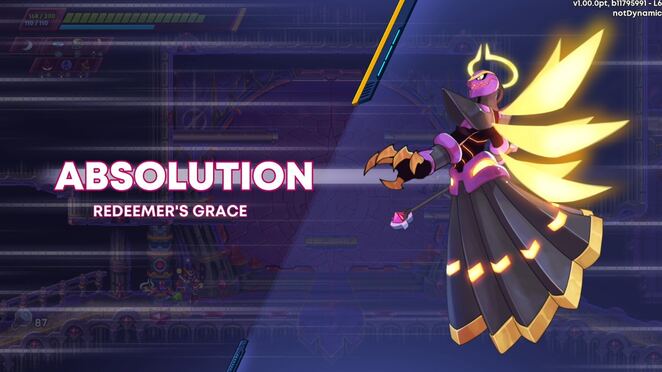 Absolution will stay in one place until it throws its axe. While it is standing in place, it'll three possible attacks:
Projectiles - It'll launch 3 sets of 5 projectiles in your direction. They'll fly towards you like a shotgun blast so you'll have to jump between them.
Lasers - It'll fire a single laser. It doesn't immediately do damage so you have time to react, just make sure to get out of the laser quickly! After it fires one laser, it'll then fire two lasers. The same rules apply, it won't deal damage immediately but get away before they do!
Black Hole - These are very frustrating because they'll stay in the room for a while and if you let too many up, it'll be hard to even find a safe space to stand. It'll summon a large black hole that will move slowly towards where you were when it was summoned. It'll remain there for about 30 seconds before disappearing. There is no limit to how many black holes can be on the screen at once!
After it performs a couple attacks, it'll throw its axe at you. Jump to avoid it. It'll then fly directly for the axe so make sure to avoid the boss while it's moving as well. You have some control of where the boss will move to because it'll always move towards the axe. After you deal about half damage, the boss will fly off the screen and you'll enter the second phase of the fight. You'll see three glowing shapes in the center of the room. Each one will perform a different attack when it glows.
Vertical Line - Will fire 8 fireballs horizontally across the center of the room. These move slowly so they can be easily avoided.
Diagonal Line - Will fire projectiles horizontally and vertically. When they hit the walls, floor, and ceiling, they'll move towards the corners of the room. You can stand on one of the upper platforms without having to move to avoid the projectiles.
Circle - Will launch a single black hole at you.
You have to destroy each of these shapes to break the background and have Absolution re-enter the room for the final phase of the fight. Everything from this point is what you're used to in the first phase but it'll use the same attacks more often, such as using the laser attack four times instead of twice, and move a lot faster. This boss fight is all about being aggressive because if you aren't, the black holes will eat you alive. This fight is much easier with Nina because you can constantly attack from a distance. It's trickier with Ace. With Nina, just focus on the offensive. When you're Ace, focus on getting her to the floor, preferably around the center of the room, so you can get behind her during her attacks and quickly attack. It's really the only safe area to consistently attack with Ace. With Nina, just focus on avoiding its attacks while constantly countering with attacks of your own. You can win this whole fight from the upper platforms as Nina whereas you want to stick more to the ground as Ace. After defeating the boss, you will unlock the following abilities:
Ace - Void Double - This is an interesting ability. When you activate it, you'll create a black hole where you stand. You can then move around but you'll see a shadow version of Ace remain in the black hole. You can keep attacking and the shadow version of Ace will also attack. This can be a great power up for bosses where you can get close then run away and keep attacking! You can also use this and stay in place to deal double damage to enemies while it's up!
Nina - Crushing Void - you'll launch a black hole straight ahead of you that will suck up smaller enemies and deal big damage to them!
---
Last edited
by vinheim
on