Hazards
---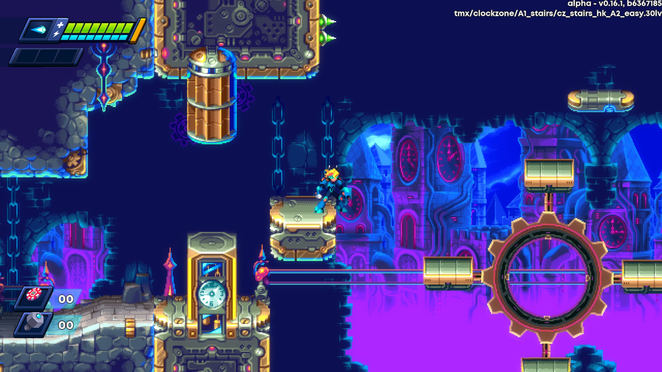 One of the unique features of Clockzone are these rotating platforms. They move slowly so you have plenty of time to make adjustments and jump to or from these with precision. Sometimes there will only be one platform on these that will swing side to side like a pendulum. In those instances, wait for it to reach the end of a swing to jump onto or off them. Furthermore, they may also be on tracks and these rotating platforms can move up and down or left and right!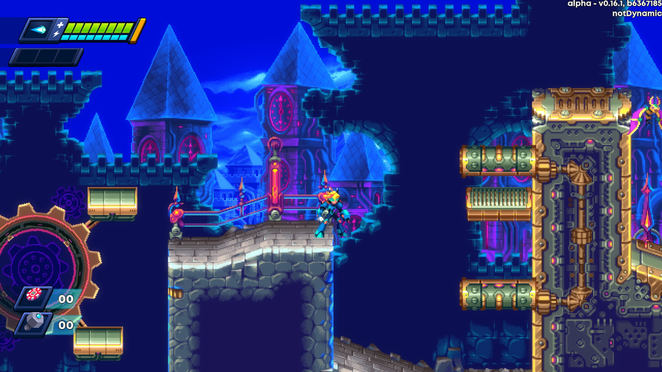 These falling platforms can be rather annoying. You'll see them appear walls with a gate at the top and bottom. They can go from the top to the bottom, appearing at the upper gate and disappearing at the lower gate. The tricky thing with these is that you can't jump through them. That can make it particularly challenging to wall climb up an area with these platforms. Try to time your jump towards these right as a platform is about to spawn in and quickly wall climb up to avoid being blocked, especially when there's another hazard below! You may even run into instances where if you don't jump through these quickly, it'll force you into lava below. Time your jumps accordingly and don't rush into a jump here.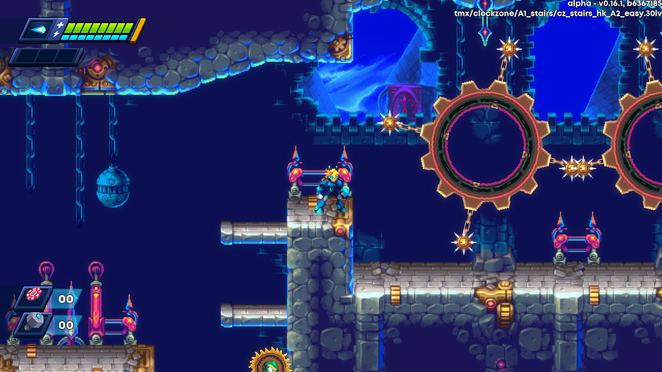 Similar to the rotating platforms, you'll have these rotating spike balls. They will spin at a constant speed so make sure to time your jumps accordingly to not hit any of the spikes. Some of the rotating cogs can mix these small spikes and platforms together! You can also run into a single large spike ball swinging like a pendulum. Be especially careful around these as the hit box is huge! You could actually dash under some of these as you become smaller while dashing. When you reach this stage later in runs, you could actually get several of these stacked on top of each other! They'll vary speeds so you'll have to be even more careful with your timing!
Enemies
---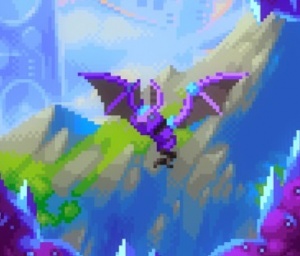 Description - These will just slowly fly in your direction. They don't have much health and can be killed quickly. They're only really an annoyance when they're blocking a jump to another platform but you can just wait for them to get within range of your attack and kill them then.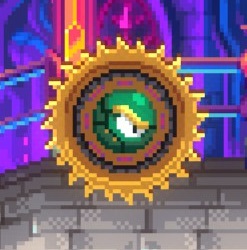 Description - These wheels just move side to side. They don't really pose much of a threat. They have a limited patrol range. If you stay out of it, they'll never reach you. They can also spawn on walls that you'll have to climb up. Be careful around these as they'll probably be your biggest threat when you see them.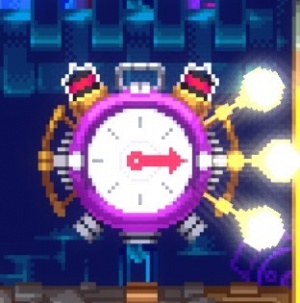 Description - You'll see a face of a clock on this turret. It'll keep spinning and fire a shotgun blast of three projectiles in the direction the clock hand is facing in. It fires rather rapidly but considering how long it takes to get all around the clock, you shouldn't have much issue waiting for a good opportunity to attack. Keep an eye out on these when there are other enemies or hazards nearby and attack them when it's safe.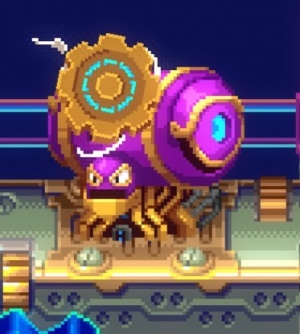 Description - These don't move but have a lot of health. Furthermore, they'll launch cogs out of their backs like cannons. They'll be targeted towards you and fly in an arcing pattern. You'll have to constantly be on the move while avoiding these enemies. Attack when you can but don't get too greedy.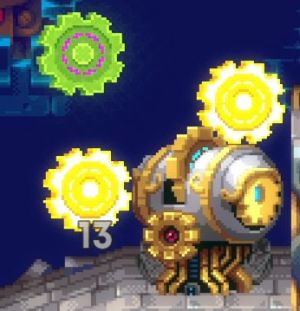 Description - These are similar to the previous ones. These, however, have 2 types of cogs. The first are the green ones. They throw these out in a small arch and will move across the floor. Easy to jump over. The other are the yellow cogs. These act as a barrier for the enemy and when you hit them they'll shoot themselves towards you. Be very careful of them when attacking the enemy.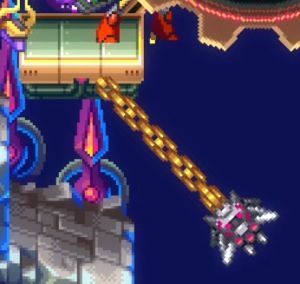 Description - These are chains that are hanging from ceilings or moving platforms and sway left to right. They toss out a little spider that attacks you every now and then, but they can be destroyed in one hit.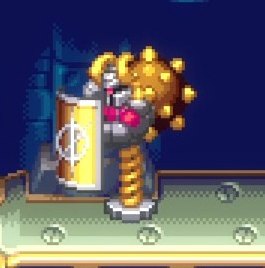 Description - These are little robots that carry a shield and a huge wreckingball behind them. They tend to hop around and often over you, but if you're within their range they'll attack. They do so by throwing the ball towards you then swinging it backwards in a half circle. Of course thei have their shield to protect them so the best way to deal with them is by luring out their attack, dodging it and attacking while they're in the middle of their attack animation.
Bosses
---
Cog Brain (Mid Boss)
---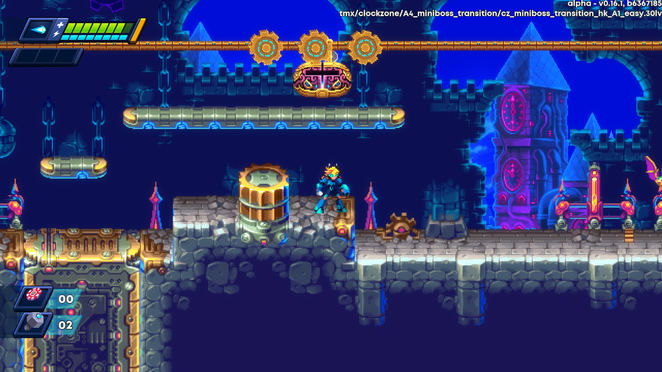 This mini boss isn't much of a boss in the sense of you having to deal damage to it, in fact, it's actually invincible! This whole fight is really a chase sequence. It'll slide along the track going left to right. It can stop and change directions if you move to the left of it. It'll periodically shoot three cogs out of the top of itself that will fall down in your direction. You have to head to the far right while avoiding all the hazards and enemies you have dealt with up to this point in the Clockzone. When you reach the end of the path, it'll move into giant swinging spike balls and blow up.
Lethal Tempo (Boss)
---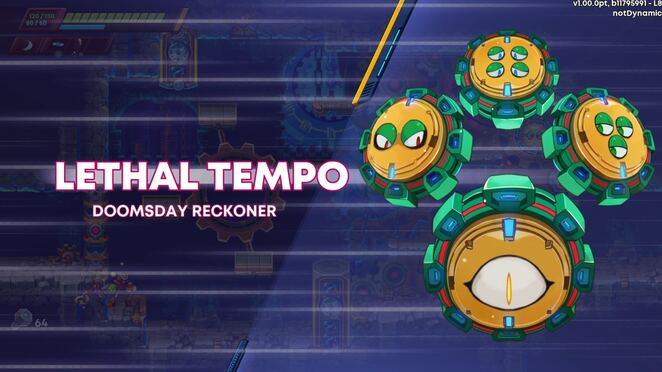 This boss doesn't move, in fact, it's really 4 different turrets that appear on the far right side of the wall. Each face of the turret has its own health bar which you can see on the right side of the screen. The turrets will all attack in order from top to bottom. They can perform the following attacks:
Targeted Shot - It'll launch a single cog in your direction.
Shotgun Shot - It'll launch three cogs straight to the left in a shotgun blast.
Mortar Shot - It'll launch a single cog in an arcing fashion in your direction that will drop down on you from above.
Laser - It'll fire a large laser across the room horizontally.
When the top turret uses one of the attacks, the remaining turrets will use the same attack. Every time you destroy a turret, each turret's attacks will become stronger. For example, the targeted shot will fire more than one cog or the laser will be thicker. This boss fight should be handled a bit differently depending on what character you are playing as. If you're having trouble dealing with the later attacks, try to lower all of their healths to be very low so you only need one or two attacks to destroy each turret and then just destroy them quickly.
For Nina, try to take out the bottom turret first, then work your way from top to bottom. You have the wall at the bottom that you can hide behind to protect you from any attack. The only tricky part about it is the thicker laser from the bottom turret late in the fight can still hit you, that's why you should take out the bottom turret first. Their attacks become harder to avoid as they all die so work your way from top to bottom since it'll be harder to get to the upper turrets as the fight goes on.
If you're going into this fight as Ace, it really depends on how much health you have and how risky you want to be. If you have a lot of health, you can destroy the two center turrets first. From there, you can get behind the upper and lower turrets and just keep attacking. The only attacks the turrets can hit you with from there is a targeted shot. The tricky thing is by that point, you won't have much time to react or anywhere to go so you are bound to take some damage. If you don't want to risk taking too much damage and want to take some more time, work your way from bottom to the top. You can jump up and down the right platforms and hit all of the turrets with ease, unlike Nina, so attacking from the bottom gives you a warning of what attacks will be coming.
You have to destroy all 4 turrets to defeat this boss. Upon doing so, you'll be rewarded with the following abilities:
Ace - Dolomite Link - You'll attack with a whip that will actually pull you closer to the enemy and instantly deal damage to them. This doesn't deal a ton of damage, it only has a base damage of 20, so it may not be the smartest tool against tougher enemies. That being said, it does help you clear gaps and will instantly kill weaker enemies.
Nina - Aiming Gear - This will shoot a large cog in whatever direction you are holding your left analog stick in. You can fire this up, down, left, right, and any diagonal direction. Furthermore, this also bounces off ceiling and floors. It can hit multiple enemies with a single shot!
---