The Blade of Frontiers is Wyll's Companion Quest which begins if you choose to travel with him during Find a Cure.
Hunt down Karlach
---
Head northeast of Risen Road to find a path with Hyenas. A scene will play as one of them is about to burst. You can try to comfort it or melee attack it.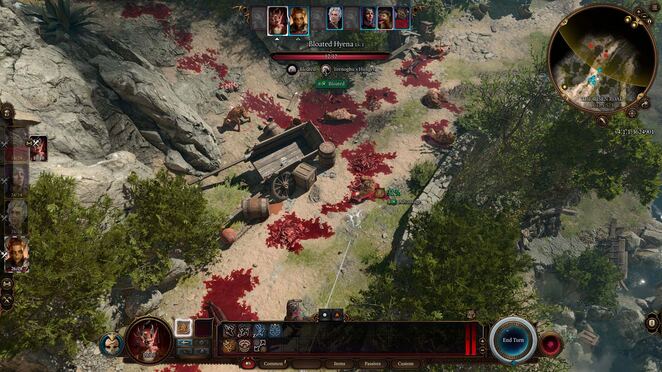 | Option | Check Type | Difficulty To Clear | Success | Failure |
| --- | --- | --- | --- | --- |
| Strike while the beast is vulnerable | Dexterity | 12 | Prevent Gnoll from hatching | Gnoll bursts out |
You still have more Bloated Hyenas to deal with and one regular Hyena. Ranged attacks and spells can easily finish them off. If you are too slow, Newborn Gnolls will hatch from the Bloated Hyenas, providing a more powerful opponent. But if you don't defeat the regular Hyena, it summons more Gnolls. Area-of-effect spells are useful in reducing the targets.
Don't go up the ramp past the broken cart as there are more Gnolls. You can go around the left path before the Hyenas if you want to take them on. Otherwise, head past the Hyenas and take the southeast path. You will see a trail of blood leading to Karlach, the demon Wyll is hunting.
If you fight Karlach, you can put a melee unit such as Lae'zel in front of the tree leading to her. Ranged attackers can hit Karlach while your melee unit fends her off. After her defeat, speak to Wyll to confirm the kill. Don't forget to loot Karlach's body afterwards.
Head back to Camp and end the day to trigger a scene with Mizora, Wyll's patron. If you try to attack Mizora, Gale, Astarion, and Lae'zel approve the action. You will get the Infernal Robe as a reward.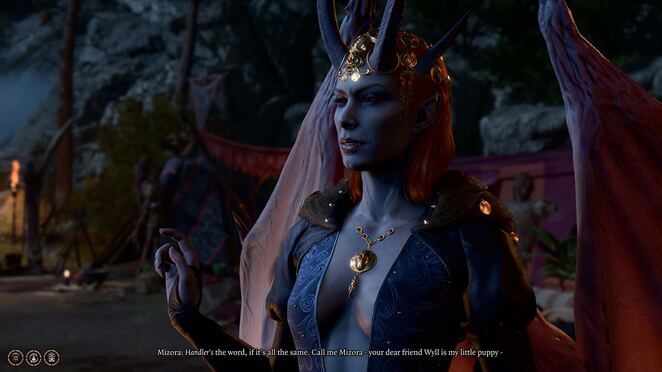 Protecting Karlach
---
You can persuade Wyll out of attacking Karlach, either by saying he saw what you saw or by recruiting her. Lae'zel, Gale, and Wyll will approve of not fighting Karlach. This recruits Karlach into your party or sends her to camp. Speak to Wyll afterwards, then take a Long Rest at Camp.
Mizora will appear to confront Wyll about the broken deal. Selling out Karlach in any way gets massive disapproval in the camp (from Lae'zel, Gale, and Karlach). Despite the option, Karlach won't actually be killed. Saying Mizora won't leave alive gets approval from Astarian, Lae'zel, Shadowheart, and Karlach. After the scene, talk with both Karlach and Wyll.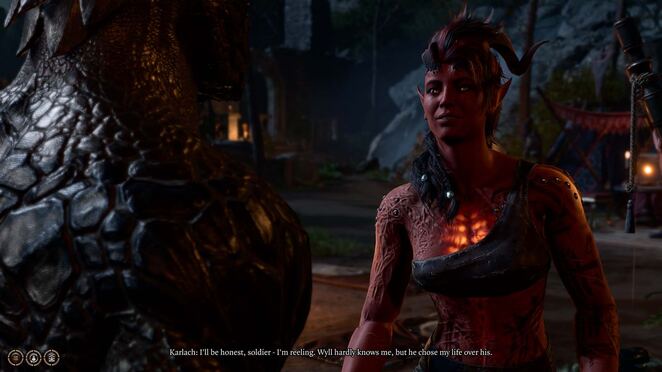 Rescue Zariel's asset from Moonrise Towers
---
When you reach Moonrise Towers, Mizora will approach you again and ask you to free a devil. If you pass a quick Perception check, you learn that Mizora is desperate. This lets you potentially barter Wyll's freedom with an Intimidation, History, or Performance check. These options only show up if you pass the Perception check; it's just a regular mission if you never see it.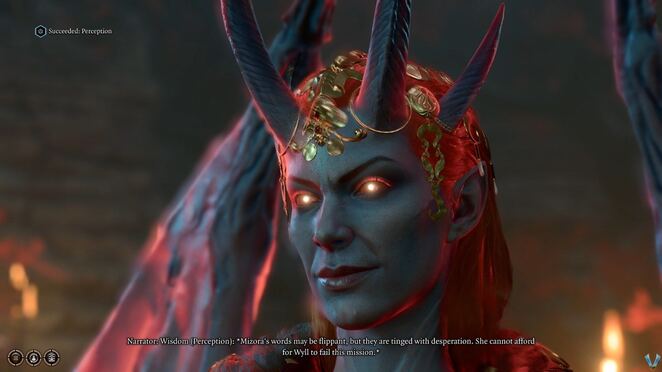 | Check Type | Difficulty To Clear | Success | Failure |
| --- | --- | --- | --- |
| Intimidation | 14 | Mizora allows you to release Wyll | Must wait for another opportunity |
| History | 14 | Mizora allows you to release Wyll | Must wait for another opportunity |
| Performance | 14 | Mizora allows you to release Wyll | Must wait for another opportunity |
After the events with Mizora we'll want to continue going through the Shadow-Cursed Lands and the main questline until we reach the main quest "Defeat Ketheric Thorm".
During said quest we'll fight Ketheric Thorm at the top of Moonrise Towers, but he'll run away. Check your map and head northeast to find a part of the tower that's destroyed. It leads to the Hollow Tower. You will get a warning before you leap through; save and rest if necessary before going in. This leads to the Mind Flayer Colony.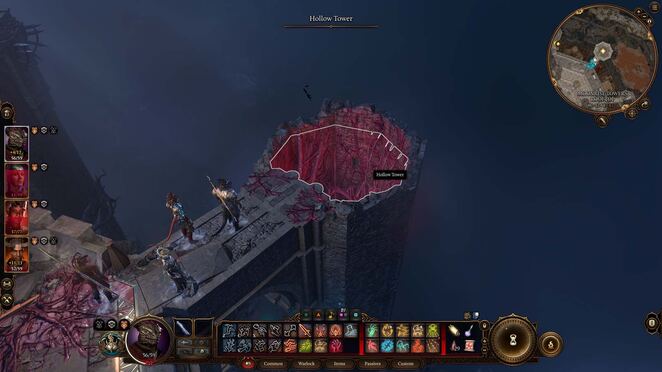 Destroy the Membrane blocking your way and follow the path. When the path splits, check your map and go south through the Membrane Door.
If you are pursuing side quests, head east at the path split. This leads to a second path split where you should go north. You will find a Neural Apparatus which allows you to release or purge the pods. If you release the pods, you will fight some Intellect Devourers and Mind Flayers. You will get some allies to fight with you as well.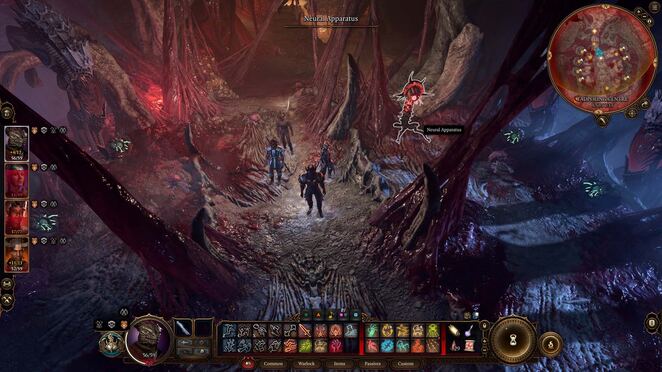 The Mind Flayers can stun with Tentacle Whip while the Intellect Devourers attack the victims. Mind Flayers can also use Mind Blast to stun a large area. Anyone who is stunned is ripe for Extract Brain, killing them and healing the Mind Flayer. Focus on the Mind Flayers, with your allies assisting with the assault or holding off the Intellect Devourers.
If you know you will fight, it might be easier to take out the Intellect Devourers before activating the Apparatus. The Mind Flayers will not get much support, allowing you to focus your full attention on them.
Purging the pods will skip the battle and gain EXP, but it also causes you to prematurely complete the Find Zevlor quest.
Head north of the Mind Flayer pods whether you open them or not to find another Mind Flayer pod. Inspect it to find Mizora. She's who we were looking for. You can use a Strength check to break it open if your character is strong enough. Otherwise, examine the right device and connect with it to release Mizora.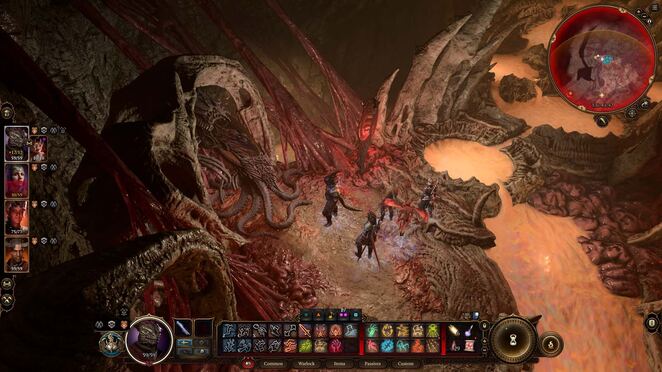 | Check Type | Difficulty To Clear | Success | Failure |
| --- | --- | --- | --- |
| Strength | 14 | You free Mizora | Must use devices to free her |
Alternatively, you can activate the left device though this ends Wyll's quest prematurely.
Freeing Mizora successfully gives you a chance to use a Persuasion check for an additional reward.
| Check Type | Difficulty To Clear | Success | Failure |
| --- | --- | --- | --- |
| Persuasion | 14 | You get the Infernal Rapier for Wyll | You get nothing |
Wait for Mizora to be in contact
---
For now we'll want to continue playing through Act 2 until we reach Act 3, which starts with us reaching the little town of Rivington (which in turn is right outside Baldur's Gate).
Once you reach Rivington you'll want to continue playing through the main story (CLICK HERE for that part of the main walkthrough) and eventually Gortash will talk to use via one of the Steel Watchers (the large robots patrolling). This is most likely going to be as you're going through Wyrm's Rock Fortress, the building that's in between Rivington (north of it) and the entrance to the Lower City.
As Gortash talks to you, he'll invite you to his ordination.
After the little talk with Gortash, head north and as you cross the bridge you'll be approached by Mizora. She knows Gortash just invited us and tells us to go watch it then come back to her.
From here on out, you'll want to continue playing through Wyll's quest "The Grand Duke" until you finish it. I'll leave the link below so you can follow it.
Read The Legend of Ansur
---
Well, once you're done with Wyll's quest "The Grand Duke" that's been ongoing since Act 1, go ahead and read "The Legend of Ansur" that you get from the Duke.
Find the entrance to Ansur's lair, the Wyrmway
---
We need to fight Ansur's lair. This one is actually quite simple and we've most likely already been at the entrance. For starters we'll want to go to the Wyrm's Fortress's Prison. You can find this down the stairs west of the Wyrm's Rock waypoint.
Once down here the guards will be hostile if you fought Gortash already (or are planning on doing so). Regardless, at the fork near the entrance go left to the quest marker. Once here in this dead end you'll see a pair of dragon statues that are also torches.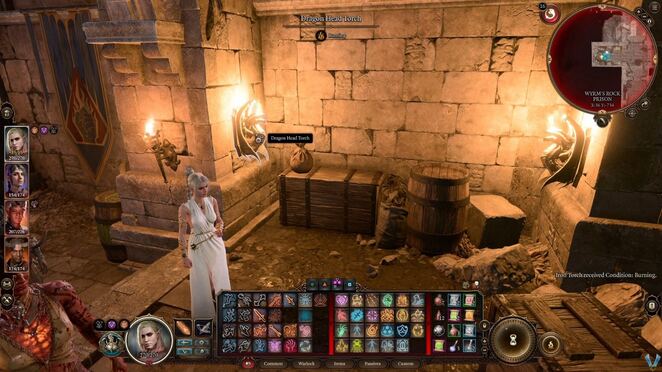 Make sure they are lit up and now what you want to do is to hit them with LIGHTNING. Anything Lightning will do: spell or items like arrows. You'll know it worked because the torches' flame will turn blue.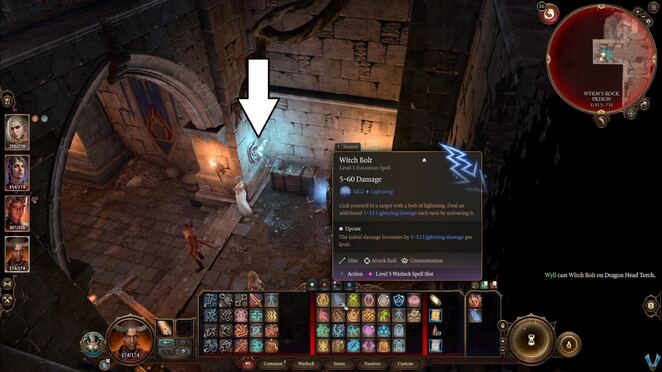 Doing this will make the wall disappear, giving you access to the lair at the end of the tunnels.
Find the way to Ansur
---
Welcome to the Wyrmway. Let's find this Ansur dragon and get out of here. Approach the door and the statue will talk to you. Tell it you're worthy and it'll let you through. Follow this path now until you reach an area with a large gate in front of you and 4 more Balduran statues.
Here we'll need to pass 4 trials in order to prove that we're worthy. There's one to the northwest (across the invisible path), one northeast, one west, and one east. Let's do this clockwise, starting with the western one.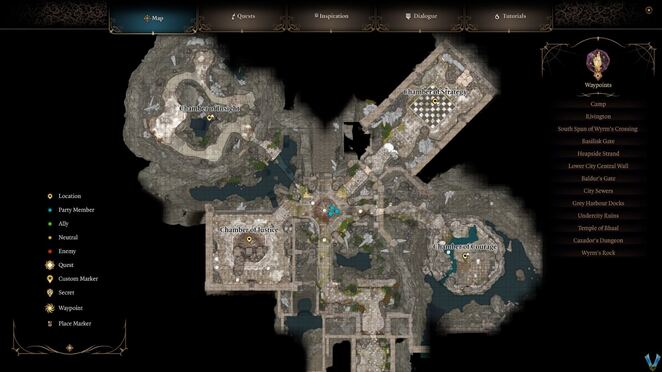 Trail of Justice
An easy trial. As you enter you'll see a specter of some kind called "The Judge" in the center of the room. You cannot do any damage to it and the only way to get rid of it is by either using Remove Curse Spell or Banishment Spell.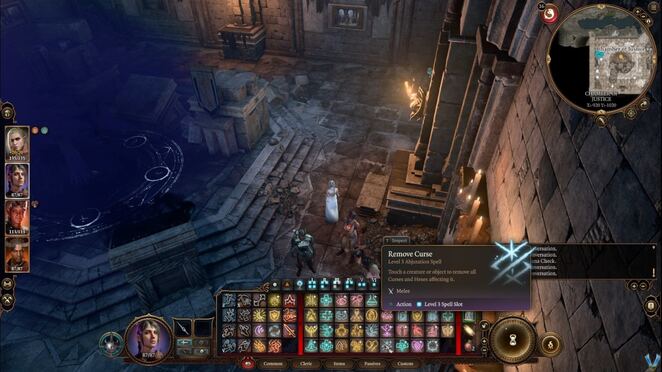 Anyway, before you even do so you'll need to check the paintings along the walls. There are several of them but they show you a story. The paintings start with The Apple and end with The Judgement.
Once you've seen the story, get rid of "The Judge" in the center and this will reveal 3 more paintings and a spot where you can place one. You pretty much want to pick up the painting that is the most appropriate punishment for the man in the painting and place it on the spot nearby.
Trail of Insight
This one is super easy. We pretty much want to decide who's the one that's no good for the city's prosperity. You can simply attack the right one from the get go without the need to learn who it is (read the answer below). If you want to see why then follow the path full of curves and along the way you'll see 3 books flying around. You need to catch these but the only way to do so is by entering Turn-Based mode (at least it was the only way I could). Once in this mode you'll need to pass a Sleight of Hand check but if you do pass it you'll pick up the book. Exit the Turn-Based mode and you'll get the book. Read it afterwards. Rinse and repeat with all 3 books.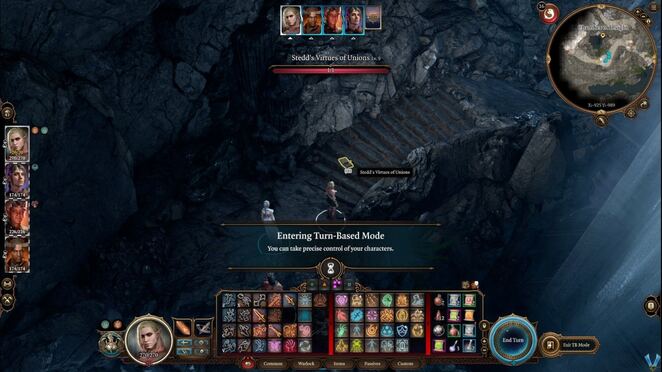 Trail of Strategy
This is a fun trail. We need to play ches... lanceboard here and win in 2 moves by doing check mate against the Black King Piece. You get 3 tries to get it right, or check the answer below. Either way it's super easy. There's also a way to cheese this.
Answer #1: Use ANY Lightning spell on the king to destroy it. Same spell you used to get into the Wyrmway works
Answer #2: You'll want to move the White Rook (1) to the right so that the Black Bishop eats it. Afterwards move the White Queen (2) right 3 spots so it's above the Black King. That's it.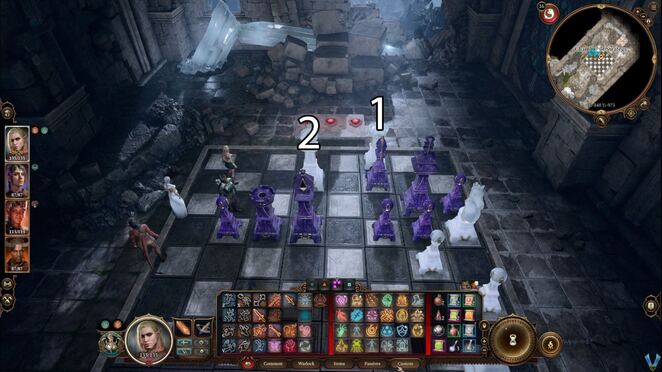 Trail of Courage
Probably the most difficult of them all. As you enter you'll see a Balduran statue in the center with a torch. What we have to do here is pick up the torch and survive 4 turns. We'll be fighting several Myrmidons and Elementals. There's a couple catches to this fight though: first the one wielding the torch CANNOT switch out their weapons. They'll need to use the torch as their weapon for all 4 turns. Secondly, we'll have several waves of these enemies, in pairs each time.
This isn't that hard of a fight, in most part thanks to their lower level. However, there is one thing that is VERY annoying, and that is that the enemies will summon these areas that silence everyone and everything within. For this it's recommended you bring your best melee fighters (Astarion, Karlach, Lae'zel are all great) because magic will be limited.
Keep your torch wielder moving away from the enemies while you keep them healed and killing as many enemies as you can and you'll be fine! Using spells like Sanctuary and Globe of Invulnerability to prevent all damage taken for some turns are a godsend.
---
Once you've cleared all 4 trials return to where the statues are and the door will now be open. Head through to reach the next area, the Dragon's Sanctum. Talk to the statue here once again and past the door is Ansur, the Wyrm. Make sure to save your game before you approach the wyrm because you'll have a scene and right after a fight against it.
Yeah, sadly we HAVE to fight and defeat Ansur.
NOTE: I encountered a bug here where Ansur literally fell through the ground after slamming one of my characters and it died by "falling into the chasm". This still lets you end the quest as if you killed him, but I recommend you reload and kill him normally so you can loot the sword he carries. I'll leave a screenshot of it below so you can see if it's worth it or not.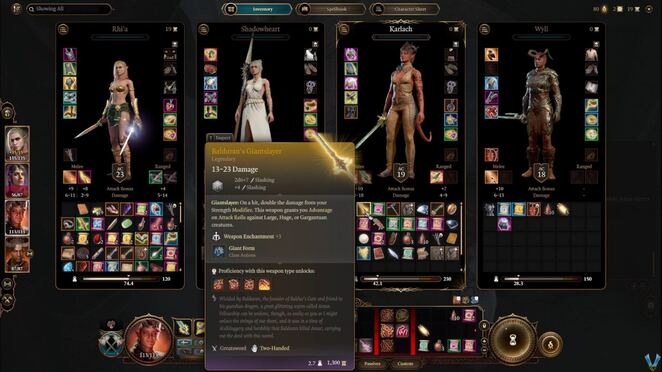 Ansur for the most part doesn't do much. He has his normal attack, can use multiattack to hit 2-3 times (this can be dangerous), he can use Lightning Break, a large AOE spell that hits everyone pretty hard. Being that it's a dragon and it flies, it can also relocate pretty easily. However, in doing so he'll also use slam when he lands, dealing damage and can knock you off your feel. Really annoying.
Ansur is not alone though. He'll have a pair of Myrmidons helping him out. Don't bother attacking them. As soon as you kill one of them Ansur will resurrect it with full health. Not worth it.
However, the one thing you want to watch out for is his "Bout of Storms". This is his strongest attack that will definitely kill your party members that are close to him. You need to find cover/hide behind rocks in order to avoid this attack. This attack only happens after he starts flying in place for a couple of turns. He also only used it on me the 2 times I fought him when he was near death. If that's the case with you, see if you can finish him off before he sets off his attack. If you can't then run and hide. Thankfully he doesn't attack while he's charging the attack but he does get increased defense so that's not good.
For this fight, using the spell Globe of Invulnerability is really good if you cannot prevent the attack above from happening.
Regardless of how you manage to kill him, once the fight is over watch the scenes play out then talk to Wyll.
Return to Ravengard
---
Before you return, make sure to loot Ansur's body to find Balduran's Giantslayer. This is an amazing greatsword! Also make sure to check the little shrine to the north to find the Helm of Balduran, another amazing piece of equipment.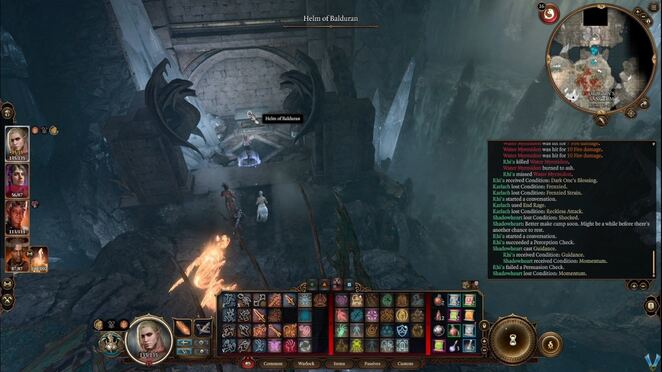 This will also open a way out of here.
And with that simply return to camp and talk to Duke Ravengard to bring Wyll's quest to an end!
---