The Githyanki Warrior is Lae'zel's Companion Quest which begins if you choose to travel with her during Find a Cure. It starts by finding Zorru in the northwest part of the Emerald Grove camp.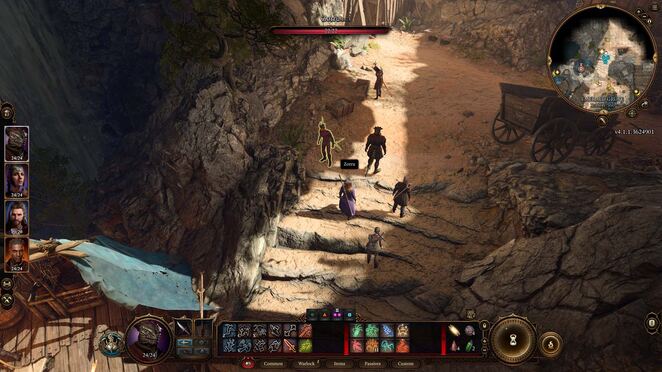 This allows you to progress with Find the Githyanki Creche, where you will try to cure the Parasite with the githyanki's help. After the procedure is over, talk to Lae'zel. Some githyanki will ambush you unless you passed the Deception check against Ghustil Stornugoss.
Take Lae'zel to the inquisitor
---
Make your way to the northeast part of the Creche to reach the Captain's Quarters. There will be a scene, but be careful before proceeding as the door locks behind you. Speak with Kith'rak Therezzyn who is near the east side of the room.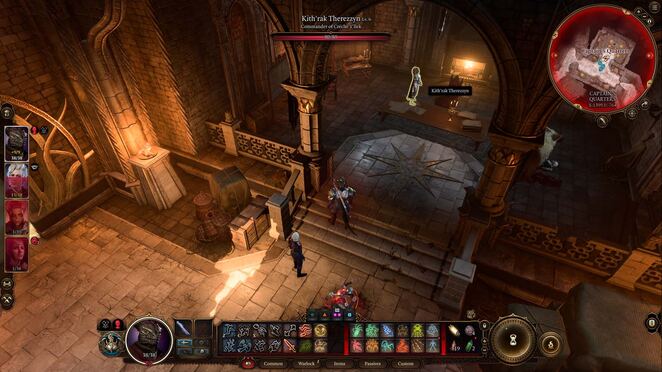 Lae'zel suspects a traitor, but there is no accusation that will work. This will trigger a battle against Therezzyn if you insist on hiding the artefact from her. There are two wolves near Therezzyn, as well as Ardent G'nuril behind you. Take out the wolves first (especially if you brought Shadowheart) and then focus on the others.
Therezzyn is interested in the artefact. If you bring Shadowheart with you, she will react to any mention of the artefact. This triggers a potential Deception check to hide it from Therezzyn.
| Check Type | Difficulty To Clear | Success | Failure |
| --- | --- | --- | --- |
| Deception | 16 | Therezzyn leaves you alone | You fight Therezzyn |
Letting Therezzyn take the artefact will get Lae'zel's approval, though Shadowheart and Astarion disapprove. Therezzyn will let you see the Inquisitor if you do.
NOTE: below we talk about fighting Therezzyn, but note that you can also pickpocket the Gith Shard. If you happen to steal it you'll be confronted when you place it in the pedestal, but you can pass the persuasion check to continue without a fight.
If you choose to fight Therezzyn, you must watch out for her Fear spell. It can disarm most of your team if they are close together. Split up your team around the room and put them near the wolves and the other githyanki in the room. Enemy githyanki archers can also reinforce Therezzyn; make sure you watch the door.
Take out the other enemies first, then focus on Therezzyn. Damage-wise, the other enemies are much worse than her. As long as everyone is spaced out, Fear won't hurt your team too much. Revive anyone who falls and keep attacking until Therezzyn falls. Grab the Gith Shard from her corpse when you are done, then activate the gate.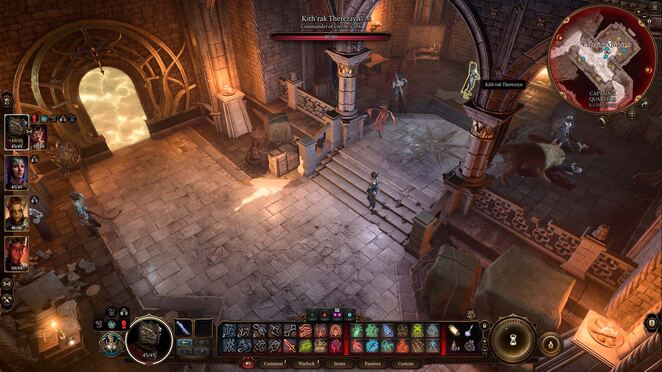 Head through the newly opened door and head straight, opening the door to meet Ch'r'ai W'wargaz. He asks for the artefact and you can hand it over. Either hand it over or you end up fighting the whole room including Lae'zel. Handing it over gets Lae'zel's approval.
NOTE
: if you happen to have saved Lae'zel during the main quest
Find a Cure
where she was trying to get the tadpole extracted, you can remind her of there being possible traitors and she'll stay with you when you fight the whole room. Shadowheart will also approve of this.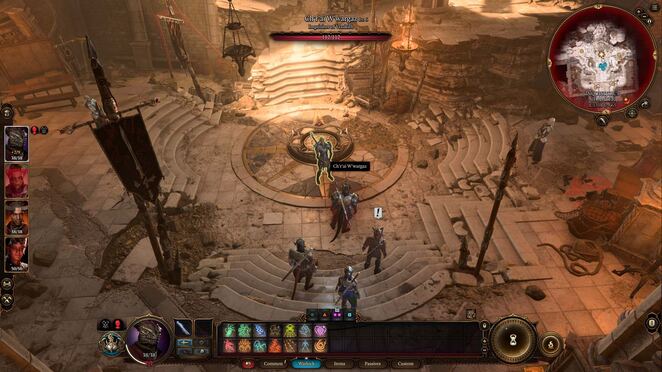 This lets you meet Vlaakith and you are asked to kneel. Kneeling gets Lae'zel's approval. When Vlaakith asks if you are friend or thief, mention you didn't take the weapon and are returning it. Choose to accept the request or you will end up fighting. Lae'zel approves of accepting the quest, but Wyll, Shadowheart and Karlach disapprove.
Interact with the Planecaster behind W'wargaz and you get a warning about entering the Astral Prism. Insist on entering to reach the Astral Plane.
Find the prisoner
---
Head inside the Beckoning Cave in front of you and your guardian will ask to meet you alone. Agree and go inside to speak to them. It doesn't actually matter what you choose as the ultimate outcome is the same.
Speak to Lae'zel after it is done, letting her see what's in your mind. Head west to find a portal that takes you back to the Mortal Plane.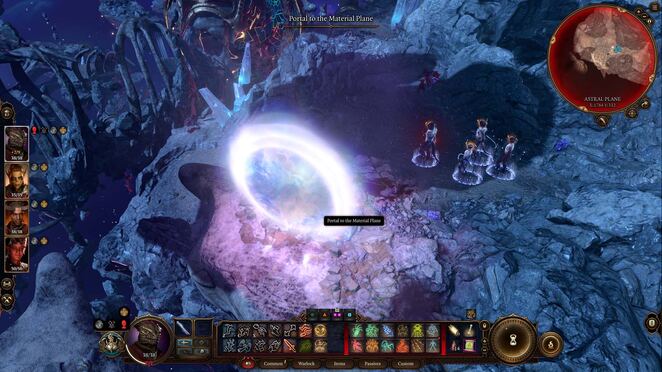 When you return, W'wargaz will attack you along with other githyanki. He is Level 6 and the others are Level 5. There are a few warriors but W'wargaz and the rest are mainly spellcasters. W'wargaz uses Mindsteal Link, which reduces your armor class by 2 and makes you vulnerable to Psychic damage. Hit him with the affected unit to remove the effect.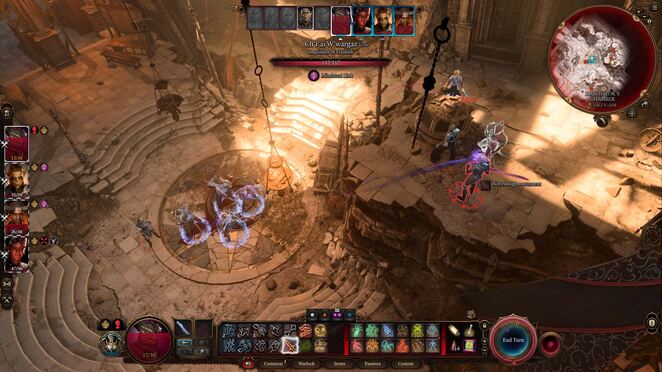 W'wargaz spends most of the battle using Misty Step and staying out of reach. Focus on the other githyanki such as the fighters, crossbow users, and spellcasters. Once they are down, you can chase down W'wargaz and focus your attacks on him.
Once you win, talk to Lae'zel who must think. Leave the Creche as soon as you can, since all the githyanki are now hostile. You will be apprehended by Therezzyn and her forces if you didn't defeat them earlier. Fortunately, you will fight them in a wider area, giving you more time to fight them one-on-one.
Fight your way out until you can safely fast travel, then take a Long Rest. A scene should trigger at camp where you are approached by Kith'rak Voss. Have Lae'zel accept the truth to gain her approval, as well as Gale, Wyll, Shadowheart, and Karlach's. Pretty much everyone. You will get the Qua'nith Psionic Detector. This also unlocks the Help Kith'rak Voss personal quest.
If you choose to kill Voss, he's Level 12 accompanied by a Level 5 ally. Voss is the biggest threat and can attack up to three times a turn. Taking out the ally can help you concentrate on Voss.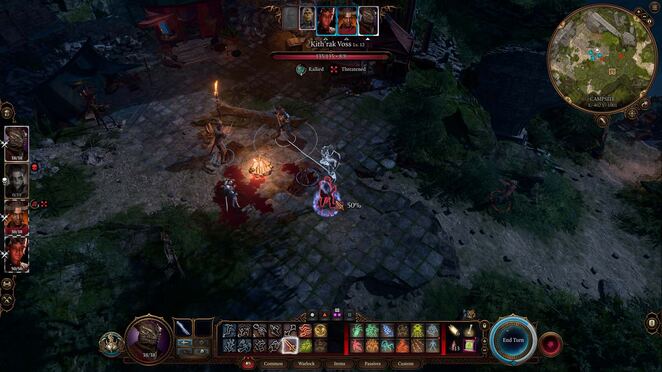 Either way, your next goal is Baldur's Gate to find the answers you seek.
Travel to Baldur's Gate
---
After all the previous events, we know that we need to make our way to Baldur's Gate. This will require you to continue playing through the game until you end up in Act 3 and in the town of Rivington. It's the very first area you visit in Act 3.
---
Before talking to Voss, you can try taking a long rest at your camp. This should trigger a scene with Vlaakith where she tries to tell us that Voss was lying and Orpheus is the bad guy.
Here the decision is important because it dictates whether we help Orpheus... or end up killing him. Choose wisely but the objective doesn't really change, find Voss.
Voss is located at Sharess' Caress and it's located on the main road that leads from Rivington to Baldur's Gate. It's the building where you can find the South Span of Wyrm's Crossing waypoint.
If you killed Voss, the letter on his body informs you of a meeting in Sharess' Caress. This requires waiting until Act 3 where you will arrive at Rivington. Make your way past the South Span Checkpoint and go to the center-west part of Wyrm's Crossing. That's where Sharess' Caress is located, but your map is pointing northwest.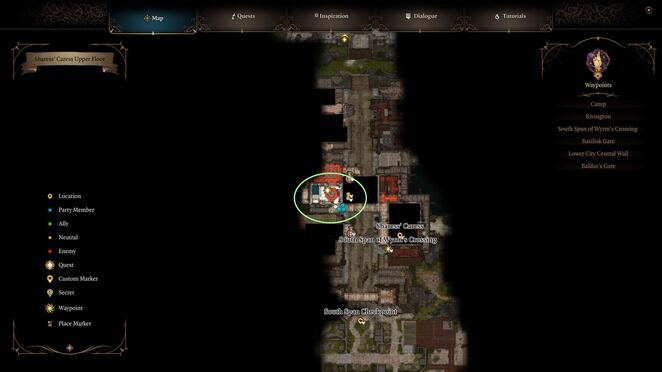 Rebelling against/Siding with Vlaakith
---
Go inside the building and head to the top floor where there will be a wooden walkway out the door. Head west to reach the Devil Den where Raphael is waiting for you.
Raphael will give you the Orphic Hammer necessary to free Orpheus. However, you must give him the Crown of Karsus after defeating the Absolute. You must agree to the deal to go forward; this quest path is pointless if you resist.
For now, speak to Lae'zel to confirm what you must do. The Emperor will query you shortly after you leave the Devil's Den. You can use a Deception or Performance check to fool him, but you must beat 25. Being honest or failing a check will clue the Emperor in about Raphael's deal. Passing the check will hide your deal with Raphael.
Take a Long Rest and Lae'zel will speak with Vlaakith. Talk to her after the scene to reaffirm her decision to kill Orpheus or take down Vlaakith.
You won't pick up the quest again until you attempt to control the Netherbrain for the first time. Insist on freeing Orpheus against the Emperor's wishes to drive them away. Equip the Orphic Hammer in your inventory and break the red stones near Orpheus to free him. Make a backup save at this point because failing an Insight check could cost you Lae'zel.
Orpheus will react harshly but don't try to kill him; it's a premature Game Over if he dies. Agree to his terms and an Insight check will occur. If it succeeds, you can persuade Lae'zel to keep Orpheus alive until the Netherbrain is defeated. If you fail, the option doesn't appear and Lae'zel leaves your party.
Once you defeat the Netherbrain, you see the consequences of Lae'zel's devotion to Vlaakith which changes her ending.
---
Last edited
by RagingTasmanian
on