This quest is part of Karlach's companion quest "Our Fiery Friend" and we automatically get it upon completing the sidequest she gives us when she joins the party, "Hunt the Devil".
Find An Infernal Mechanic
---
Karlach needs to find an infernal mechanic and there's only one in the game: Dammon. Dammon is found in the Emerald Grove in Act 1, Last Light Inn in Act 2, and the Lower City in Act 3.
Speak to Dammon and he will require Infernal Iron to help out Karlach, He can only install one Infernal Iron at a time in Act 1 and 2. If you forget to install any, you can catch up in Act 3.
Goblin Camp: You will find one Infernal Iron in Dror Ragzlin's treasure room after defeating him.
Blighted Village: inside the barn (eastern side of the village) where we found the forge and started the sidequest "Finish the Masterwork Weapon". In the northeastern corner are some chests (one on top and the other at the bottom of the ladder). Open them up to find the iron.
Goblin camp: in the area where we fought "Ragzlin", enter the room north of him (up the stairs and behind his "throne") to find it inside the chest. You'll need his key to open it, or you can also lockpick it.
Grymforge: when you talk to Kith (the merchant west and behind the waypoint) he'll ask you about the ruins and what you think of them. If you pass all 3 checks correctly he'll give you a free Infernal Iron.
Mason's Guild: this is located just north of the Moonrise Towers. Exact coordinates are x:-106,y:19.
Flymm's Cargo: Go into the warehouse in Act 3 and find the basement hatch. As you move forward, you will find some Infernal Iron on the ground.
Steel Watchers: Defeating some of the Steel Watchers in Act 3 can occasionally produce Infernal Iron, but it isn't guaranteed.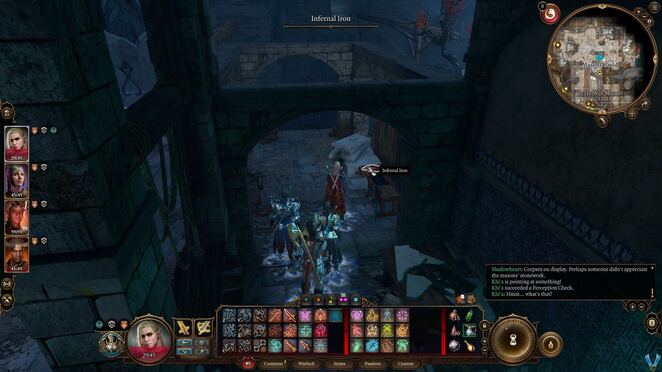 Let Dammon Work
---
Hand over the first piece of Infernal Iron, Dammon will install it for Karlach regardless of the Act. If you are in Act 1 or 2, you won't be able to install the second piece of Infernal Iron immediately. Fortunately Dammon can forge new items out of any Infernal Iron you come across.
If you are in Act 3 and can't find Dammon, head west of the Elfsong Tavern to find him.
Find More Infernal Iron
---
If you are in Act 2 and can't find any locations, Dammon will mark them on your map. Obtaining Infernal Iron from those locations will take them off the map, especially if you found them earlier. You should be able to build a supply to fix Karlach's issue.
Return to Dammon with the second Infernal Iron to stabilize Karlach's condition. He will also mention that Karlach must find another permanent solution to her issue. Unfortunately, other than returning to Avernus, you won't find another in the game.
---