The Pale Elf is Astarion's Companion Quest which begins if you choose to travel with him during Find a Cure.
When Astarion approves of you, a scene will play after you take a Long Rest. You can learn more about his condition to gain his trust. It's also possible to do an Illithid Wisdom check to learn more about him.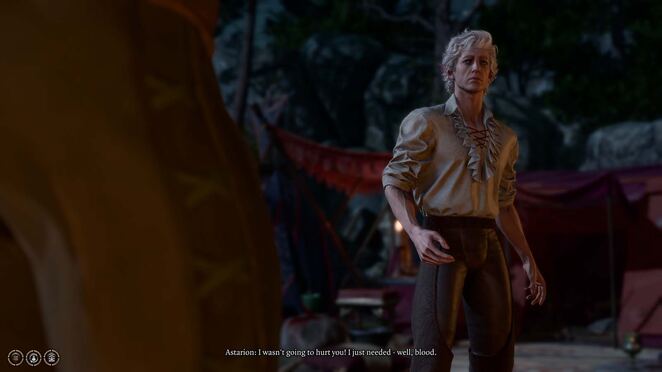 | Check Type | Difficulty To Clear | Success | Failure |
| --- | --- | --- | --- |
| Wisdom (Illithid) | 2 | Get the truth | Astarion permanently leaves the party |
Astarion approves of trusting him, especially if you follow up with a blood offer. You can use a Persuasion or Strength check to get him to stop. Letting him continue is also an option, though if you accept a second time your player character will die. This will get you the Just a Nibble achievement:
| Check Type | Difficulty To Clear | Success | Failure |
| --- | --- | --- | --- |
| Persuasion | 5 | Astarion stops | Astarion keeps taking blood |
| Strength | 7 | Astarion stops | Astarion keeps taking blood |
If you fail to get Astarion off the first time, you must pass a tougher Persuasion check or your character dies:
| Check Type | Difficulty To Clear | Success | Failure |
| --- | --- | --- | --- |
| Persuasion | 15 | Astarion stops | Your character dies |
If you attack Astarion at any point, it will be a Strength check. The main difference will be seeing if Astarion survives the encounter:
Check Type Difficulty To Clear Success Failure Strength 14 Astarion is killed Astarion survives & permanently leaves the party
Either way, Astarion will leave the party permanently and the quest ends if you attack him. It's also possible to prematurely end the Companion Quest by sending Astarion away.
If you accept Astarion, talk to him after the Long Rest is complete. You learn more about his background and can talk to your party about trusting him. Astarion approves of any positive comments. Gale and Wyll disapprove of trusting Astarion. If Astarion drank your blood, your character will get the Bloodless status.
Gandrel the Monster Hunter
---
This is a completely optional event related to Astarion you can view.
You can find Gandrel outside Auntie Ethel's house, at the Riverside Teahouse, south from the Blighted Village in Act 1. From said waypoint, go west and south at the fork up the wall to find Gandrel.
Gandrel is a monster hunter and is looking for Astarion. It seems he has information Gandrel can use. You can meet Gandrel with or without Astarion in the party and there's just a couple of outcomes from this.
If Astarion is not in the party, you can mention that you know Astarion and by doing so you'll get the chance to tell Gandrel about him being at camp (and giving him the location), or not telling him, solidifying your "friendship" with Astarion. If you happen to tell Gandrel the location of your camp then Astarion will be gone for good once you take a long rest. This will end Astarion's quest completely. This also means he'll leave the party forever so be very careful.
Of course, if you have Astarion in your party then the talk is a bit different. You can feign ignorance and not know who this Astarion is (you gotta love those side glances he gives you), or straight up point him out. This will give you a choice to hand him over to Gandrel, or fight Gandrel himself. If you fight Gandrel Astarion will disapprove of you ratting him out.
Like I said, all of this can be avoided by simply feigning ignorance, but you can also attack him if you wish. If you happen to kill him, you can loot his Gandrel's Aspiration Crossbow, a 5-14 bow that gives you an advantage against monstrosity type enemies.
Meet with Raphael
---
After that last event we need to continue playing through the game until we reach the Shadow-Cursed Land in Act 2. Once we're here we'll need to talk to Raphael. There are 2 spots where you can find him. The first one is at the Last Light Inn. We HAVE to go there as part of the story but once here go inside the inn itself and you'll find Raphael playing chess with the Tiefling Mol.
The previous spot is optional, but if you didn't talk to him at the Last Light Inn then you are FORCED to meet with him during the main quest "Find Ketheric Thorm's Relic". During said quest we go to the Thorm Mausoleum just north of the Moonrise Towers. Before entering Raphael will appear and talk to us.
Talking to him with Astarion in your party and he will ask Raphael about the scars on his back. He promises to tell him, if we do something for him. Regardless of when you talk to Raphael you'll end up with a new sidequest.
Complete said sidequest and Raphael will tell you about his scars and what they mean.
Travel to Baldur's Gate
---
And with the above done you'll want continue playing through the game once again until you reach Act 3. During Act 3, Vampire Spawns will be attacking you randomly as you take long rests. If this happens a new quest will start. This quest is to end Astarion's quest. However, if they don't attack you there's another way to start the quest. Click the link below for all the information you need.
But once you're done with the quest, Astarion's questline will be over. Congrats!
---