This quest starts out as soon as Gale joins our party.
Continue travelling with Gale
---
As you play through the game you'll eventually have enough approval points towards Gale where he'll have an ! above his head where you can talk to him (for me this was at the Druids' Grove). Talking to him will let you learn about what he's going true, and about his need for magic items.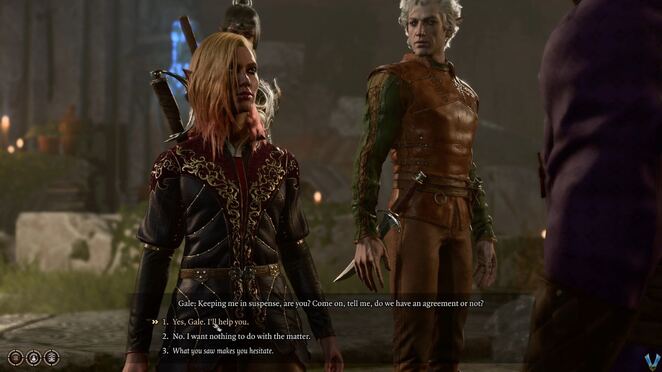 Prepare for Gale to request a magic item
---
Once our coversation with him ends, we'll need to prepare for when he asks for a magic item. Eventually, as you play through the game with him in the party you'll see him have an "!" above him. This means he'll be requiring one of your magic items.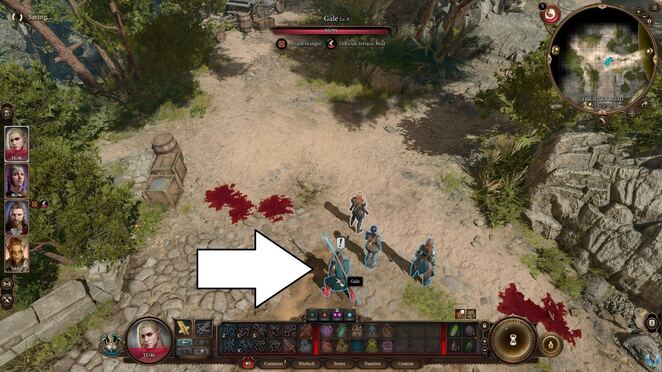 These magic items are straight up the uncommon/rare items you have that grant you skills. It can be pretty much anything: a piece of equipment (helmet, body armor, etc), rings/necklaces, weapons, shields, etc. If you're going to be using Gale often it's important to keep these items on you, or stash them away in the chest at camp instead of selling because he'll be asking for them.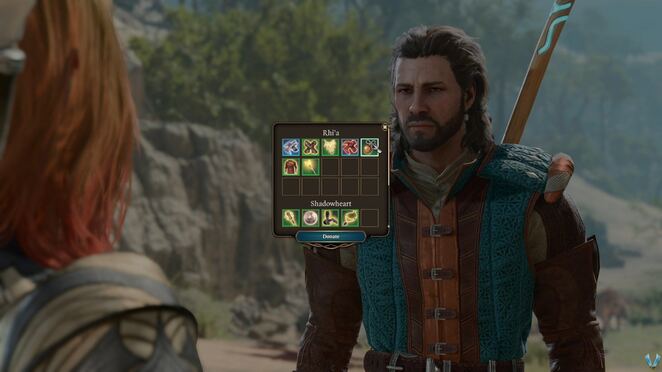 Treat Gale's Condition
---
Once you continue playing you'll be seeing that "!" over Gale's head several times. Each time you'll need to give him a magic item. From here on out, everytime you go back to camp look at Gale. He'll be hunched over without an "!".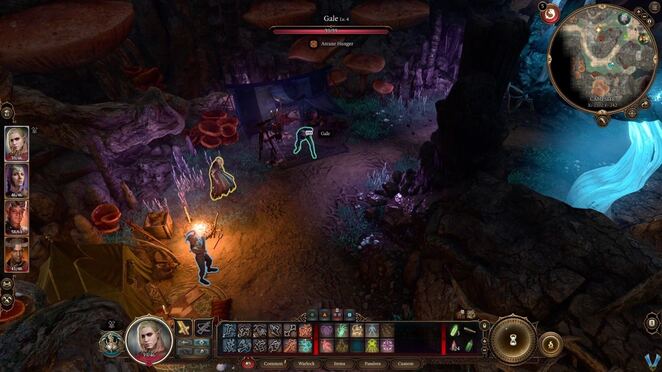 Talking to him here will allow you to prod into his backstory, and the reason why he needs all these magic items. He tells you about Mystra, the Magic Weave, and even what's going on in his chest. Damn.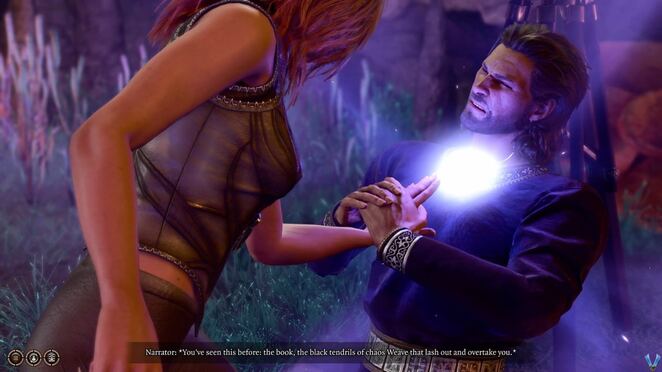 Continue your journey
---
After the previous events, we simply have to continue playing through the game until we meet a special someone, none other than "Eiminster Aumar". I'm not sure if there are several spots where you can meet him, but I met him in the area right before "Shadow-Cursed Lands" when going through the Grymforge.
In the Grymforge, as you take up the lift east of the waypoint you'll reach a room with 2 stairs. Either one wil take you to this wizard dressed in brown/red.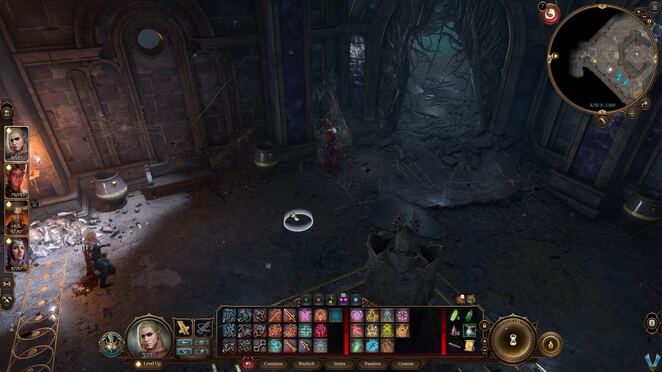 This person knows Gale, and what happens here will depend if Gale is in the party or not. He IS a friendly NPC so if you don't have Gale with you make sure to let him know about Gale and take him to camp. If you do have Gale with you then pretty much the same scene will play, but instead of playing at the camp it'll play here where they meet up and greet each other. Eventually you can send him to the camp as well so do so.
Find out what Elminster wants with Gale
---
Once Elminster Aumar is back at camp, head there yourself and talk to him. He should be at Gale's tent.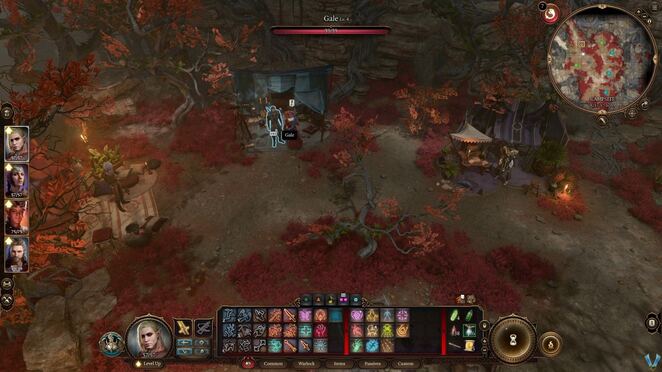 As you talk to them you'll learn why he's been looking for Gale: a message from Mystra. This is about how Gale can earn Mystra's forgiveness and his own redemption. Damn, I don't like this. All dialogue choices here lead to the same outcome sadly.
Destroy the Heart of the Absolute
---
After receiving our task from Elminster, Gale is supposed to straight up turn himself into a bomb and destroy the Elder Brain using the Weave within his body. From here on out you'll want to continue playing through the entirety of Act 2 until we reach the main quest below:
After defeating Ketheric Thorm for the first time and he escapes to the Mind Flayer Colony below the Moonrise Towers, you'll need to bring Gale with you before you encounter Ketheric Thorm one last time (where you finally defeat him). Doing so we'll see the ones behind the Absolute and what the heart of the Absolute really is: an Elder Brain.
NOTE: you can totally skip this part if Gale is not in your party and his quest will continue normally into Act 3.
During all the scenes that play out Gale will try to detonate himself alongside the Elder Brain. Here you'll have an option to stop him or let him do it. I HIGHLY recommend you make a hard save here so you can watch an early ending! It's worth it!
For obvious reasons, letting him detonate himself will end up killing him, us, the Elder Brain, the ones behind the Elder Brain... basically everything and everyone in the vicinity. This is actually one of the many endings of the game so go ahead and enjoy it. It's... not a happy one.
However, during said scenes you can also stop Gale. You'll need to stop him a couple of times for him to actually not think about ending himself. And like I said above, you can straight up just not bring him and it'll have the same effect as this.
Speak with the bookseller at Sorcerous Sundries
---
Continue playing through the remainder of Act 2 and in Act 3, as you play through it you'll have some dialogue with Gale where we update our objective. It seems he wants us to go to Sorcerous Sundries. In case you haven't been here, this is the huge tower in the center of Lower City and it's also southeast of the "Lower City Central Wall" waypoint.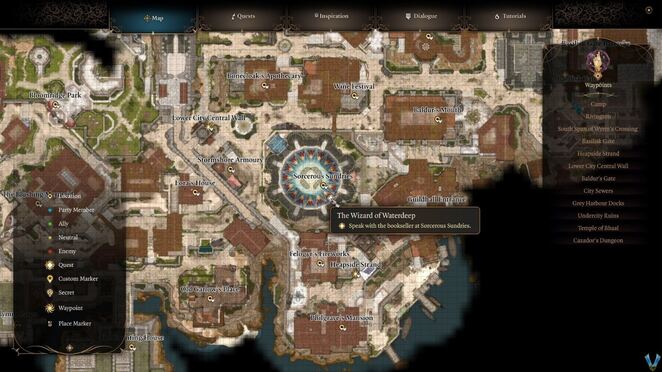 Once here go inside and in the back of the first floor you'll find Tolna Tome-Monger. Talk to her.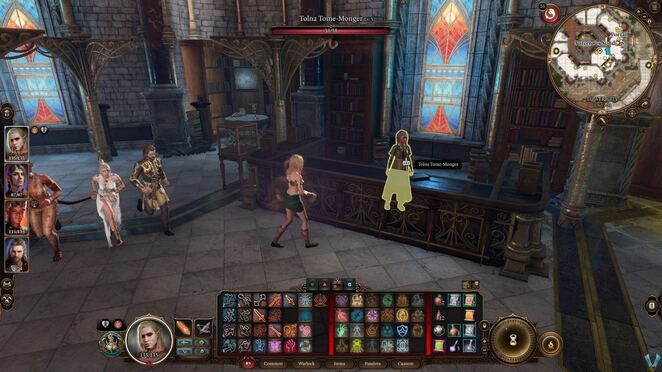 During the conversation with her ask about any rare tomes and then follow up with "The Annals of Karsus: A Netherese Folly". She'll mention it being sealed away for obvious reasons. You'll also have a Deception/Intimidation/Persuasion check, but you won't really gain much from passing them. She does tell us that they are locked in the vault, and the only entrance is through her office. Hmm, that's a lot of nice info!
Search Tolna's office
---
Head upstairs and as you come up here to the left (east) is a locked door.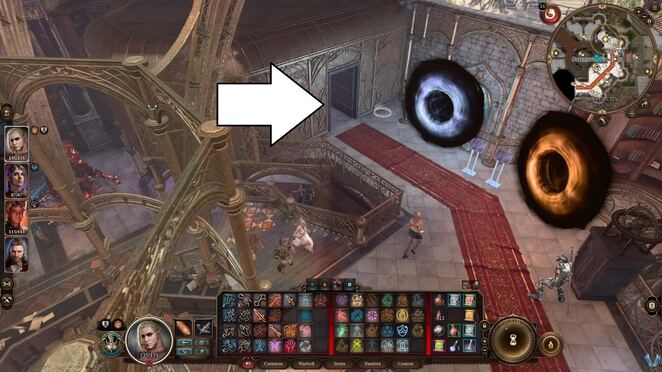 Use Invisibility to pick the lock and head inside. You don't really need the whole party to do this part but if you plan on taking them all then make the whole party invisible and go inside the office. You won't be able to enter otherwise since it's a restricted area.
As soon as you enter look at th bookcase on the right to find a "Clasped Book". Interact with it to have a portal appear. You'll want to take this portal into the vault.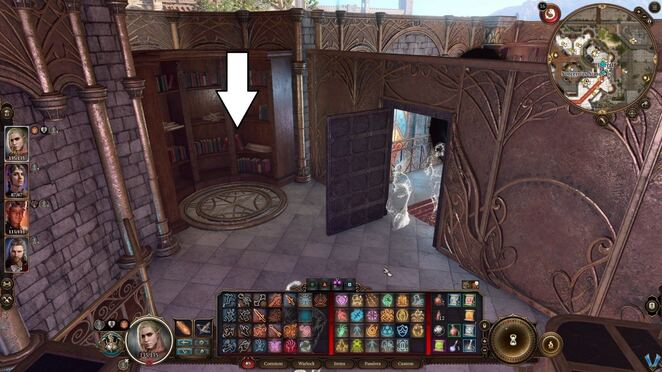 Once inside go south to reach an octagonal room with 3 doors. Note that each one of them has a name. From west to east: Karsus, Silverhand, and Elminster. Both Elminster and Karsus doors are locked and both of these are their unique vaults with treasures.
To open these vaults you'll need to go through the Silverhand door, then proceed through 2 more doors to reach a lever that opens the vault. After that you simply want to go through a wrong door to come back to the main room and go through the vault door. Below are the doors required to enter in order to reach the levers.
BE CAREFUL of fall the traps on the ground. They are easy to disarm but there's a lot of them so I hope you pass those Perception checks and if you do, disarm the traps. Take it slow as well.
Elminster Vault: Silverhand Evocation Wish
Karsus Vault: Silverhand Abjuration Silver
Once you've flipped the lever and come back to the main room you'll see the vault door open with a light shining on the opening. That's your sign thatyou've opened the vault. There's not much in the Elminster vault. You can find the The Tharchiate Codex. This thing is cursed and will give you "Tharchiate Withering" if you read it, lowering your CON by 5. That's a lot. Make sure to cure the curse.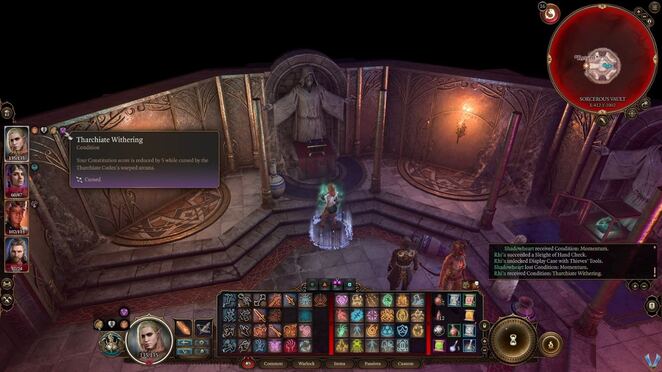 Inside the Karsus vault though, here you can find a whole bunch of fweapons. None really good at this point in the game (maybe for selling), but you can find here what we were looking for, The Annals of Karsus.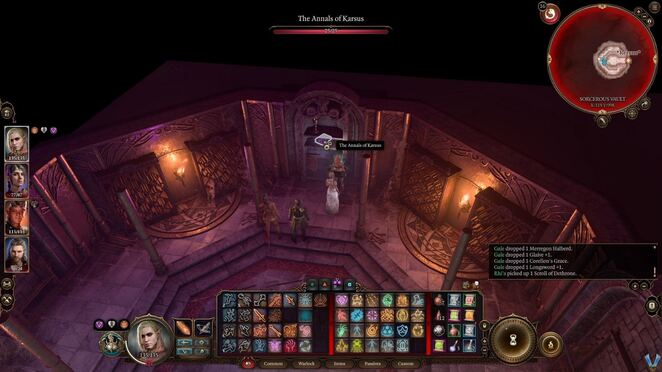 As you pick it up we'll have some scenes with Gale where he REALLY gets into it. Here you can agree with him in becoming a more powerful god than Mystra, or tell him to chill out. These options don't really seem to change anything further ahead so go ahead select whatever it is you wish.
Reforge the Crown
---
Once we have the Annals of Karsus, leave this place completely (head back to the office and fast travel away from there). Head back to camp where you should be able to find Elminster once again (typically located near Gale). During the talk he'll mention Mystra wanting to meet up with Gale. Uh oh.
Meet with Mystra in t he Stormshore Tabernacle
---
Head to the "Basilisk Gate" waypoint in the Lower City and enter the building west of it, Stormshore Tabernacle. Inside you'll want to interact with the Mystra Statue that's glowing.
As you do a scene will play out here. It doesn't really matter what you tell Gale (to make peace with Mystra or tell her we're forging the crown), the end result is the same so enjoy these scenes. I always wondered what Mystra looked like and I have to agree with Gale, she is very pretty.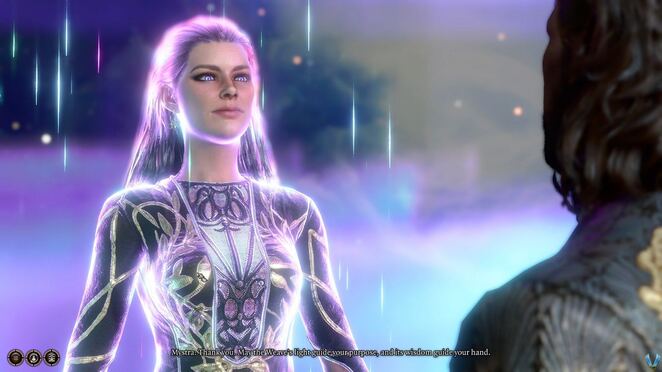 Anyway, not much can be decided here. Mystra explains why she asked Gale to blow himself up, what is the weave he has in his body and a whole lot more so enjoy these scenes. The end result is the same: bring her the crown.
Claim the Crown of Karsus
---
Now, you simply want to proceed through the rest of Act 3 until you're ready to go tackle the Netherbrain. This will take place in either of the quests below:
Yeah, both are basically the same, but they're separated in case you want to choose a different outcome. Anyway, as you play through and reach the top of the brain, having Gale in the party will of course trigger a scene where you get to choose what to do. He can use his orb to blow up and destroy the brain (just like he was "supposed" to do back at the end of Act 2).
Of course the options you get here are quite obvious. Having him blow up will do just that. You'll need to pass a Persuasion check of DC 30 in order for him to actually do it, but you of course can tell him not to. In doing so you'll have to fight the Netherbrain as you normally do.
Once this happens and the Netherbrain falls into the sea we'll have Gale's little piece of what he wants to do about the crown. Your choices here are either give the crown to Mystra as it should be intended, or grab the crown and become a god. The option here is all yours. Worth checking both of them out since they're 2 vastly different endings.
---