We can start this quest in the Underdark by approaching the Myconid Glut in the Myconid Colony.
He tells us about his circle (like his Myconid clan) was all killed by the Duergar and wants our help in killing them. If you're checking this page it's because you agreed to help but before you leave you might want to pick up the sidequest from the Myconid Sovereign (also here in the Myconid Colony) since it has the same objective.
Kill the Duergar
---
Now, remember the Duergar we met at the Decrepit Village? Yeah, these are the guys that he wants dead. Of course if for some reason you already killed them then the quest will continue, but if that's not the case, then continue reading.
Fast travel back to the "Beach" waypoint and it'll be time to fight the Duergar. BEFORE you start, note that the Duergar will attack immediately so read below before you start the fight.
NOTE: This is a spoiler for after the fight so stop reading if you don't want spoilers.
After the fight Glut will ask you to help him kill Sovereign Spaw. This basically means going to the Myconid Colony and killing all the Myconid, including the Sovereign. If you don't agree to this he'll turn hostile immediately and attack you. And given that he's a Myconid, he'll be able to bring the Duergar here back to life, making the fight a bit harder so if you're planning of saying no to him, make sure to NOT bring back to life any of the Duergar you fight.
To make things worse, he'll also have tons more health than when he was with you.
That being said, let's talk about the enemies really quick. There are 4 of them here, but 3 to worry about. At the very top (northern side) is an enemy inside the broken building and is invisible. This guy likes to shoot Arrows of Fire that explode and can hit several characters at once. Very dangerous.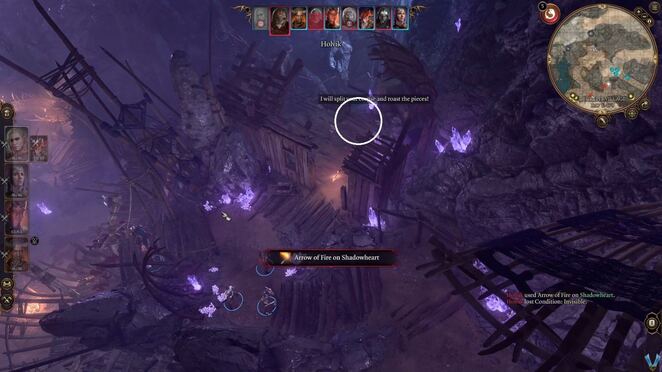 On the docks on the western side is an enemy that's invisible. He doesn't really do much but the invisibility can be annoying. He'll become visible once he attacks (or after 2 turns from what I saw) so try to predict where he's going to go based on the camera. It points where his position was as the turn started.
And lastly, the main guy, the one that appears in the scenes called Gekh Coal. This guy is a necromancer of sorts and can use Animate Dead, which of course will bring up the corpses back to life and pit them against you. They aren't necessarily the strongest enemies, but still can be very annoying, and that's because he can animate more than one at a time.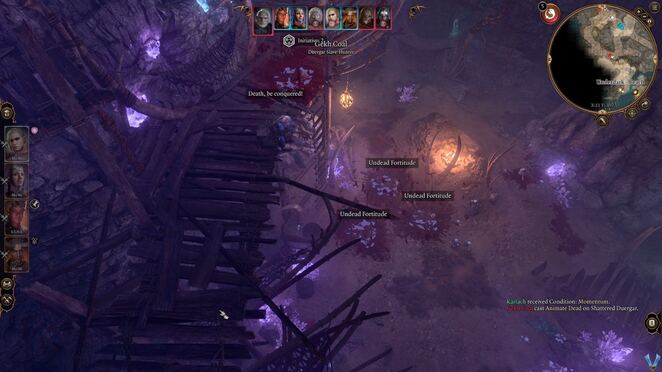 Knowing this, locate him (he's on the ledge overlooking the center) and approach him. We need to be creative so I approached from the northern side. The reason why I say this is because you want to deal with Gekh first and fast. You don't want him to even have a turn so trying to kill him in one turn can be challenging, but totally doable.
Show the dead duergar to Glut
---
After the fight, make sure you're healed and prepared (make sure to read the note above). Like the note above says, he'll ask you to help him kill Sovereign Spaw. If you say no then he'll become hostile and all the revived corpses here will attack you alongside him.
If you're going to say no to him, note that you can actually just kill him without even talking to him. Simply attack him nonstop until he dies. He doesn't have that much HP and should go down in a couple hits. He doesn't attack or anything so you can just kill him and end the quest.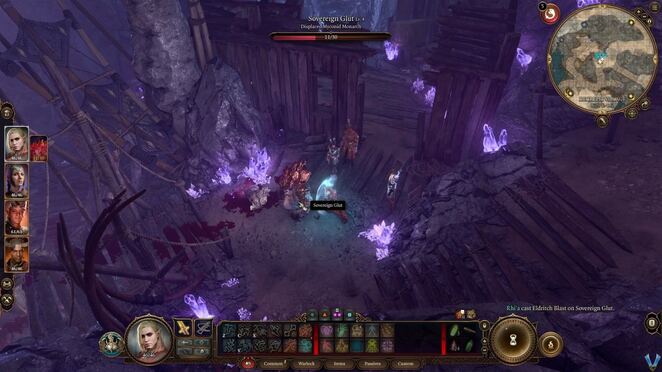 Overthrowing Spaw
---
If you choose to overthrow Spaw, return to the Myconid Colony and tell Spaw that you are overthrowing it. This will turn Spaw and the entire Colony against you. The good news is that Spaw is the only one you must defeat; the entire colony disengages when Spaw dies. The bad news is that the colony can overwhelm you if you take too long.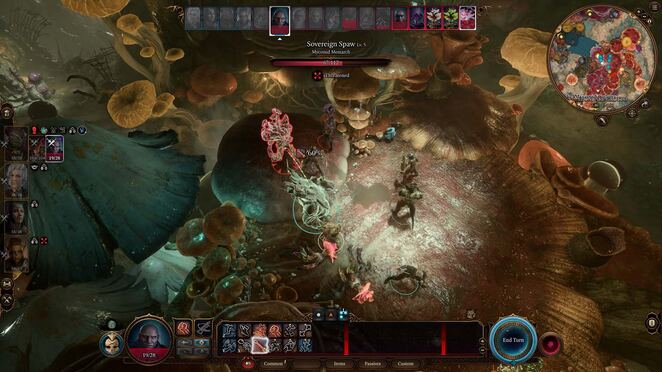 Fortunately, Glut becomes a powerful ally and can revive nearby duergars, buying you some time. Spaw isn't a difficult opponent but it has more health than any Myconid. It will run around the battlefield while hitting you for great damage. The Myconids will employ hit-and-run tactics which don't do much individually, but add up overtime. They aren't concerned about the Opportunity Attacks they receive, and they surround you in a few turns.
Throw your best attacks against Spaw to bring them down and mitigate the damage. Once Spaw falls, the battle ends and Glut takes control. You are named King-Bringer and receive Winter's Clutches as a reward. Glut will also ask you to Deliver Nere's Head and becomes the quest giver if you haven't completed it yet.
If you turn in Nere's Head to Glut, you will get a Champion's Chain.
---