We can start this quest in the Underdark and from Sovereign Spaw after completing the sidequest "Defeat the Duergar Intruders".
Kill Nere
---
Given that we dealt with the Duergar at the little village in the Underdark, the Sovereign asks us to deal with Nere, who seems to be the leader of these Duergar. He's located at Grymforge, which is where our main quest is taking us.
To reach Grymforge you'll need to head back to the little village where you killed the Duergar and on the western side is a lake with a large boat you can take across it.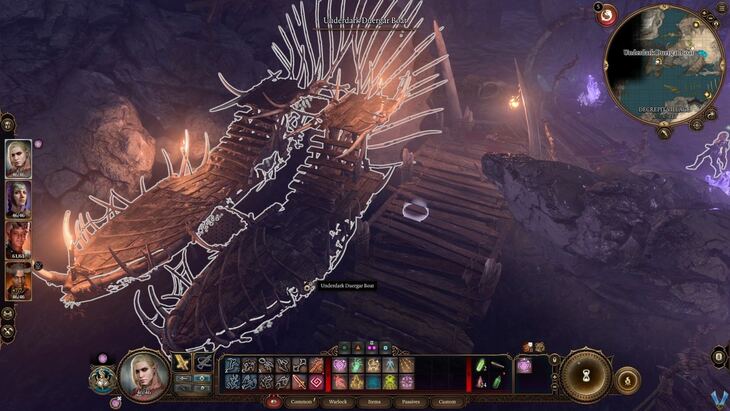 As you're sailing through the darkness another boat will get close to you. This is a Duergar patrol and will ask you about what you're doing right now. You'll get several options here:
If you started the quest "Find the Missing Boots" that you got back in the village and you got the boots, the Duergar will give you access to pass. If you don't have the boots he'll just send you back to the village.
[Intimidation] check: the Duergar will allow you to pass and go with you to the other side.
[Deception] check: the Duergar will allow you to pass and go with you to the other side.
Besides this, you can also attack them and kill them off. You start the fight by straight up taking out your weapons, or you can push the Duergar that jumped on your boat, then attack. The fight itself isn't that difficult, but most of the enemy Duergar have long range attacks which can make them annoying. If you happen to have Wyll in your party his Eldritch Blast can push enemies off the boat, making life a bit easier. They don't have the best items to loot so feel free to shoot them off. Of course be careful because if you're too close they can also try and push you off the side.
Whatever you decide to do, you'll eventually reach the other side of the lake where you'll be greeted by some more Duergar. During the talk here simply by telling them you're a True Soul they'll let you pass. Of course if you have the boots they'll also let you pass. They'll tell you about the other True Soul here, Nere, but then she'll ask you for a "donation" of 100 Gold. You can pay them up, but say now and she'll say she was just joking. DO NOT give her you hard earned money!
Welcome to Grymforge. This place seems to be a worship place of Shar. For this main quest we're not going to be here long but we have several sidequests that are to be completed while being here. For this quest though, head south up the stairs to activate the Underdark - Grymforge waypoint and from it you'll want to go south and up the stairs and follow the path south-southeast until you reach a large area with several Duergar and some deep gnomes mining. One of the Duergar moving around these deep gnomes is Thrinn.
Talk to her to learn that Nere is trapped behind the rubble and they have the gnomes mining him out of here. I do not like her haha. Anyway, as you talk to her you can ask how the dig is going. You can then ask about how he actually got trapped and if she has any ideas.
Go ahead and tell her you'll take care of things here, but if you have any "Smokepowder" bombs then she'll let you blow the debris here. You will need to use 2 Smokepowder Bombs to destroy the debris, but note that you HAVE to use them so the explosion doesn't hit anyone. If you hit a gnome or a Duergar then they'll become hostile and attack.
If you don't have any bombs you can buy some from the gnome merchant at the Myconid Colony shop. Do note that if you try to leave (fast travel away) you'll most likely get a scene where Nere talks to you telepathically and asks you for help, starting the quest below. Do note that if you take too long and you fast travel away/take a long rest, Nere will die from the poison gas and all the Duergar and gnomes here will be gone, ending several guides.
Of course, if you don't have "Smokepowder" bombs and you don't want to fast travel over there because Nere might die, there's still something you can do, but it'll be another real quick sidequest. You can start it by talking to the gnomes Lunkbug and Laridda who are mining here.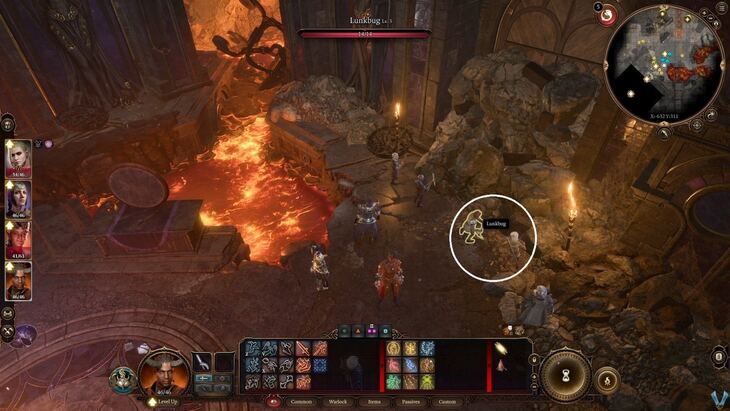 NOTE: something important here before you proceed. After you clear the debris there will be some things that happen: Nere will be alive and he'll kill one of the gnomes. He'll then ask you to kill the remaining gnomes. Of course you can refuse that and attack him instead. Doing this will make him hostile, as well as all the Duergar here. That's a lot of enemies to fight at once.
Of course, if you do as he says you'll end up getting the Moonlantern, but note that you can also fight him and get the Moonlantern from his corpse. I say this because if you're going to go AGAINST him then you might want to kill the Duergar out here first, then clear the debris and fight Nere alone. Up to you.
Of course, if you kill the Duergar first then you'll have to talk to Nere. The talk goes similar to how it's listed below, but he'll ask what happened to his servants, the Duergar. This has 2 very obvious outcomes: tell him about the Myconid Sovereign wanting his head (if you have that sidequest) or that you kill them to turn him hostile. If you pass any of the [Deception] checks then he'll be on your side. You can also read his mind, in which he'll be very happy the Duergar are dead.
If you don't go against him he'll ask you to kill the gnomes. Unlike how it is below, you can pass the [Wisdom] check to have him set the gnomes free. This is so you can finish that quest AND still be on Nere's good side.
And with that note out of the way, once you have the vial from the sidequest above, return to where the cave-in is, throw the vial at the debris and everyone will get away. Once they do hit the vial with an arrow or magic to have it explode and open up the cave to have Nere come out running.
Watch the scene that plays out and things will change here quite a bit depending on your choices. At your very first option, telling him to stop killing the gnomes will have him actually stop, but if you say nothing then he'll keep on killing them. This of course will be disapproved by both Wyll and Karlach. He'll even kill Thrinn if you tell him she was lazy.
After that though, he'll tell you to kill the rest of the gnomes. Here's the big one that'll change who you'll fight. Saying no or that you're going to take his will of course start a fight against him (and all the Duergar if they're still alive). If you agree then you'll have to fight the gnomes, who are very weak.
If you keep Nere alive he'll tell you about General Thorm, who's the one that gave him his orders. He also tells us that he's at Moonrise Towers, which is exactly where we need to go. He wants us to deliver a message to him and that we'll do.
It is here where I personally agreed to help him, had him free the gnomes, then proceeded to kill him. You want this for a couple reasons! First of all, you get information on General Thorm, but you also get the item Gift from the Absolute. This is a reward for saving him and completing his little quest. Of course, you can still kill him and get a second tadpole out of him. He also carries some pretty amazing boots so it's worth killing him in my opinion. Up to you like always.
After everything that's happened, of course you have to have Nere dead for this quest so go ahead and click on his body to remove his head. You'll need to pass a [Strength] check in order to cleanly cut it.
Deliver Nere's Head
---
With the head in your hands, return to the Myconid Colony in the Underdark and talk to Sovereign Spaw. He'll give you the name "Life-Chanter" and all the Myconid will end up dancing. Super weird but the quest will end here. We'll also get Envoy's Amulet as a reward which is pretty good.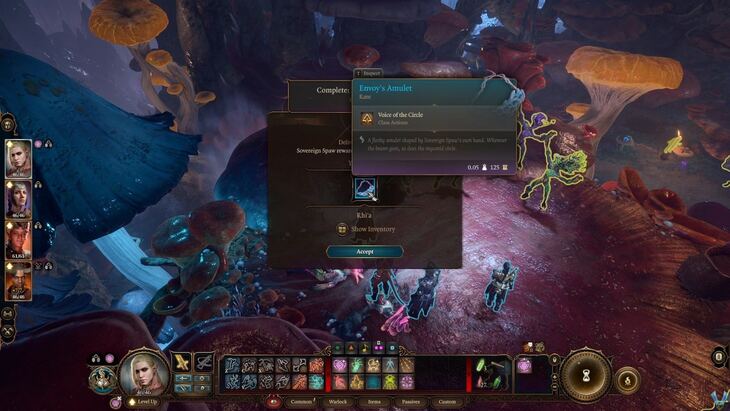 If you turn over the Head to Glut after overthrowing Spaw in Avenge Glut's Circle, you will get a Champion's Chain instead.
---
Last edited
by RagingTasmanian
on