This is a sidequest part of the main quest "Infiltrate Moonrise Towers", and we can start it by talking to the Tiefling Cerys in the Last Light Inn main building. She's in the center of the first floor.
She tells us how Zevlor told her how we saved them and the Druids' Grove, but sadly it seems he's been taken to Moonrise Towers.
Find Zevlor's Location
---
Zevlor is not found anywhere in the Shadow-Cursed Lands. You must find Zevlor after your first battle with Ketheric Thorm where he confronts you on the rooftop. Jump down into the Mind Flayer Colony and he will be there.
Destroy the Membrane and follow the path to the first path split. Check your map and head east to find a second path split. Head north and you will see a door you can go through. There will be some pods to your left and right along with a Neural Apparatus. you can operate.
Zevlor is in one of the pods and you want to release everyone. Releasing everyone will force you into a battle with Mind Flayers. Their tactic is to stun you with Tentacle Whip or Mind Blast, then go for an instant kill with Extract Brain. They are also assisted by Intellect Devourers, which will run towards you and use melee attacks.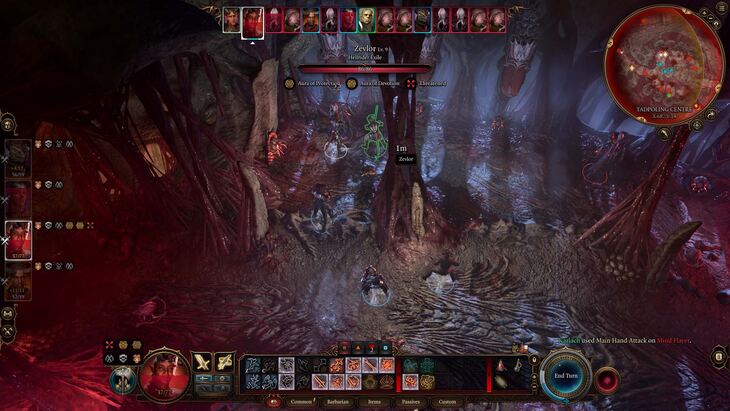 Fortunately, you are also assisted by Zevlor and a few other captives. Zevlor can deal great damage to the Mind Flayers, but don't leave it to him. Focus your attacks on one Mind Flayer at a time to avoid giving them multiple stun opportunities. The fewer chances they have to stun, the easier this battle is. Tentacle Whip and Mind Blast deal damage; don't get complacent if you don't get stunned.
If the battle is too difficult, it might be easier to defeat the Intellect Devourers first, then activate the apparatus.
When the battle is over, speak to Zevlor about what happened. You will hear his side of the story and the quest will be complete. Despite the options, recruiting him is not possible.
---
Last edited
by RagingTasmanian
on