We can start this quest in the Underdark, from the Duergar NPCs located at the Decrepit Village. Note that you can only get this quest if you decide not to attack them on the spot, or say you're not part of the Absolute.
As your talk with him goes on, you can ask about what this person looks like (a deep gnome with really nice boots), which is a hint. After that, selecting either "I'll help" or "You expect a reward" will make Wyll disapprove if you have him in the party so pick "That's your concern". You can still do the quest anyway.
Find the deep gnome runaway
---
Finding the little gnome is easy. This little gnome is located in the Myconid Colony northeast of the Decrepit Village. Simply follow the northeastern exit of the village northeast until you reach a large open area with exploding mushrooms. Here approach the northwestern corner to find several Myconid guarding the entrance.
Here you'll have several options and all of them lead to the same: granting you access to the colony but he'll want to see you. That's another quest so we'll ignore it. Instead head inside the colony and go to the waypoint. From the waypoint go west up the large red mushrooms to find a large open area. Here you'll see a small deep gnome on the ground called Thulla.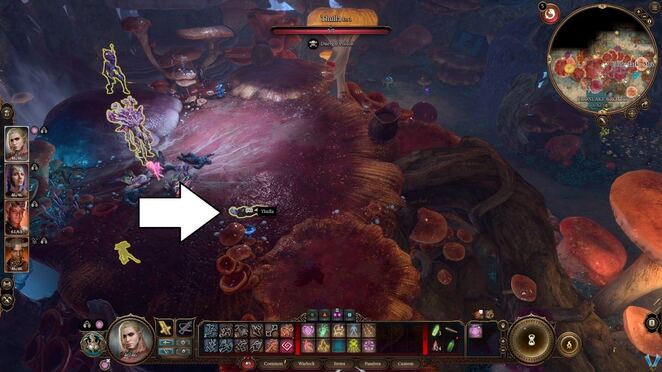 Talk to her to start a new sidequest.
After the quest above you'll have the boots (she either gave them to you, you stole them, or you killed her).
Talk to Sergeant Thrinn
---
Sergeant Thrinn is located in the Grymforge. You arrive here as part of the main quest "Travel through the Underdark" so go ahead and play through it until you reach the Grymforge.
Once here head south from the waypoint and follow the path south-southeast until you reach a large area with several Duergar and some deep gnomes mining. One of the Duergar moving around these deep gnomes is Thrinn.
As you talk to her you'll have an option to give her the stolen boots back. Note that giving them back means you'll lose them, but will also gain an item as thanks. You can only choose 1 though:
Of course you can just ignore the option altogether and keep the boots (you might have to fight her later, completing the quest since she'd be dead). Of course, another option is give her the boots, get your reward, then kill her to get the boots back. You'd have to kill so many Duergar if you do this so only do so if you're confident you'd win.
---
Last edited
by vinheim
on