We can start this quest in the Underdark by talking to the female dwarf Derryth Bonecloak in the Myconid Colony. She tells us that her husband is missing and we'll need to help her finding him. As you talk to her you can pass the [Deception] check to tell her you've met the husband, but I don't think it changes anything. And agreeing to help her will increase Wyll's and Karlach's approval.
Find Baelen
---
Finding the hubby is actually pretty easy. Leave the Colony through the southwestern exit and follow the path northwest towards the Sussur Tree area. As you go you'll cross a path above the river below you. As you cross it you'll see some green mushrooms that explode when you get close.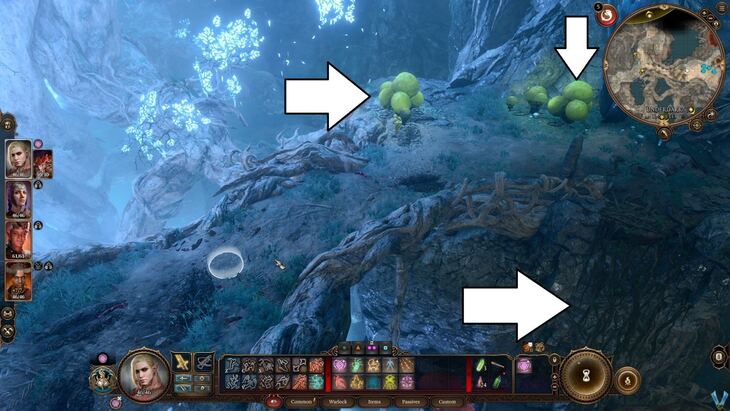 From here we want to go north and down the side of the cliff, but when you do so make sure to only take one character with you (we don't need the whole party) or have them go down one by one.
Anyway, down here go north to find an area full of these green mushrooms. As you approach it a scene will play where we find our hubby.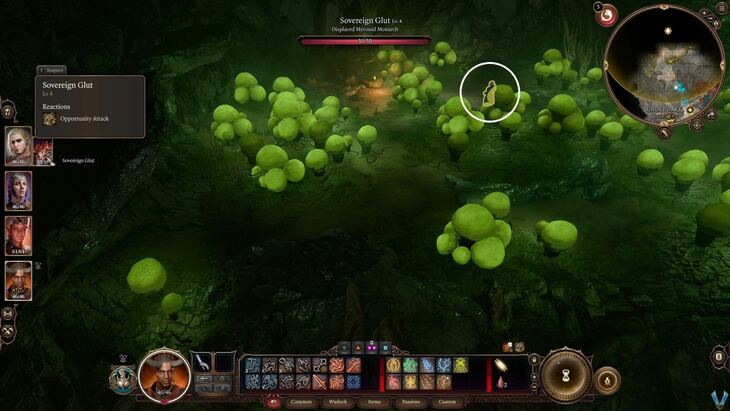 And so the question here is: how to get him out of there? Well, there are several ways. During the scene he asks you to get him his bag. That's much easier said than done given that the bag is in the back next to the torch. And yes, if these mushrooms explode on us then the torch will ignite all the gasses and everything will be burning. Definitely not what we want.
So what to do? If you happen to have a Scroll of Misty Step then you can throw it to him from out here and he'll use the scroll to get out of there safely. Super easy. Of course you may or may not have one. There happens to be one nearby in case you haven't grabbed it. Southwest of our location is the Sussur Tree waypoint. Follow the wall to the southwest of it and go up the side of the cliff to find a hostile man named Filro the Forgotten. Kill him and loot the scroll from his body.
If you don't have one then there are many ways to do this. I found that the best way to do this is by simply shooting a fireball at a mushroom and burning everything haha. Make sure to save your game before you do because I don't know if this was a bug on my side, but Baelen just wouldn't die. He ran out of the fire and healed himself, triggering a scene and going back.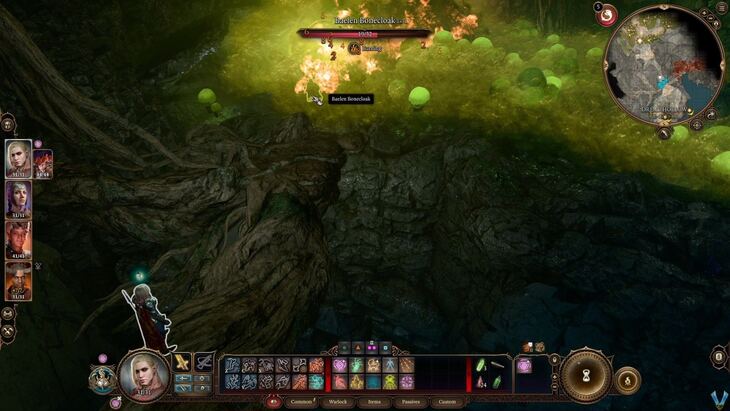 Of course, if this was a bug then there are other ways to do this. Of course, for this we'll need to actually have the Misty Step spell that we can use so we can get to his bag. If you happen to not have the spell inately, then I can point you to a location where you can find a necklace that has it.
In the Goblin's Camp (inside the building), in the room before the entrance to the Underdark (where the female ogre is/was) you can find a chest next to the bed that has the Amulet of Misty Step. Equip this and you'll be able to use Misty Step.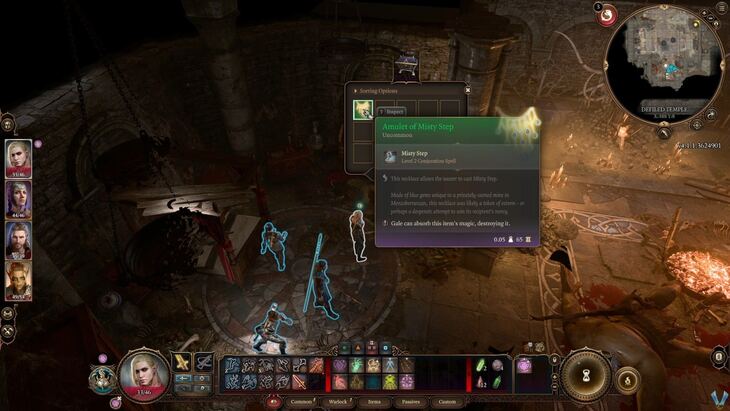 Ok, now that we have the spell you want to get as close to the back as you possibly can without triggering the mushrooms, then use Misty Step to teleport across and get to safety. After you do loot Baelen's bag to find a Scroll of Misty Step. Grab it (loot the rest for yourself) and toss it at him. He'll then use it to go to the entrance and you'll have to do the same.
Alternatively, you can run back and have the mushrooms explode. Baelen should be far enough that he won't be affected. He can heal himself if he is damaged and he won't die from a few explosions.
If you already have a Scroll of Misty Step, you can throw it to Baelen without going to his pack and triggering the mushrooms. Ungrouping yourself from your team temporarily can prevent your party from chasing after you, accidentally triggering the mushrooms.
After you helped him out he'll return to the Myconid Colony and give you a Scroll of Invisibility. If Baelen does not survive the encounter, you can grab the Scroll of Invisibility off of his body.
Speak with Derryth
---
Return to the colony and talk to Derryth. It seems she doesn't really like him and she tells you why. Damn, that must be rough, for both of them. She will also talk to you about a mushroom down here called Noblestalk, which seems to be able to cure pretty much anything. This looks like a sidequest, but it's not.
And the quest will end here. You'll get Gloves of Uninhibited Kushigo as a reward.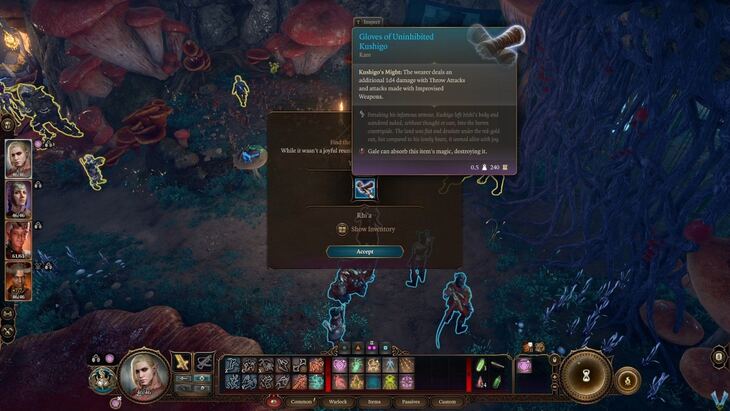 The quest will still complete when you speak to Derryth and Balen dies. However, you do not get the information or the Gloves.
---
Last edited
by RagingTasmanian
on