Punish the Wicked is a sidequest you can start by talking to He Who Was. He's located on the eastern side of the Shadow-Cursed Lands, directly east of Last Light Inn.
As you approach him you'll see he's making a dead gnome dwarf talk. Despite the many dialogue choices here, it'll come down to 2 things: you either don't trust him and fight him right here, or agree to help him out.
If you agree to help him out will of course start the quest and he'll ask you to go to the distillery called The Waning Moon and bring him the dwarf's ledger. Sounds easy enough. I'm ready to be ambushed 10 times and kill 100 enemies haha.
Find the ledger
---
You can find the ledger over at "The Waning Moon", just like "He Who Was" mentioned. This tavern is located northwest of Moonrise Towers (very close to it actually).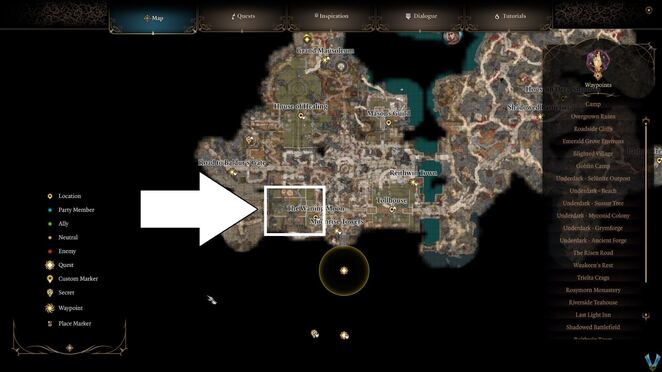 Once inside the building you'll see many undead walking around. They're not hostile, so head to the bottom of the tavern and approach the western side to find a person going by the name of "Thisobald Thorm".
He's the master of this place and during the scene with him he'll offer you a drink.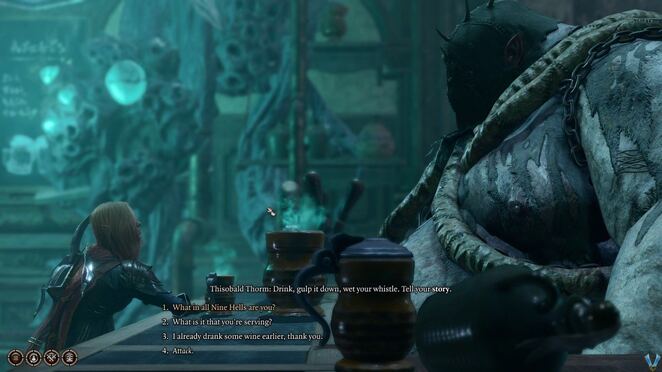 Now, this drink doesn't seem to have any side effects despite your character feels like it burns as it goes down the throat, so it is safe to drink. That being said, during this whole event you'll need to pass several checks. First is [Performance] check between drinks. This is so you can tell him of stories you've gone through... and some made up too.
Like I said above, there will be several times where you'll have to have a drink with him. During these, you'll have either a [Sleight of Hand] or a [Saving Throw] check. This is to fake drinking it, or straight up drinking what's in the mug. Like I said, there are so side effects to the drink so pick whichever gives you the best chances. You can also mix them as you go through. It's important to note that several of your party members (Karlach and Shadowheart mostly) will approve of you drinking.
NOTE: refusing to drink will start a fight against him. And having him drink will end up killing him anyway.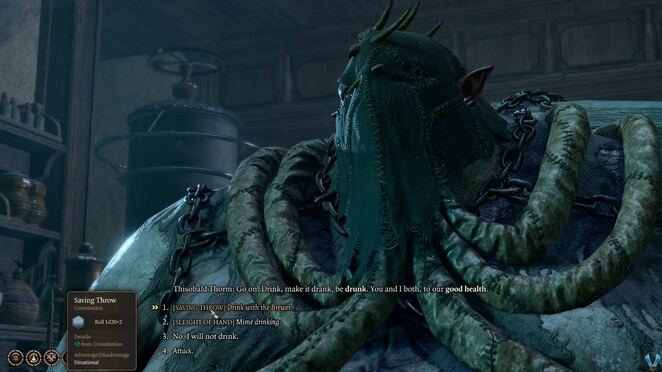 After each drink you'll tell him a story, and after that you'll get the option to drink again, but also ask him some questions. Ask them to get more information about Ketheric. Eventually, after all the drinking he'll end up dying. Drunk too much the poor man. Do note that this will also start the main quest "Find Ketheric Thorm's Relic".
Once this is all over, feel free to loot the body for a lot of consumable items, alongside a key. This key allows you to open the door behind him...
NOTE: inside the little cave behind Thisobald you can find a book called "Research Notes".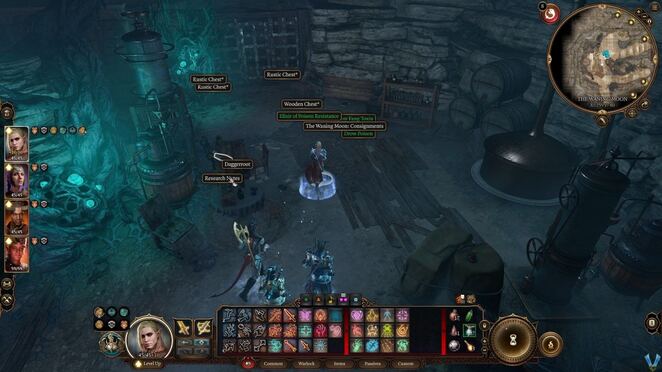 Save before checking it out and as you read it you'll learn that about a very potent poison. As you go you'll get an [Investigation] check. Passing this check gives you the location of this "package with corpse rose petals". You'll also get the recipe "Thisobald's Brewed-Up Bellyglummer".
After all this, what you really want is to check the loose wooden plank behind the bar where Thisobald was in the scene. You can find the ledge hidden under it. To see it better you'll have to pass the [Perception] check. Go ahead and read it to see what this "Madeline" woman was doing. Take special note of the last large paragraph on the first page. It's the one that's connected to this quest.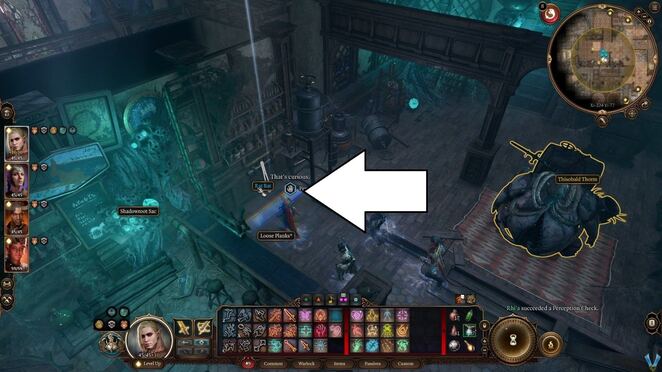 Give the ledger to He Who Was
---
With the ledger in hand, return to He Who Was. He'll smell that you have the ledger on you. Creepy.
Anyway, you can ask him why he wants the ledger and how he knows we even have it, but it all comes down to him telling us what the ledger says: she snitched on her friends because they were drunk and they got killed. That is no lie. After this, we'll get some dialogue choices. The first 3 are practically the same and will continue, but of course choosing to kill He Who Was will of course end the quest and you'll have to fight him.
NOTE: deciding to fight him will be against him and the raven. The raven goes down in a turn or two but you'll want to be careful because its attacks can cause blind to the character being attacked. He Who Was on the other hand, he loves to use the spell "Fear" to make you drop your weapons and run away from him for a couple of turns. He can also bring up a cloud of darkness to cause blind when stepping inside it, but overall not a hard fight. He doesn't really have any thing worth looting though.
Choosing to continue with this "event" will have him cast a spell that will bring Madeline's spirit back into his own body. Whoa. We will now have some time to talk to her. Listen to her story and she'll tell you what the Dark Justiciar did, which is quite sick. After knowing this we'll have 3 options:
[Persuasion] Anything? Then hurt yourself as Ben and Marc did - stab yourself.
[Persuasion] Pathetic - you murdered your friends. You're a coward.
[Persuasion] There's nothing you need to do. This wasn't your fault - I promise.
These have very difficult outcomes. Selecting the first option will have her... well, stab herself. If you tell her to continue then He Who Was will snap back and attack you since you made Madeline stab his body. Whoops. The third option will eventually end up in a fight as well since we did the complete opposite of what he wanted.
The second option has her feeling even worse (which is what He Who Was wants). This has the best outcome as He Who Was will be happy, giving you a reward and ending the quest. The reward is the same nonetheless, which is 28 Gold (nothing) and the Raven Gloves, which allow you to summon "Quothe the Raven". Awesome reward!
NOTE: failing any of the Persuasion checks will have Madeline still feeling like crap and leaving the body. He Who Was won't be as happy BUT the end result is the same.
---
Last edited
by vinheim
on