Raid the Emerald Grove is a main quest that is obtained during Defeat the Goblins. Head to Dror Ragzlin and let him complete the ritual, then agree to see Minthara. This quest assumes you go along with Dror Ragzlin and Minthara; attack them at any point to back out.
Gale, Karlach and Wyll can leave you as this quest will rapidly lower their disapproval. Keep that in mind as you proceed.
Minthara is east of Dror Ragzlin's room. You will find her talking to a Goblin near a table.
Speak with Minthara
---
Agree to assist the hunt and point out the Emerald Grove's location. Minthara tries to learn the grove's location from your mind. You can use an Intelligence check to block her, but in this case you want her to learn.
Agreeing to help with the plan by infiltration gets Astarion's approval while Karlach disapproves. You can also speak to Karlach about helping Minthara. The raid won't begin until you take a Long Rest even within the Emerald Grove. Finish your tasks and then rest, which signals the start of the raid.
Secure the Emerald Grove
---
Head outside the Emerald Grove gate where some Concealed Oil Barrels are scattered around. After a scene, head to the top of the gate and go left to find Zevlor.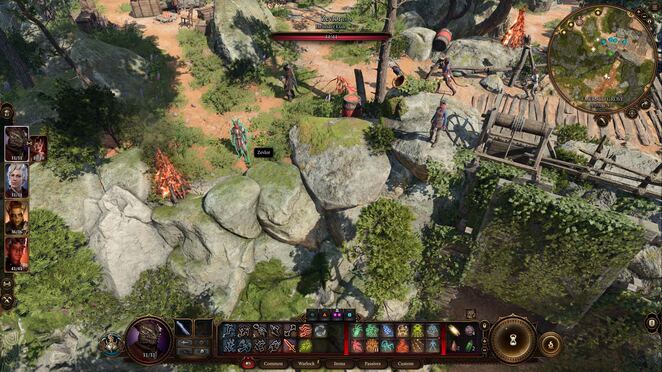 Telling Zevlor you are going to mount a defense and assist is your last chance to back out. Tell him you are with the raiding party to begin combat. Astarion will approve of this decision but Karlach will disapprove enough to leave your team. Zevlor is the most powerful individual, while Elegis and Asharak are also capable fighters.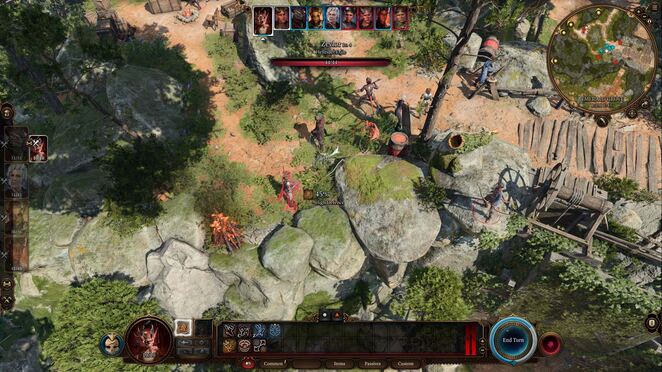 Have a tank hold off Zevlor while you focus on Elegis and Asharak. Once both of them are down, turn your attention towards Zevlor. Alternatively, focus fire on Zevlor while keeping him occupied. Once he's down, everyone else is easy to defeat.
After a few rounds, Minthara arrives with allied reinforcements. They will take time to reach you, but will fight the rest of the Tieflings. Take care of the remaining enemies around you to continue.
Head north into the grove and then northwest when the path splits. You will meet up with Minthara and help her eliminate the Tieflings that remain. She has a few Goblin allies with her, but they will need your support to win.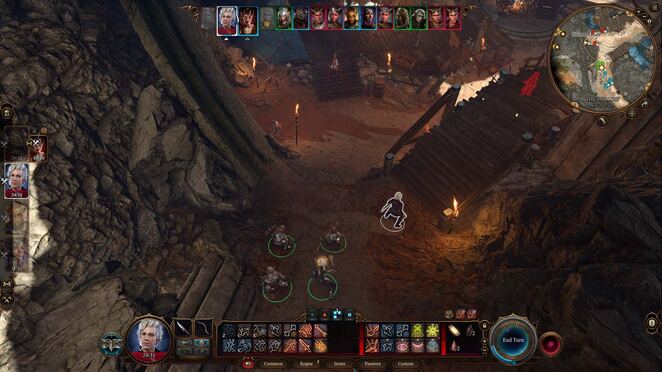 Take on the Tieflings one by one, or hold them off until your allies get to them. They are all weaker than Zevlor and should be easy to take down. Minthara can heal anyone who is getting weak, but this shouldn't be a frequent problem.
After all the Tieflings are down, head through the Stone Door in the northwest, where you met Zevlor after talking to Kagha. There will be several weak civilians inside who shouldn't be tough to kill.
Slaughter the Emerald Grove
---
After the Tieflings are gone, Minthara asks you to wipe out the druids. If you completed Kill Kagha, they are already gone. Head to the northeast part of Emerald's Grove and fight Kagha along with the rest of the druids. Some Goblin allies will assist you during this fight.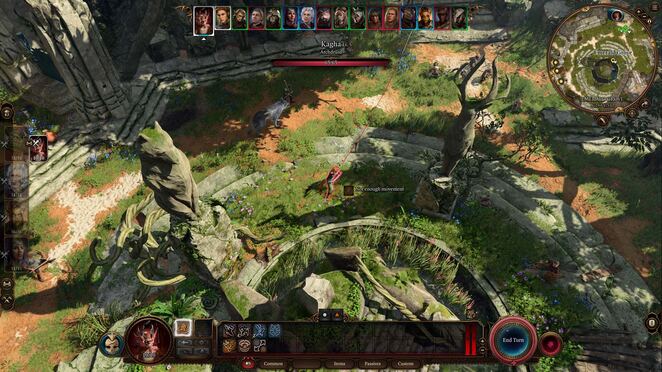 Kagha is the biggest threat, using spells such as Plant Growth and Thunderwave to stop movement and push you back respectively. She is also capable of turning into a Dire Wolf, a form you must defeat before you can damage Kagha. The other druids are also capable of turning into animals and will do so throughout the fight.
Target the druids and pick them off individually or focus your attention on Kagha. The Goblins can provide some support and hold off the other enemies. Rapid spellcasting such as the Warlock's Scorching Ray can eat through a target's health if they all connect.
Return to Minthara
---
Report back to Minthara past the northwest Stone Door. Open your mind to her, then you get a scene. You receive the Gift from the Absolute item, which gives you access to another tadpole. Astarion will approve of this, while Wyll disapproves of your actions.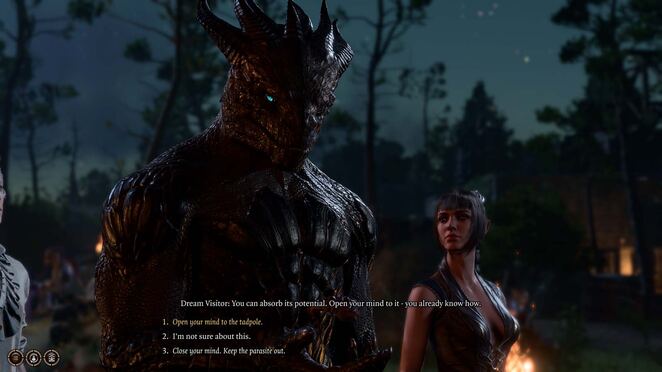 Embrace the tadpole and you get access to further Illithid Powers. The quest is over now, but you have one romance scene. Talk to Minthara at your camp, then rest at a bedroll near the fire to start the scene.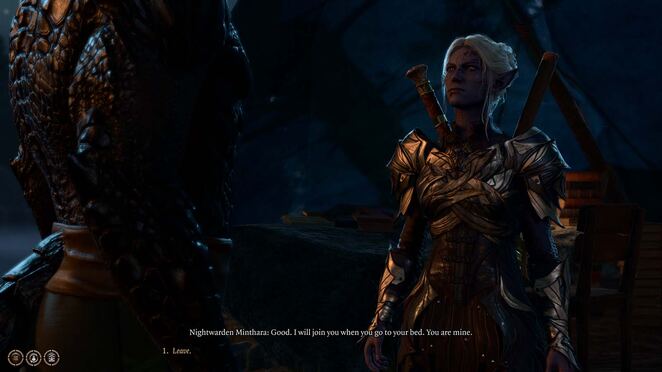 After the scene, you can make a Wisdom check to see what Minthara fears. You can also just learn about her desires.
| Check Type | Difficulty To Clear | Success | Failure |
| --- | --- | --- | --- |
| Wisdom | 15 | Minthara is calm | Anger Minthara |
A success leads to a series of options, go along with Minthara. Don't reveal the artefact or disparage her.
Minthara will confront you later, which leads to a Persuasion or Intimidation check.
| Check Type | Difficulty To Clear | Success | Failure |
| --- | --- | --- | --- |
| Persuasion | 12 | Convince Minthara | Anger Minthara |
| Intimidation | 15 | Convince Minthara | Anger Minthara |
Successfully passing the checks leads to another set of options: Deception and another Persuasion check. This is also where you end up if you passed the Wisdom check earlier. You must use these checks to remain friendly with Minthara; disagreeing will lead to a fight with her and the Goblins at camp.
| Check Type | Difficulty To Clear | Success | Failure |
| --- | --- | --- | --- |
| Deception | 2 | Minthara believes you | Minthara doesn't believe you |
| Persuasion | 2 | Minthara believes you | Minthara doesn't believe you |
This leads to the Travel to Moonrise Towers quest. You receive the Spider's Lyre which is necessary to proceed.
If you lost or sold off the Spider's Lyre, it is possible to use your Illithid abilities as a substitute later on. You can always buy the Spider's Lyre back if it was sold to a merchant.
---
Last edited
by RagingTasmanian
on