We start this quest as we enter the Goblin Camp. We see Volo, a bard, in the middle of the goblins. Talking to him and picking any option besides "leave" will start this quest.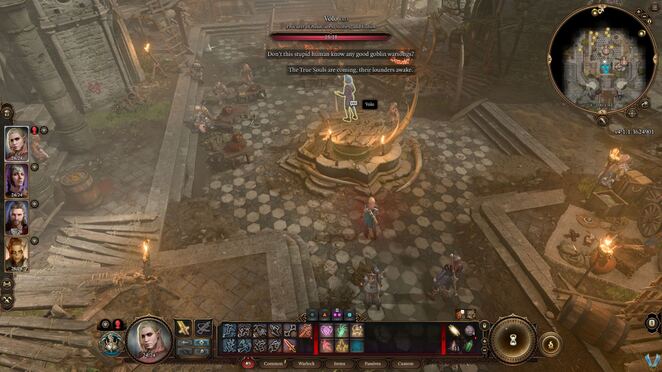 Rescue Volo
---
As you saw during the scene where you initially talked to him, he'll be dragged away back to his cell, which is inside the fort itself directly north of your location. Follow them and head into the fortress itself. Inside talk to the goblins to have them let you through. They'll ask you who you're looking for and you get to pick between the 3 leaders: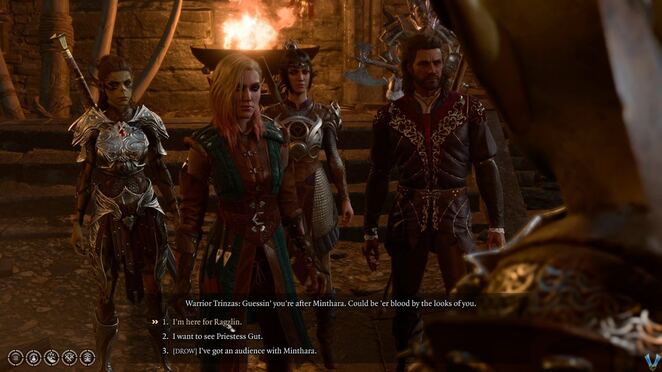 The answer you pick doesn't really change much, but they just give you their location. Not that it matters much since we'll be most likely killing them all... unless you end up joining them.
Anyway, past them is a large room with several goblins. There's one rallying the others at the top of the area. This is Priestess Gut and it's one of the leaders. Definitely the weakest one. But let's go look for Volo.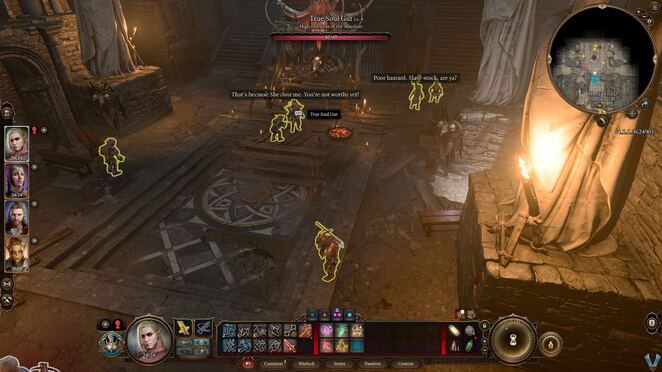 Go up the stairs on the eastern side of the room and you'll see 3 rooms on this side. There's a man tied to the southern room. He's not Volo so head north and enter the third room where you'll find Volo in his cage.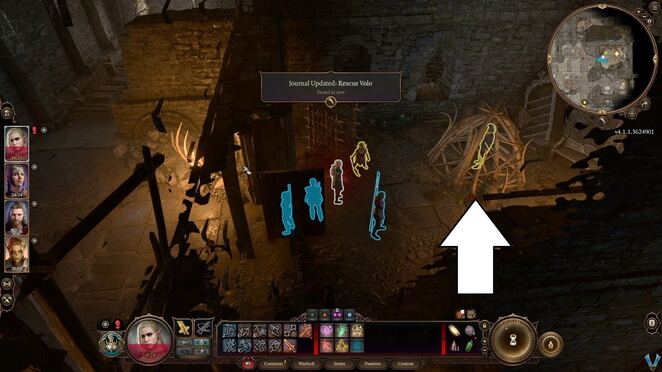 Talk to the goblin and she'll tell you to stay away from her pigeon. You'll eventually get some checks you can meet, [Wisdom, Deception, Intimidation]. Passing any of these checks will make her leave. Go ahead and talk to Volo afterwards and open up his cage. Have him wait over at camp and he'll drink up an invisibility potion and run away.
Return to camp
---
Once he's gone, head back to camp and you'll find Volo there.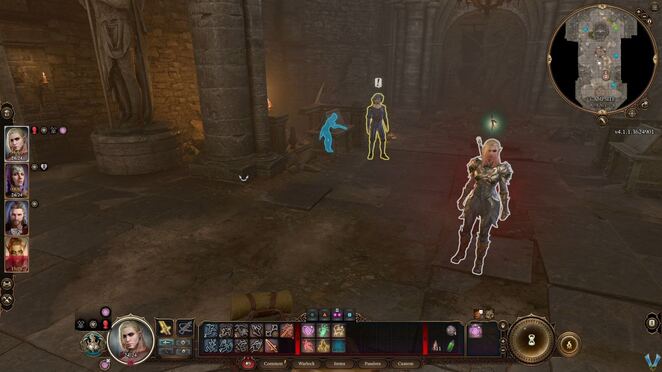 As you talk to him you can ask him about mind flayers and tell him about the tadpole in your brain. You can have him examine you, where he'll place you on a bed and see it. He'll ask you for some time to learn more about it and then he can help you. This will bring the quest to an end and you'll receive Blazer of Benevolence as a reward.
After some time has passed and you come back to camp, talk to Volo again. If he tells you he learned stuff he'll offer to help you get rid of the tadpole. Of course this is not going to be as simple as he thinks.
To not spoil anything, if you let him go all the way, and I mean ALL THE WAY, you'll end up losing an eye but he'll give you an artificial one that has the property to
See invisibility
. Of course your eyes will be mismatched like Wyll's, but you get to see the invisible. Volo will also run away from camp so completely up to you if you want to go all the way. I personally didn't and Volo's remained here at camp.
---
Last edited
by vinheim
on