We can start this quest by talking to the soldiers pushing against a large double doors at Waukeen's Rest, which is north of the Blighted Village. Note that this is also part of Wyll's personal quest "The Grand Duke".
Search for survivors
---
Once the way into the building is open, head to the back of the room and go up the stairs to the second floor. Up here approach the guards that were outside and destroy the door they're staring at.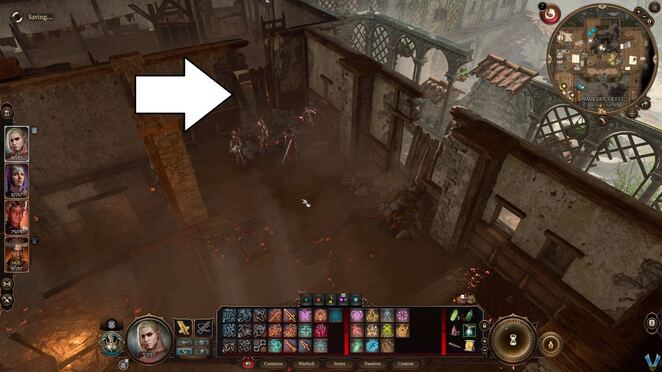 In here we'll find Counsellor Florrick who'll run to safety.
Speak with Counsellor Florrick
---
Follow them back outside and talk to her. She tells us about the duke not being here and that he was most likely taken to Moonrise Towers. You may or may not know of this place depending on how deep you are into Act 1, but this is our destination once we're done with this region and we'll get there during Act 2. Of course, accept the task of going to the Moonrise Towers to have this quest continue.
We'll also get a little reward here so pick whichever weapon suits your party.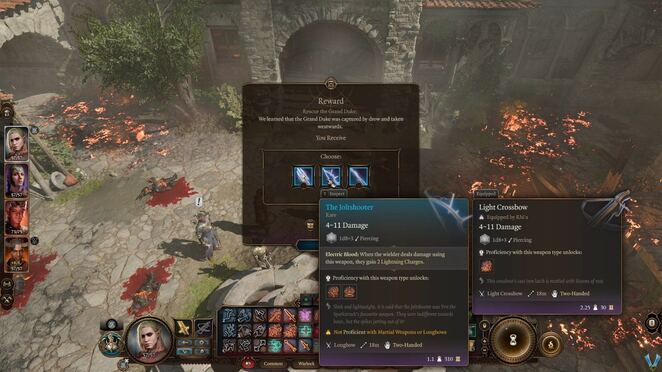 Search for Grand Duke Ravengard
---
Continue playing through the game until we reach the "Shadow-Cursed Lands". Here we'll eventually make our way to the Last Light Inn. Once we do enter the main building and go inside the northern room on the first floor to find Counsellor Florrick.
Talking to her will update our quest, as well as net us a new sidequest. She believes the duke's been taken to Moonrise Towers so our objective doesn't change.
After completing the previous quest, there's not much else for us to do throughout Act II and the Shadow-Cursed Lands. You'll need to play through the main quest and during the final moments of the main quest "Defeat Ketheric Thorm" you'll be able to find the Duke, but you'll only see him for a brief moment before we get an update to the quest.
Pursue Ravengard's captors to Baldur's Gate
---
Once you reach Rivington you'll want to continue playing through the main story (CLICK HERE for that part of the main walkthrough) and eventually Gortash will talk to use via one of the Steel Watchers (the large robots patrolling). This is most likely going to be as you're going through Wyrm's Rock Fortress, the building that's in between Rivington (north of it) and the entrance to the Lower City.
As Gortash talks to you, he'll invite you to his ordination. This will be part of another main quest, which I'll leave linked below.
During this quest you'll attend the ordination where we finally see Duke Ravengard. As you may remember he has a tadpole, making him not himself. Once the ordination is over and you talk to the Duke, leave the fortress and head north to find Mizora, right at the entrance to Lower City.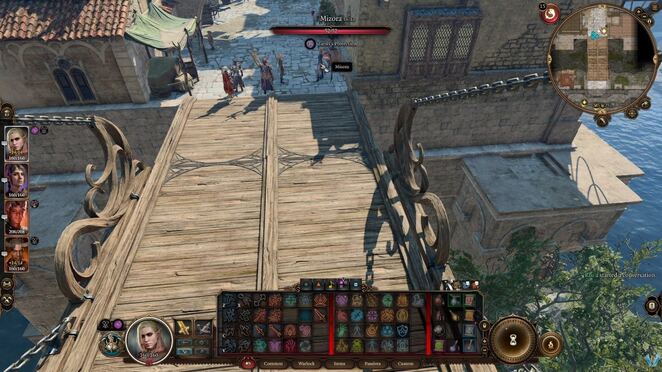 She tells us that Gortash has "relocated" the Duke but she won't tell us. She'll wait for us at our camp.
Rest at camp
---
NOTE: make sure to talk to Mizora at camp BEFORE you go to the Iron Throne. You go here during several main and side quests so make sure NOT to leave her hanging.
Read that note above and head back to camp. You'll want to interact with the campfire and prepare for a long rest to trigger a scene where Mizora appears with 2 other devils.
Of course, Mizora will not play by the books and give us 2 options to choose from:
She tells us where Duke Ravengard is and she'll guarantee his safety, BUT will have to sell his soul for eternity.
She breaks her pact with Wyll, but she won't tell us where the Duke is nor will she help us.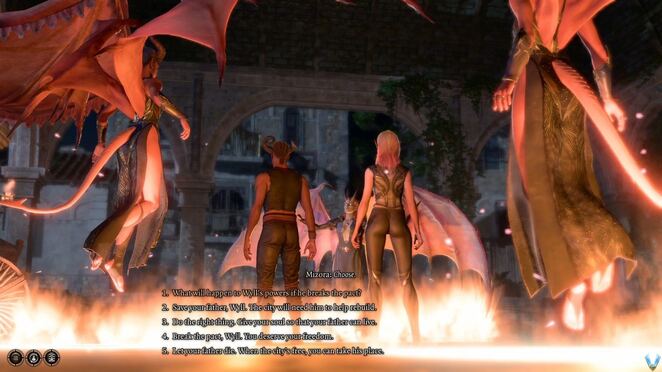 There's no real difference from what I can tell here. Having Wyll sell his soul once again will have Mizora tell us the location of the Duke, at least where we can go to reach the vehicle that leads us to the Duke.
Of course, given that you're reading this means that you'll know exactly where the Duke is, not really needing to give in to option 1. Selecting to break the pact is for the best, and don't worry, this doesn't mean the Duke's dead. We just don't know where he is. Go ahead and talk to Wyll afterwards to try and cheer him up.
NOTE: I don't believe there's a time limit to finding the Duke from here. As long as we steer clear from the location where he's being held I'm pretty sure he'll be ok. If I'm wrong please do let me know down below in the comments.
Search for Grand Duke Ravengard
---
Well, let me start out by saying that saving the Duke is probably one of the most difficult and annoying parts of the game. Well, if we're just saving him then it's super easy, but the place where he's located has other prisoners and if you're trying to rescue the Duke AND all the prisoners, yeah, this is much more difficult.
Before we get going, let me start out by saying that the Duke is located in an underwater prison called the Iron Throne. He's not the only one down here. There are several Gondians to look out for, and most importantly, remember Omeluum? The Mind Flayer we met in the Underdark? Yeah, he's imprisoned as well.
That being said, you'll want to start the main quest "Disable the Steel Watch". This has you go through the Steel Watch Foundry, which in turn takes you to the Iron Prison. Go ahead and follow that quest to save the Duke. Of course, before you even do that you might want to also start up the sidequest "Retrieve Omeluum".
Speak to Grand Duke Ravengard
---
If you've completed the main quest above (Disable the Steel Watch) then you should have saved the Duke. If so, congrats. That was the most stressful part in any game. For now go ahead and head back to camp with Wyll in your party and talk to the Duke to show him everything Wyll went through and why he did everything he's done.
During this talk, the Duke will tell us to go seek the great Wyrm sleeping under Baldur's Gate, Ansur. He'll also give us the item The Legend of Ansur so we can read it.
And with that, this quest will come to an end but Wyll's overall quest "The Blade of Frontiers" keeps going.
---
Last edited
by vinheim
on