We get this quest during the main quest "Get Help from Healer Nettie". You need to talk to the NPC Rath inside the Emerald Grove in the Druids' Grove.
Search for Halsin in the Goblin Camp
---
Before leaving head into the next room and talk to Nettie. This here is part of the main quest "Get Help from Healer Nettie" and she'll eventually ask us to go look for Halsin, the Druid Leader. She tells us that he and the other scouts went to the old temple of Selune so that'll be a good place to start.
Let's go look for a bit more info before we leave. Exit the Emerald Grove back to the Druids' Grotto and we'll want to go talk to Aradin. He's one of the guys that came back from the exploration with Halsin and also one of the NPCs that fought with us at the gate. If he didn't die during the attack you can find him on the north-northwestern side of the grove, exactly at the coordinates 169,542. This may vary from playthrough to playthrough.
As you talk to him he'll tell you about what happened and about a contract they got in order to loot the place. Of course she doesn't want anything to do with that now since most of the crew died, so he hands over the contract if you ask him. This will also start a new quest, which I'll leave linked below.
NOTE: if Aradin died during the goblin attack before entering the Druids' Grove, you can loot his body to find the Stamped Handbill. Getting this item won't start the quest right away - you need to read it.
Fast travel to the Emerald Grove Environs waypoint and from here you may remember to the west-northwest we fought the goblins. We'll want to go west from here. You'll eventually reach a fork. Continue going west and you'll reach a bridge. There's lots of loot around here and dead bodies on the other side of the bridge so make sure to loot it all. There is a dead goblin on this other side of the bridge that you can loot to find a Goblin's Drawing. This gives us an idea that there are 3 goblin leaders.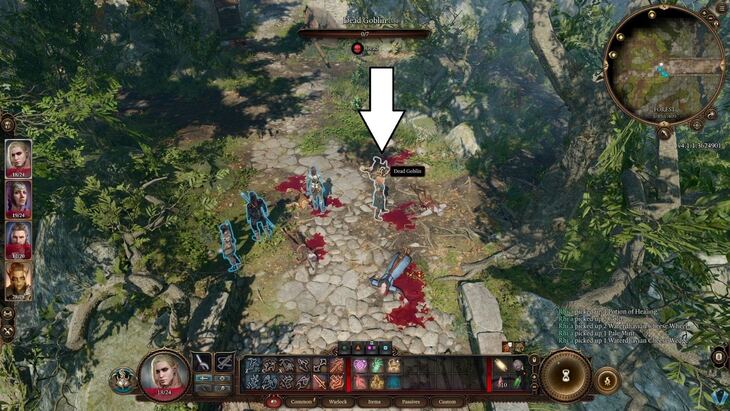 Save your game here and go west to find the entrance to a village called "Blighted Village". Going inside will trigger a scene where we're attacked by several goblins.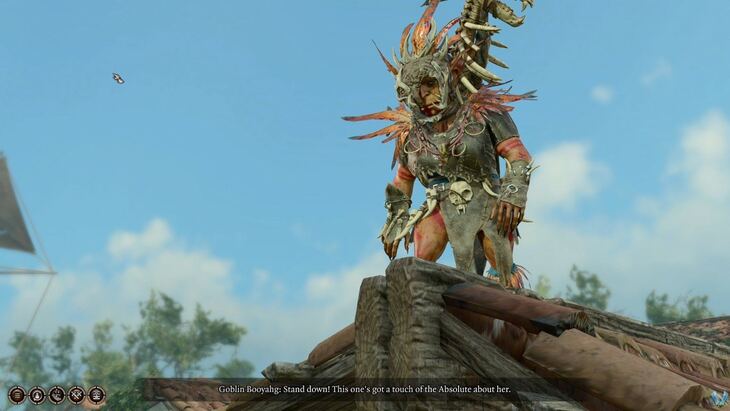 NOTE: it seems here we can avoid being attacked by the goblins given that we're one of the "touched ones". Yeah, it seems we have the touch of the Absolute. I'm pretty sure this is applicable to all races. However, if you still wish to fight everyone then feel free to do so.
And with that, we are going to explore the village really quick.
From where we enter, the door to the building to the north is locked. This leads to the basement. Lockpick it and head inside. Alternatively, go to the level above the door to find a Calcified Web. Stand on it and break it to fall down.
There are several barrels and crates you can loot in here, but if you go down the northern stairs you can find a chest next to a ladder. It has a trap so make sure to disarm it then open the chest. Inside you can find Highcliff's Blueprints. Read it to start a new sidequest.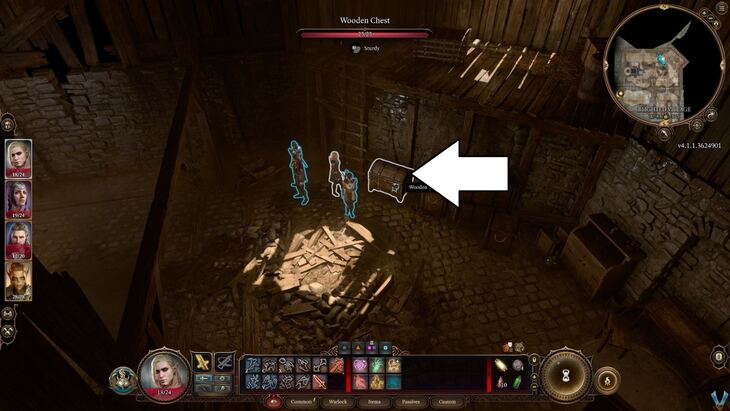 At the end of the basement you can a forge. Please note that the northern wall here can be broken. Doing so will reveal an underground passage.
We won't be exploring in there here but feel free to go inside and explore.
That being said, head back outside and go west to a fork. You'll find a chest next to the wheel cart. It's locked and you can lockpick it open, but if you're killing the goblins then the ones near the eastern entrance have the key (Moss covered key). There's also a waypoint here so that's great!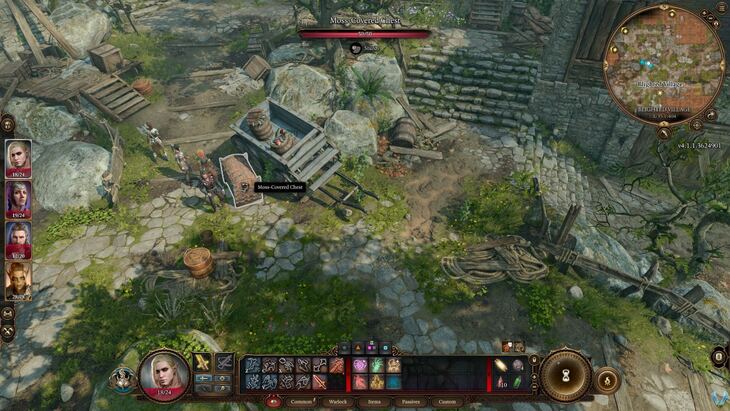 To the west here is a well you can climb down. It leads to the same underground area we found near the forge. Now, from here go south first and as you go down the stairs keep an eye on the western house. You'll find 3 Ogres inside (I'm unsure if you can only do this as a drow so if you have confirmation please let me know down below).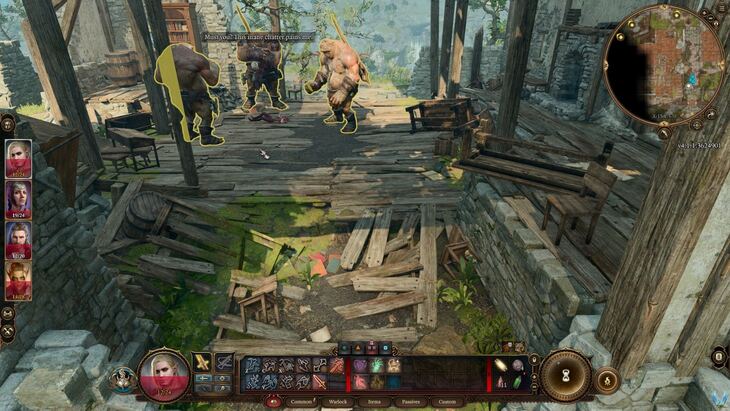 Save before talking to them since they will ask you for the "brand of the Absolute". Here you need to pass the [Deception] Check, otherwise they will attack you immediately. Doing so will let you talk to them and eventually tell them to forget about the goblins and have them help you.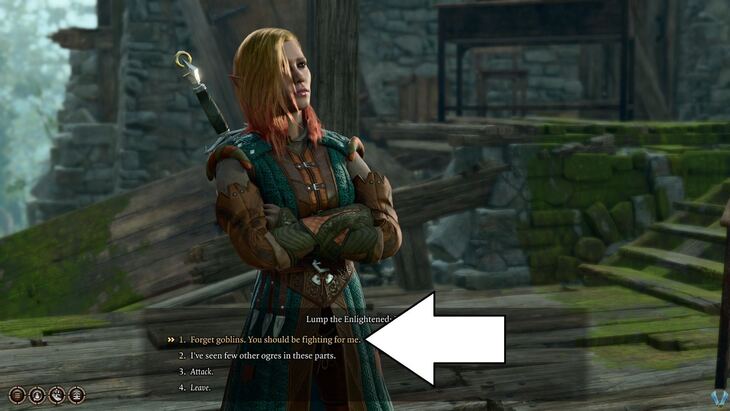 Of course, this will bring up a series of options, some with a check we need to meet. You can straight up give him 500 gold, or you can lie and promise him double that ([Deception] check here), or the best option is to tell him he can eat all those he kills ([Persuasion] check).
Passing either one of these will end in him giving us the Lump's War Horn, an item we can use in battle to have the ogres come and help us out.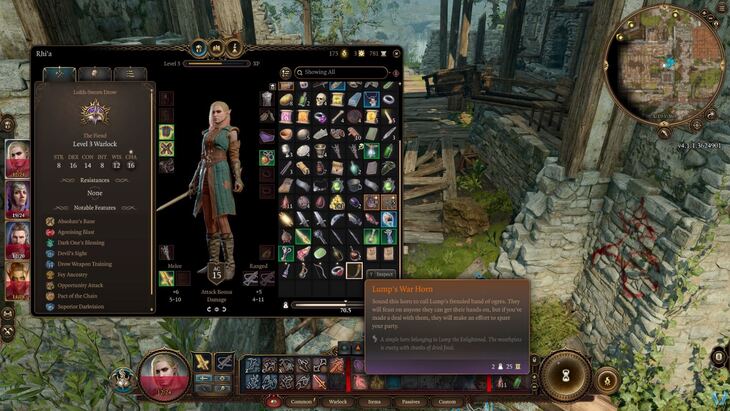 Return north to where the waypoint and well are and from here go north a bit, then west up some stairs to find a group of goblins. Approaching them will trigger a new sidequest:
After completing that sidequest above this part off the village will be clear. If you approach the little broken statue behind the windmill a little scene with Shadowheart will play. The pain in her hand is back. Just what is it?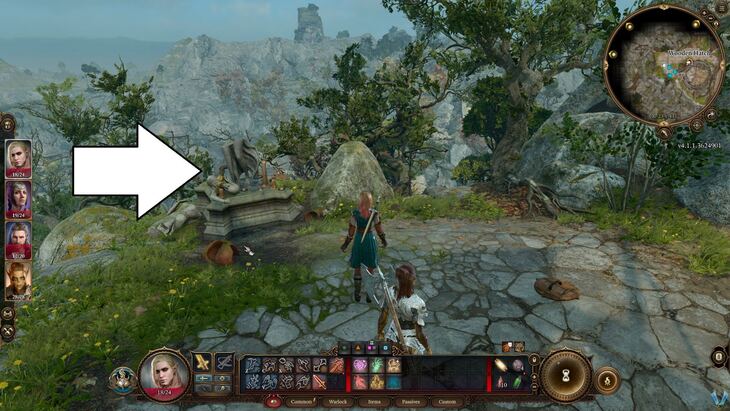 Return down the stairs to the east and go north now. There's a gate blocking your way. Go through and you'll see a little shack on the right side. Save your game and open up the door to find... just a regular couple doing couple things haha. This took me by surprise. Sadly, no matter what you pick you'll be fighting them. This is a Bugbear and an Ogre. The Bugbear is whatever, but the ogre is something else.
Having Lae'zel here is incredibly helpful. Not only thanks to her attack power, but she can also take a beating from the Ogre. The Ogre herself was hitting my Lae'zel for around 10-13 dmg. so she could withstand 2 hits before going down. She has her own self healing so that should be super useful. Of course if your OC can do this or better then feel free to use them.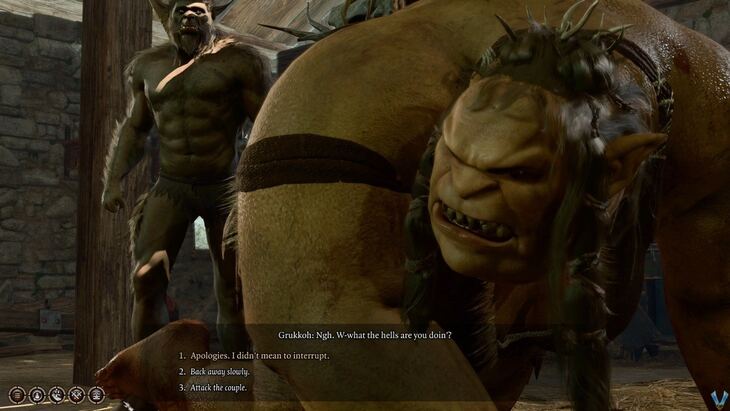 There's not really much inside the shack but you can loot the body for some pretty good items.
Behind the shack is a campfire to the left (up the rocks). Going up there you'll see a piece of meat with a dagger in it. Passing any of the checks will let you take out the dagger and keep it.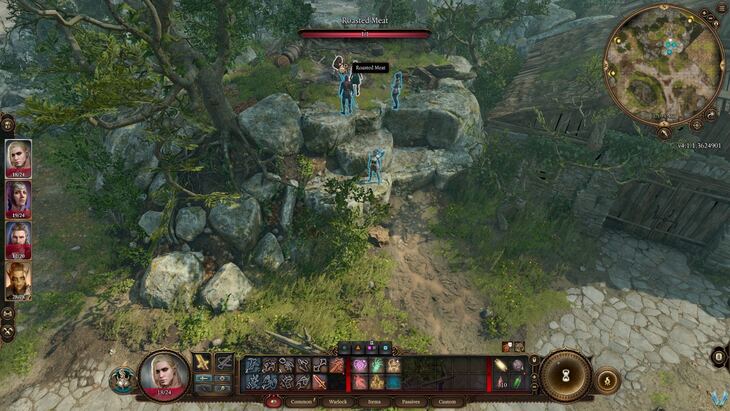 The path going northwest leads north (of course, towards another quest) so for this one return back south to the well and waypoint and we are going west now through the broken wall. You'll see we have 2 paths before us. They practically lead to the same spot so head down and cross the rope bridge when you reach it.
This leads to the Goblin Camp where more goblins will be there. Just like before, if you're a drow they'll let you through without having to go through any checks, but if you're not a drow then you'll definitely have to fight them.
Just past them head north to find another longer bridge. Before you cross it make sure you have Shadowheart in your party. Once you have her with you go ahead and cross the bridge to trigger a scene. It We are hearing some voices but luckily Shadowheart's artefact will save us from this. This happens with or without Shadowheart in the party. However, if she is with us we can ask her about the artefact and about us. It seems this time around she doesn't have a choice but to tell us.
Sadly, it seems she'll have issues with Gale and Lae'zel for obvious reasons. We'll keep an eye on them.
Cross the bridge now and you'll see there are several goblins here. You'll see a man in the center, Volo. He's telling stories and whatnot (a prisoner, of course). Talking to him will start a new sidequest.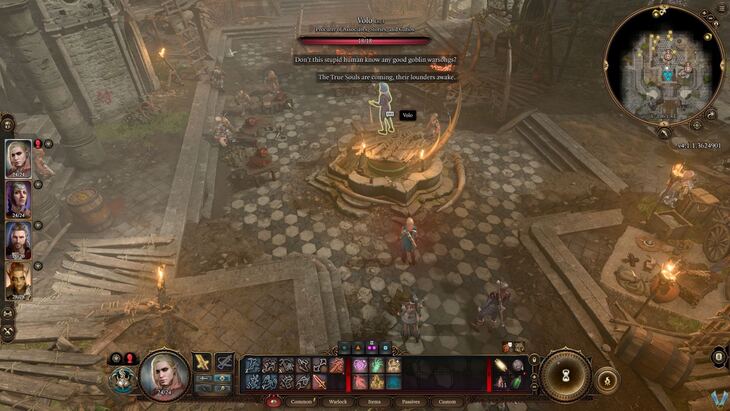 There's not much else going on around here but make sure to go east from where Volo was to find a new waypoint.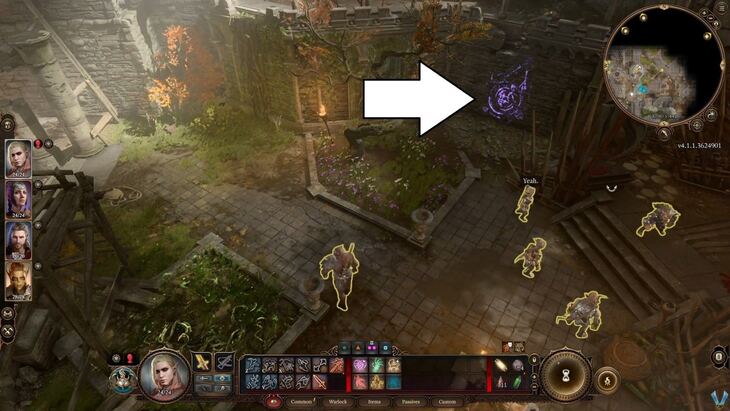 Afterwards simply head north and into the fortress itself. Inside talk to the goblins to have them let you through. They'll ask you who you're looking for and you get to pick between the 3 leaders: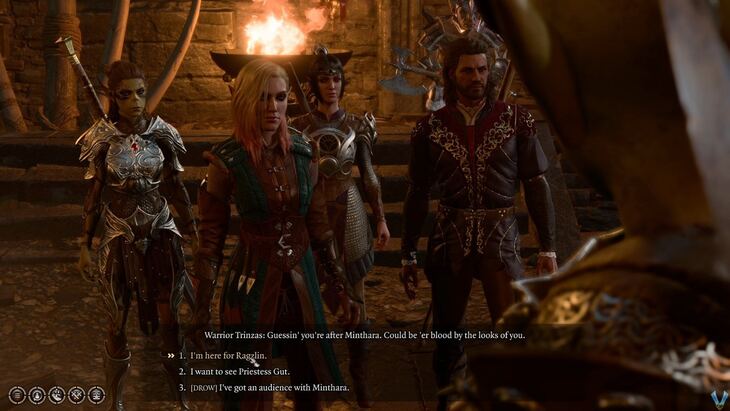 The answer you pick doesn't really change much, but they just give you their location. Not that it matters much since we'll be most likely killing them all... unless you end up joining them.
Anyway, past them is a large room with several goblins. There's one rallying the others at the top of the area. This is Priestess Gut and it's one of the leaders. Definitely the weakest one. But let's go look for Halsin first.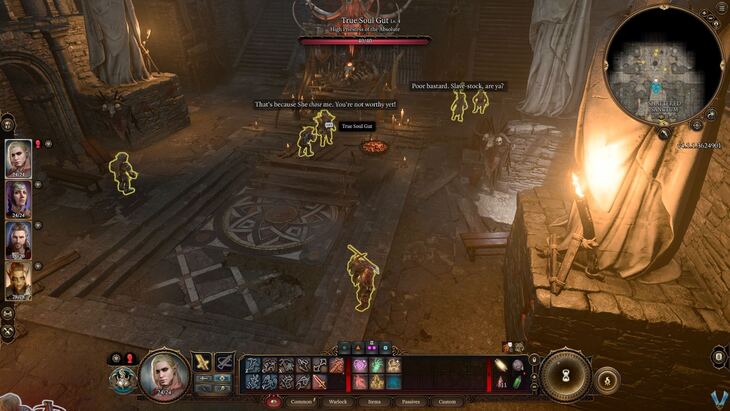 Go up the stairs on the eastern side of the room and you'll see 3 rooms on this side. There's a man tied to the southern room. Head in there and talk to them. Have the goblins leave you alone with him by having them move aside.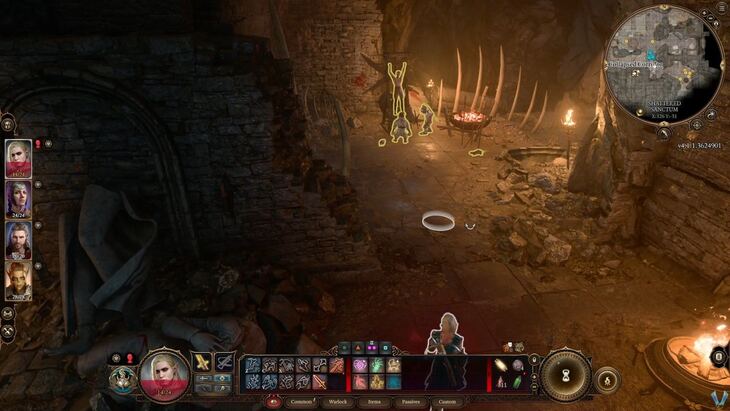 This person is Liam and he's one of the guys that came with Halsin. You can ask him about the Nightsong (if you got the sidequest back in the grove) and also about Halsin. He tells you he transformed into a bear but he doesn't know much more besides that. This will update our quest so go ahead and pick the lock and set him free if you so wish.
The room next door has Abdirak, a follower of the maiden of pain Loviatar. He notices you're suffering and will offer to alleviate the pain by pretty much whipping you. Go ahead and do so if you so wish. Nothing happened to me here after getting whipped so I just reloaded my previous save file.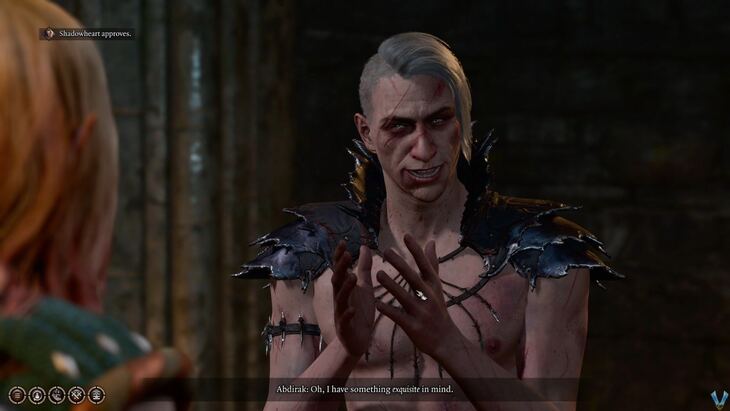 Head north from here though and follow the wooden catwalk to a smaller room with 3 goblins. There's a ladder on the western side and a door to the north. Go inside the door to enter the Worg Pens area.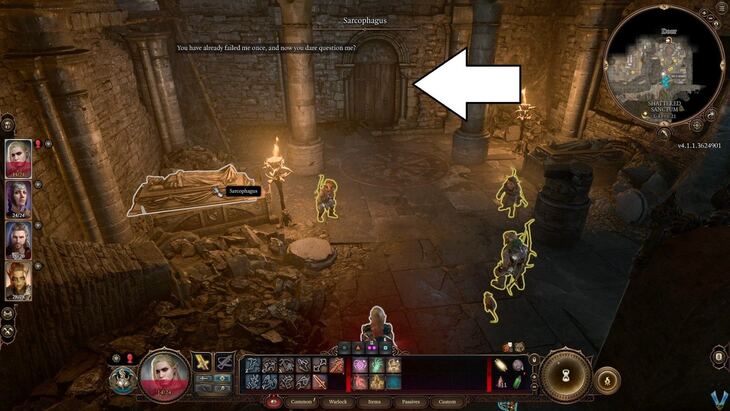 Head north in here and down the stairs. You'll find 2 cells to the far north. The eastern one has a bear inside. Yeah, that's Halsin.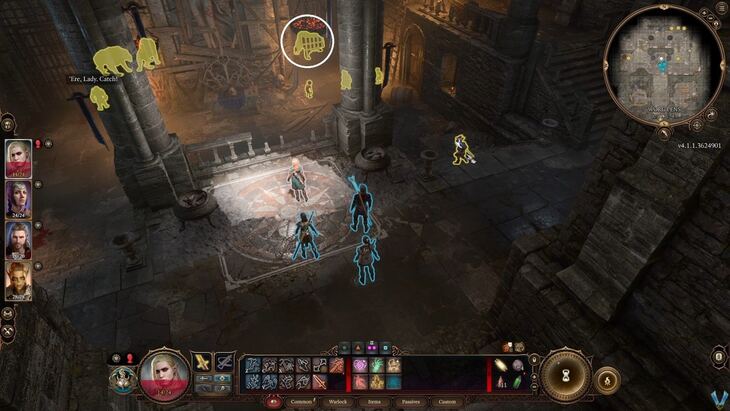 Here's the thing here though: you can rescue Halsin... or not. What I mean is that by rescuing him you'll update the quest... but it won't end. He'll still ask you to kill the goblin leaders so you'll have to do that still. However, by freeing him you can have him join you temporarily and he'll keep his bear form. HOWEVER, this will make pretty much the entire fortress hostile. Yeah, not so good of an idea. Of course he can also stay here if you free him, but the camp may still be hostile if one of the goblins here runs away.
However, like I said above, you can just not rescue him. That's right. Leave him in his cell and you can go ahead and kill the leaders (which you'll have to do anyway). Once you do you can come back to where he is... and he'll be gone. Yeah, he escapes eventually all by himself and you'll be able to find him back in the Druids' Grove. He'll still thank you and everything so there's really nothing to lose besides not having him with you when you take out the leaders, but to me it was a bit better since you can take advantage and attack them before they do, making the fights a bit easier.
I'll leave below the link to the page where we go around killing everyone.
Meet Halsin in the Emerald Grove
---
Whatever you decide to do, head back to the Druids' Grove and head down to the Emerald Grove where you'll see Halsin arguing with Kagha. Oh he is MAD! During this conversation, or the one in the goblin camp (if you decided to rescue him there) he'll see our tadpole and tell us he can't cure us, but it seems he also has a lead on this: the goblins were taking their captives over to the Moonrise Towers. Very nice.
Speak with Rath
---
Regardless of how you met Halsin, we'll be able to get our reward. Head inside the cave where you met Rath (where the snake killed or almost killed the little girl) and talk to Rath. He'll give us a rune and point in the map where we can get our reward.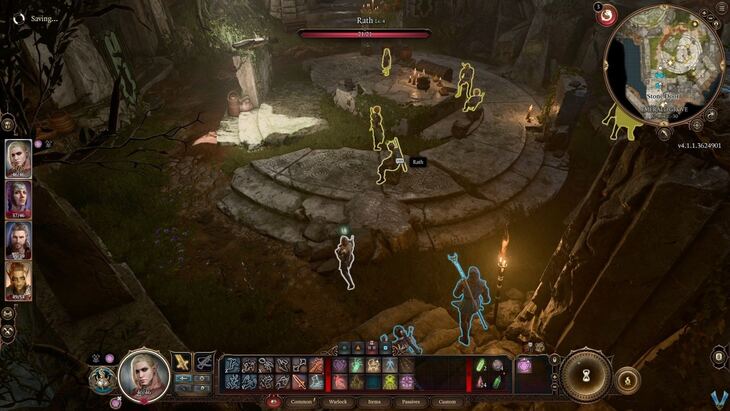 Head to the very last room (where the dead drow is) and here you'll see the large wolf statue in the center and there will be 4 pedestals surrounding it. Place the rune Rath gave you into the eastern one then touch these pedestals counterclockwise. Will will open the way down by removing the central statue.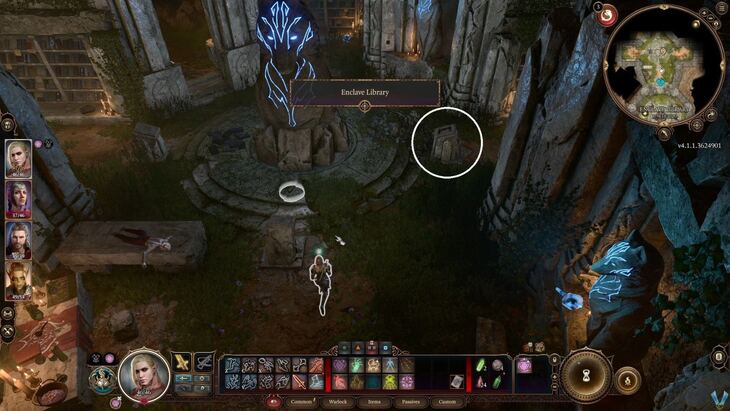 Head down there to find the hidden vault. There's... not much. Go ahead and read the book and notes, loot the crates and pick up the Sorrow, a rare two-handed glaive.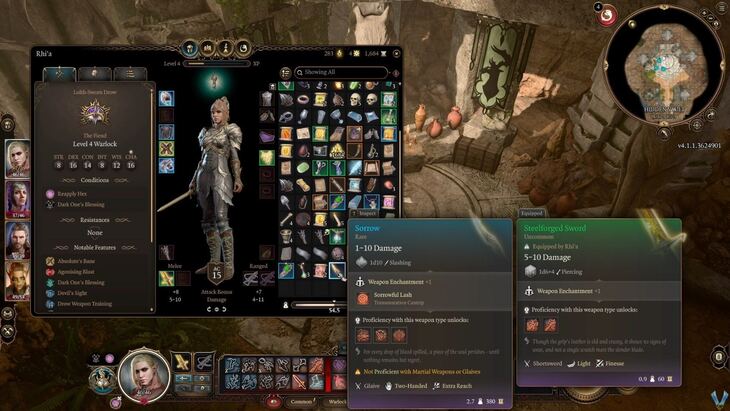 ---
Last edited
by RagingTasmanian
on