NOTE
: this page is for those that arrived through the Underdark / Grymforge. If you came from the Mountain Side, please
CLICK HERE
.
This main quest is part of the main quest "Infiltrate Moonrise Towers" and it plays as we enter the cursed area of the Ruined Battlefield zone.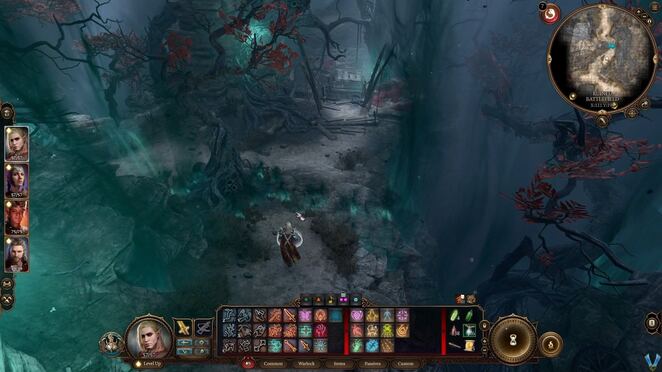 Find a way to protect yourself from the curse
---
As we cross into the cursed area, head southwest across the rope bridge and as soon as you do stop. Further west you'll be able to spot some NPCs.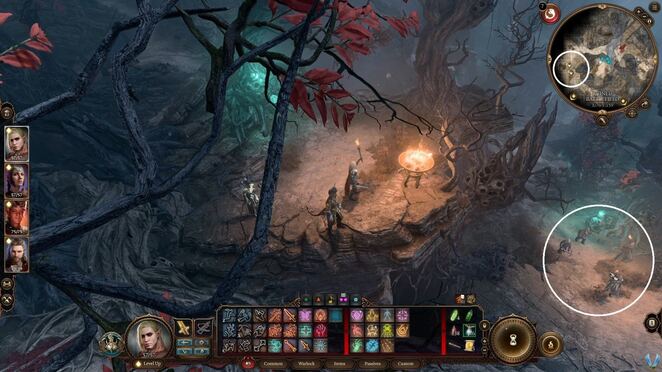 They are friendlies. However, as you approach them you'll enter a fight against several "Shadows". These guys aren't necessarily strong HP wise, but they can really move around and hit hard. What's worse is that to really be able to hit them and make your life easier you'll want a light source on them. If you check here you'll see there's a large brazier you can light up, making your life a bit easier.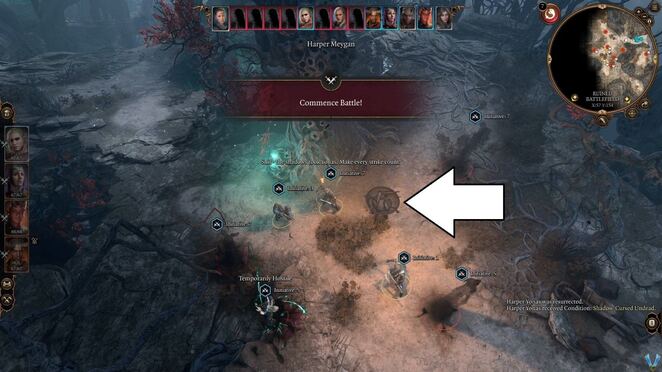 What makes this fight tricky is that we need to be in the light so try to stay close to light sources, especially the brazier in the center. As for their attacks, they mostly use Necrotic Claws. These attack hit twice: once for regular damage and the other for Nectrotic dmg. I'm sure many classes can do this, but seeing how I'm playing as a Warlock you can do then when you Hex one enemy then attack them. One source of damage is the attack while the other is Necrotic dmg. Really good.
What makes this fight more manageable is the fact that we have so many friendly NPCs helping us out.
After the fight one of the NPCs, Harper Lassandra, will tell us about a safe space in this cursed area and she marks it so we can head there. Sounds like a plan!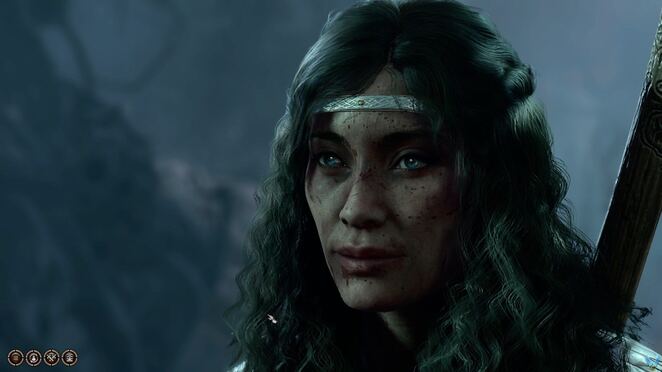 Reach Last Light Inn
---
Now, to reach this safe area is pretty simple. From where we had the fight we want to go south, the follow the path southwest. As we go down the slope you'll see a dying green raven.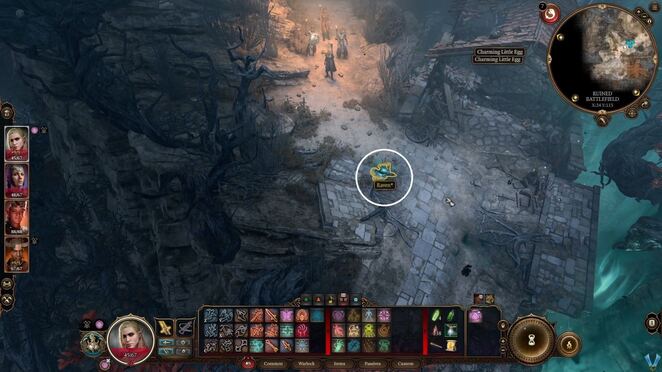 Be VERY careful of this raven. You can ignore it if you so wish, but as soon as you interact with it a flock of ravens will come down to attack you, a whopping 12 of them! They only have 1 HP, which will make you think this will be easy. Well, killing them IS easy, but given that we were ambushed they'll be attacking first. And similar to the previous shadow enemies, their attacks hit twice (normal and necrotic dmg) so you'll be taking A LOT of damage from each raven.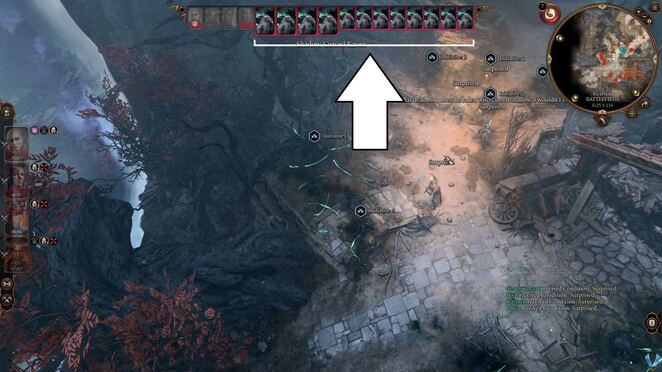 Again, you can simply skip this, but if you want to kill them, what I recommend you do here is to keep your party up the slope and just send one party member to check the raven. This member will most likely be overrun by ravens and get knocked out. The other party members should use AOE attacks to bring these birbs down. A simple Fireball from a Warlock/Wizard can kill a whole bunch of them. Again, it's not a hard fight, but you'll need to survive the initial attack.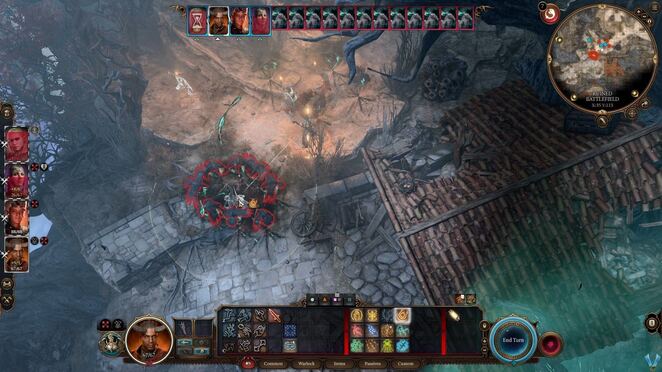 If you happen to win the fight then you can loot the original raven. It has nothing besides a note so feel free to read it down below and avoid the fight altogether. it doesn't start a quest or anything so we'll see if it was worth it.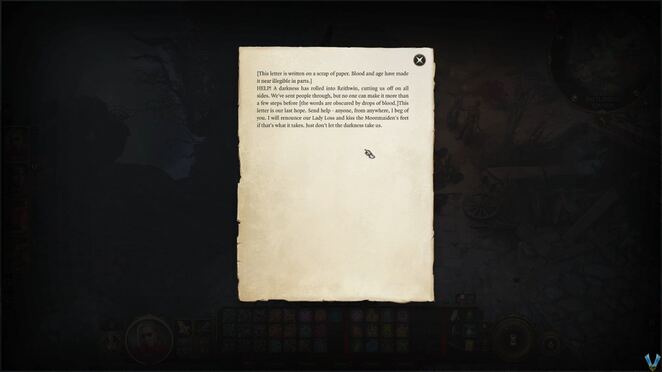 From here continue southwest down the slope to find a sign and a bridge going northeast. You'll also see how the curse is being stopped by a barrier.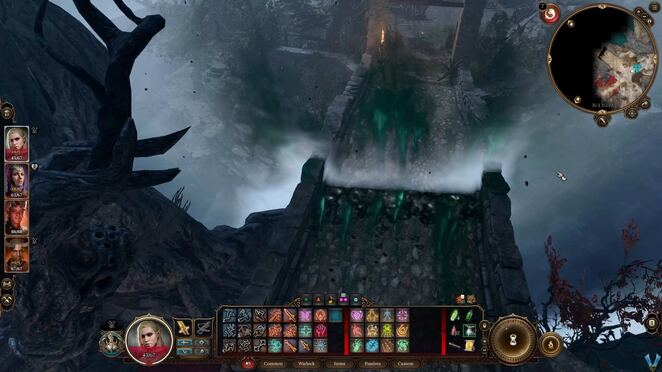 Head through to trigger a scene where we're not exactly welcomed. We meet Jaheira. She seems to be the leader of this place, or this group at least.
NOTE: below is based on us SAVING the Druids' Grove instead of siding with the goblins and attacking it.
The start of the talk with Jaheira won't change no matter which option you pick. As the conversation moves though, she'll pull out a tadpole in a jar and it'll react to us, letting her know we're infected. She thinks we're a "True Soul". Here, passing the [Strength] check will free us from the vines she created to keep us in place, but after that we can either "hold" to continue peacefully, or attack. Attack is not recommended given that there are 8-10 enemies here, and Jaheira is lv.8 with quite a bit of HP.
Selecting any of the other dialogue choices will have the scene continue where someone from the Druids' Grove will help her realize we're not bad guys. Here we can show her the artifact that's been helping us. If you don't show it to her you'll need to pass a [Charisma] check so you can avoid telling her, but if you do tell her then both Wyll and Karlach will approve. After that, the events will proceed the same: her welcoming us to the inn and wanting to have a drink with us later.
Talk to Jaheira
---
Once you regain control, if you have Karlach in the party you can talk to her. She's freaking out because it seems Jaheira is a hero. Nice. I wonder if she appeared in a previous Baldur's Gate game.
Anyway, feel free to explore the area if you wish. Jaheira is in the main building, on the first floor. However, before you talk to her there are several things you can do here. First of all, if you've been doing Wyll's and Karlach's Companion Quests then you most likely need to continue them here (by talking to Counsellor Florrick and Dammon respectively). And just in case you're doing them, Counsellor Florrick can be found inside the main building: on the first floor, northern room. For Dammon you can find him inside the little barn on the northern side of the area.
Besides that, there's a couple more sidequests we can pick up. If you head to the northern side of the area, next to the river (and behind the barn) you can find a Tiefling called Bex. Talking to her will start a new sidequest.
Inside the main building, you can find another tiefling called Cerys. Talking to her will net you another sidequest.
Staying here in the central area, you can most likely find Raphael on the southern side playing chess... lanceboard with the little tiefling Mol. This doesn't seem to trigger anything, but you can never be too sure with Raphael. When you get a dialogue choice, none of them do anything different (passing the [Sleight of Hand] check pisses Raphael off).
After their little scene you can go talk to Mol and try to warn her about Raphael. Of course she won't listen so we'll just have to believe in her.
Enter the northern room on the first floor here in the main building and talk to "Counsellor Florrick". She's part of Wyll's companion quest. Talking to her starts a new sidequest. If she's not here then try talking to the man laying in bed to start the quest (I believe you can start it like this as well).
Once you've picked up these sidequests, go ahead and talk to Jaheira who's at the table in the central area of the main building.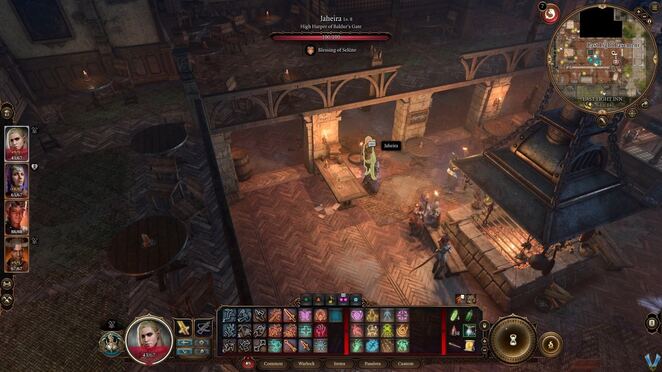 As you talk to her she'll give you a glass of wine. Passing the [Medicine] check will let you know that the wine has klauthgrass, a herb that makes you say the truth. She definitely doesn't trust us haha. Drinking the wine or not won't really change much of the conversation. Drinking it will have both Wyll and Karlach approve, while Shadowheart disapproves. Oh well. Besides that, it let us tell her that the tadpole is giving us powers.
Of course she won't have much else she can do but trust us. She'll also mention who's in charge of the Absolutists, a man by the name of General Ketheric Thorm. And just like everything else here, he's located at the Moonrise Towers. So it seems our objective is simple: use the artifact to enter the towers and pose as a True Soul, very similar to what we did (or could've done) in the Goblin's Camp.
Before you end the conversation, ask Jaheira how we can reach the towers and she'll tell us about Isobel, a cleric that can help us light the dark. She's the one that created the barrier around the inn.
Get help from the cleric Isobel
---
And with that head upstairs and enter the large northern room. In here save your game and read below because it's important.
Opening the northern door and talking to Isobel will start some scenes which transition into a fight in here in the inn area. In this fight they are coming for Isobel and what happens afterwards will REALLY change based on whether they took her or not. If they do end up taking her the barrier around the inn will be destroyed and we'll be tossed in another fight. Definitely not something you want.
Not only that, but right before this fight starts you can also betray them. This will have you switching sides and instead of fighting off the invaders, you're fighting with them. This is much harder than fighting the invaders since we'd have to fight EVERY SINGLE NPC in this area and that's a lot of them. Not only that but we'd also have to fight Jaheira, Isobel and all the NPCs. Not a fun fight.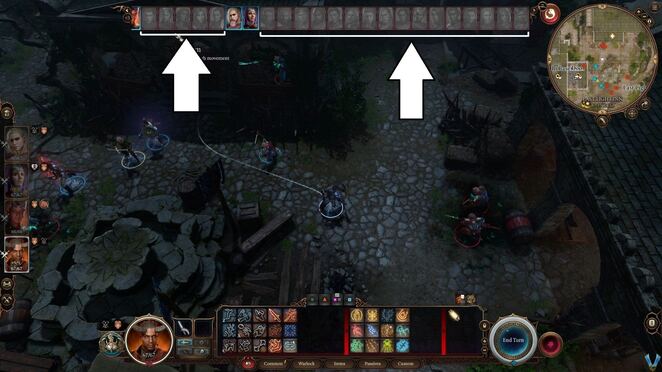 And of course, any of the sidequests you got here (and even the companion quests that took place here) will have changed objectives.
If you want to really keep her safe there's a couple of things you can do to make your life easier. Take a look at the layout of the room. We have the large double doors on the southern side, a door that leads to a hallway going west, and the northern door where Isobel is. What you want to do is to close the southern and western doors and place a character there. This prevents the enemies from opening the outside doors, locking you in this room with the "boss" of this raiding group. This helps you focus on killing him and keeping Isobel healed and alive.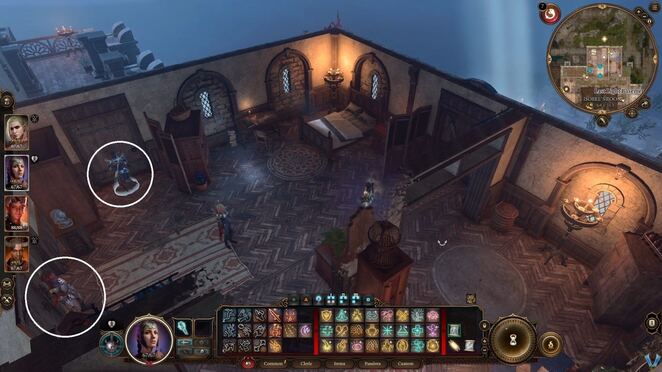 And with that note out of the way, prepare yourself, open the door and talk to Isobel.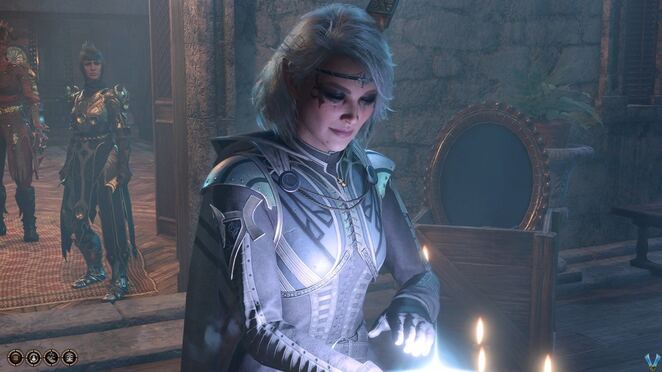 During the scenes she'll cast a spel that will make you immune to the shadows outside of the inn. Yeah, we can now run without the need of holding a torch, but do know that there are areas where the shadows are too strong and you cannot enter unless we have something else to help us. More on that later.
For now continue going through the conversation with her until we are invaded. During your talk with this "Marcus" guy, picking "Sounds like fun - I'm with you" will let you betray those in the haven, but if you don't want that then of course pick any of the other choices. Soon we'll be invaded and we'll be in the middle of the fight.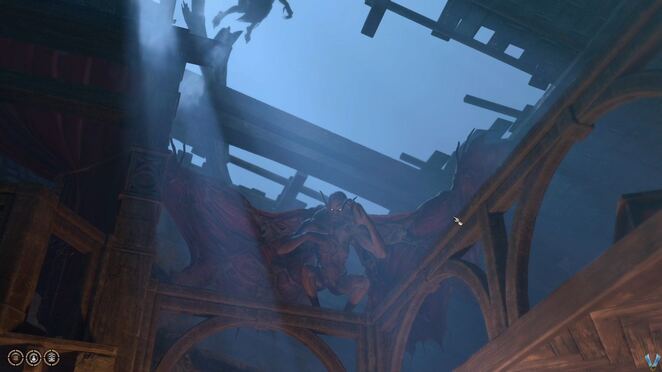 The fight itself isn't that bad. Marcus himself will mostly focus on attacking Isobel. For the 3 times I did this fight he only used melee attacks. They do hurt quite a bit so be careful. What really makes this fight annoying are the Winged Horror enemies. These guys come in groups of 3, which means they move at the same time, and knowing what we know they'll all flock towards Isobel and try to kill her. There are rare times where they target someone else, but expect them moving towards Isobel.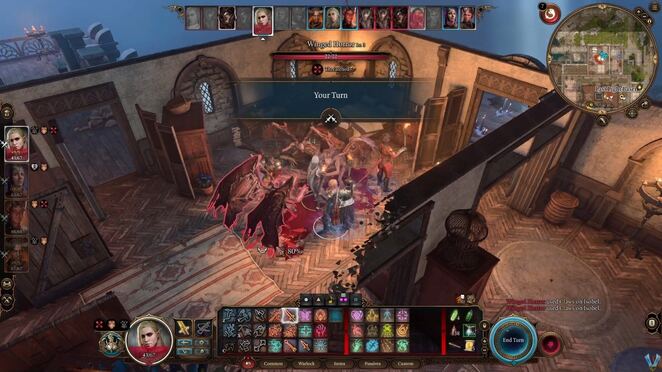 If you happen to close the doors and place a character in front of them, then the enemies will not be able to enter. Of course this will also mean that we cannot attack them. They are actually weak and you can probably get them near death with a Wizard/Warlock's Fireball. Open the doors and fight them only after you defeat Marcus and Isobel is healed up or you've placed a barrier over her.
Speak to the Harpers outside Last Light
---
After the right we'll have a scene with Isobel and Jaheira. Afterwards, make sure to loot Marcus's body after the fight. You can get his "Greatclub" (1-8 dmg.), a Shifting Corpus Ring (Invisibility and Blur), and of course a Mind Flayer Parasite Specimen. Fantastic.
Head back downstairs and talk to the little tieflings. Remember we saw the enemies get away with Mol? Yeah, talking to the little kids will start a new sidequest.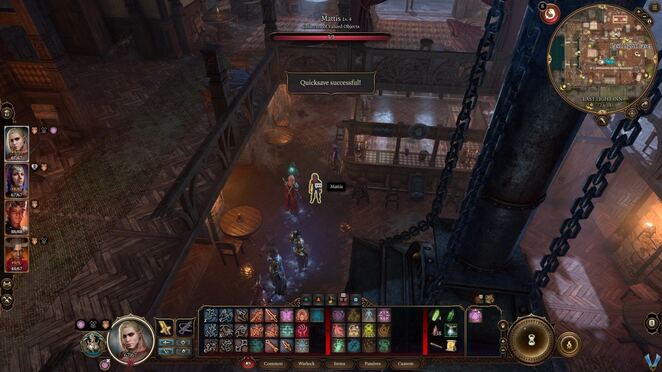 And with that head back outside and leave the Last Light Inn area via the southeastern exit to find several Harpers. They'll tell you about setting up an ambush for the cultists and you can either go with them, or go there later. If you choose the latter he'll mark the location on your map, which I'll leave below.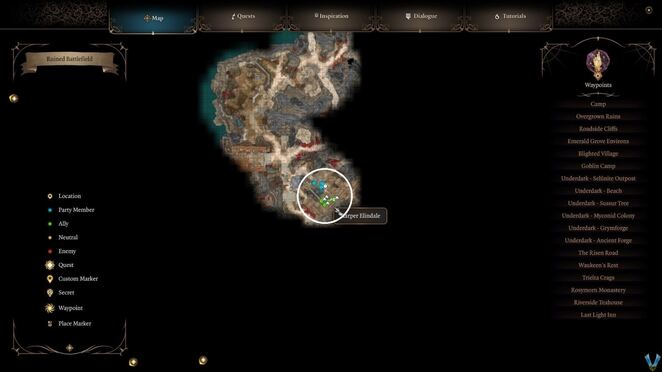 You pretty much want to exit the Last Light Inn area and follow the path southwest. You'll find several corpses here that you can loot. You'll find some keys on them (Worn Key, Prison Key, and Storage Key). These are used for the basement of the Last Light Inn but you can also lockpick them.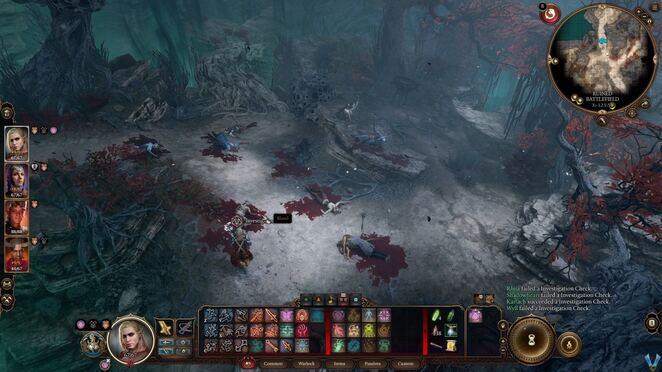 From here you simply want to go west until you reach a ruined building (past the small area with the white torches). Do be careful because there are some enemies here that are waiting to ambush you, but you can completely ignore them and instead go up the stairs nearby and enter the ruined building.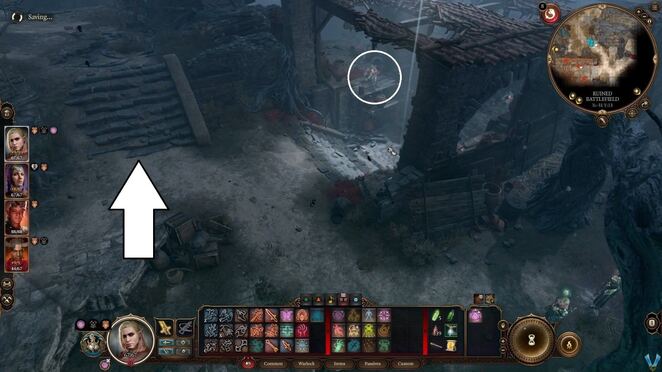 In here you'll find a campfire you can light up, and the Harpers up the stairs.
Save your game and talk to any of the Harpers to trigger a scene where we see a caravan passing through. You'll notice that the spider-looking monster called Kar'niss has a super bright lamp. Yeah, this is a Moonlantern. You may have gotten a broken one from Nere in the Grymforge. This seems to be what we need in order to proceed through the thickest parts of the darkness.
As the enemies notice you, you will have a choice right away:
Clear your throat to make yourself known.
Stay hidden, keep watching.
Signal the Harpers to attack.
Having the Harpers to attack will start the fight immediately. If you decide to come out and show yourself, you can still have the Harpers attack if you so wish, but you can also tell Kar'niss that the Harpers are here ready to ambush. This of course will change everything and you'll end up fighting the Harpers while having Kar'niss and the goblins as allies.
If you decide to stay hidden, Kar'niss will end up killing one of the goblins traveling with him, making it one less enemy to deal with if you continue to side with the Harpers. After seeing him deal with the goblin, we'll end up having a choice:
Clear your throat to make yourself known.
[Stealth] Try to fade into the background until they pass.
Signal the Harpers to Attack.
Emerge from the shadows and attack!
Passing the Stealth check will have the Harpers attack while you remain hidden, giving you a chance for a stealth attack. However, choosing any of the other 3 options will start the fight normally.
For the fight itself, it's on the simpler side for a couple of reasons. The amount of enemies we face here is on the lower side, totalling 5 enemies (6 if Kar'niss didn't kill the goblin in the scene). However, after killing an enemy (or an ally dies), if their body is not near a light source, they'll come back to life with less HP, but they will still be a new NPC to deal with. This however, is cool because they are not your enemies nor your allies. What I mean by this is that they'll pretty much attack either someone completely random (enemy or ally), or the closest to them. They can be really helpful, but also really annoying.
That being said, if you take them out again then they'll stay down forever.
NOTE: staying in the dark with no light source nearby will have you or the enemies take ~5 necrotic dmg. per turn).
Now let's talk about the enemies running around. One of the goblins is an archer. Although super weak HP-wise, this little guy likes using Arrows of Lightning. These have a little AOE to wherever they hit and will cause both shock and piercing dmg. (piercing only to the one hit). Really annoying but the damage isn't so bad.
Another goblin, Badi, is your normal goblin. Attacks using his mace and torch. The torch itself barely does any damage, but his mace can do a bit more (around 7-9 dmg.). What makes him annoying though is that he throws items, namely Alchemist's Fire. This don't hit for more than 5 fire dmg., but will inflict burn that'll hurt every turn and also burn the ground, forcing you to move away ASAP.
The regular goblin you want to be careful of is Kansif. He uses Cloud of Daggers, which brings an AOE of daggers that does a ridiculous amount of damage per turn (4-16). This is a concentration attack so move out of the spell ASAP and try to get him to unfocus to drop the spell.
As for Kar'niss, this guy has a lot of HP, xxx HP. Given all the help we have of the Harpers, he'll go down pretty quick, but you want to be very careful of the skills that he has. For starters he has Venom Claws, an attack that does both piercing and poison dmg. to the target, of course with a chance of inflicting poison on the target. For his other offensive attack, he can use Multiattack, which is a horrible move that allows him to attack 3 times in a row, dealing both slashing and psychic dmg. (6-18 dmg. each hit). If you're really unlucky this attack will most likely knock down any of your characters, unless you have a ridiculous amount of HP (Karlach can survive the attack and probably your OC).
It can also cast Sanctuary, which is a pretty neat spell that prevents you from being able to attack and even target him at all. This is bad but note that he can take splash damage so if you were to hurl a firebolt next to him it'll still hurt him.
However, given that you cannot "attack" him, he also can't attack you. In doing so his sanctuary will go down and he won't be able to cast it for the next turn. It is pretty much a double edge sword that you can take advantage of.
So what to do in this fight is quite simple: focus on the smaller fry first before you go all out against Kar'niss. What made my life so much easier is that he decided to focus on one of my characters that was on the roof so he went up there. Given that she's a warlock, I used her Eldritch Blast (which also has the "push away" perk) I sent him flying off the edge of the roof all the way to the bottom southwest. This did a whopping 93 fall dmg. Practically half of his HP. Even if you're not on the roof, taking advantage of the small cliffs is a sureway to do tons of damage. Not only that but this will make the Harpers use dash and rush towards him, making Kar'niss focus on them while you can attack for afar.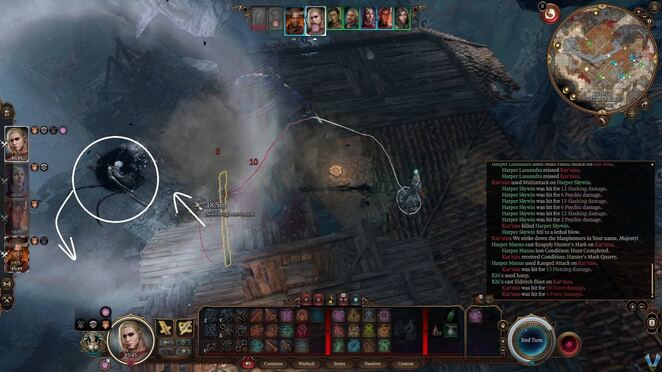 Overall not a difficult fight if he's not focusing on you, but if he is, try pushing him away with any of your skills/spells that can do so and he'll start focusing on the NPCs, giving you a much easier time.
Take the Moonlantern
---
Once the fight is over, go ahead and loot Kar'niss's body to find the Cruel Sting longsword (2-16 dmg.) and the Moonlantern.
As you pick it up you'll trigger a scene where we get to talk with the pixie inside.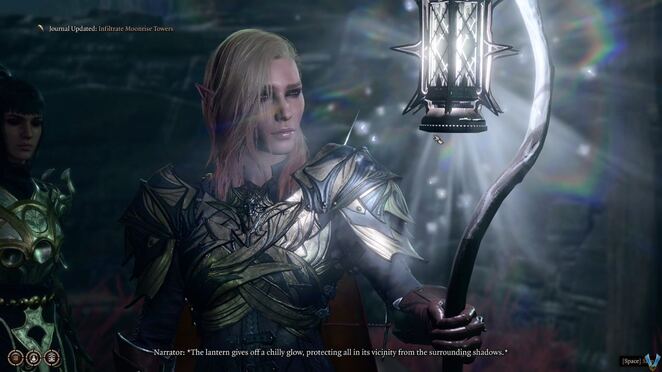 As the conversation starts you have some important choices:
What's the mechanism at the base of the lantern?
Release the pixie.
Ignore the pixie. You'll be needing this lamp.
Examining the mechanism will have the pixie tell you that it's pretty much a torture mechanism that hurts her but keeps the light going. Horrible. After this though, you'll have several options. Letting the pixie go and smashing the lantern on the ground have pretty much the same effect (releasing her). You can also use the mechanism to torture her a bit, but in the end you'll still have the sa me options: keeping the lamp and/or releasing the pixie.
These pretty much dictate how the protection against the darkness will work:
Keeping the lamp with the pixie inside will will net you the lamp BUT you'll have to carry it on your off hand (if you can dual wield) or carry it on your main hand. Although it doesn't sound that bad, you'll still have to deal with the small radius the lamp shines.
Releasing the pixie is a much better deal in my opinion. Not only do most of your party members approve, but doing so will give you the choice to ask her for help getting through here. She gives you a little bell that'll protect you against the darkness.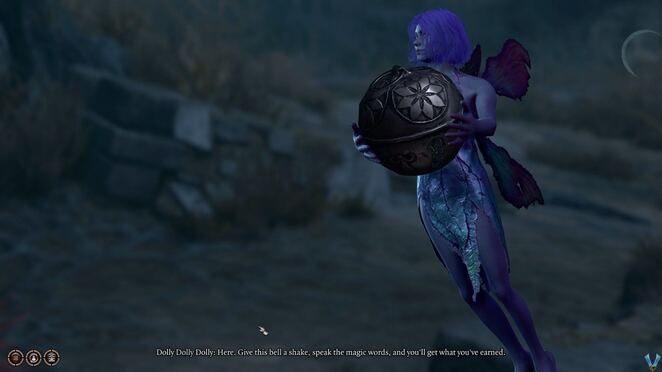 This little bell is the best thing ever because when used, it'll cast a spell on all your characters and it will protect them against the darkness. Pretty much a better version of the spell Isobel cast on us before. This also means that you're not confined to the small area the lamp illuminates.
That being said, there's only one little detail: the effect doesn't last forever so you'll need to use the bell again. You'll need to keep an eye on your character portraits for the spell icon. You will also know when it disappears because you'll enter turn based mode. It's suggested you add the item to your hotbar on the bottom of the screen so you don't have to look for it every time.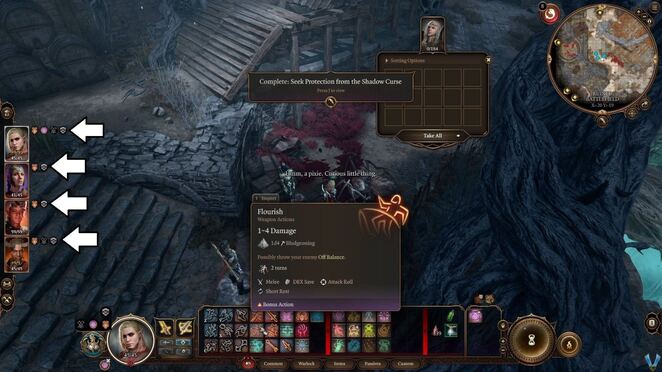 However, when ringing the bell Dolly Thrice will appear and when she does you'll have to suck it up and ask for her help. Trying to act smug with her will get you nothing but being transformed into an animal. Not fun.
And with this THIS quest will come to an end and the main main quest "Seek Protection from the Shadow Curse" will continue.
---
Last edited
by vinheim
on