Welcome to our Dredge (2023) walkthrough guide.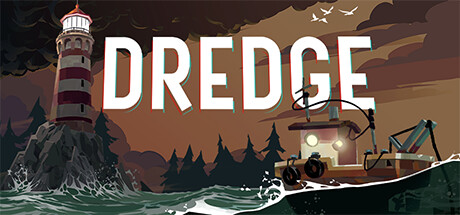 Introduction
Dredge is a game developed by Black Salt Games that doesn't specifically fit a single genre - overall, it's a fishing game that draws most of its elements from the mystery and survival genres.
In it, you incarnate the unnamed Fisherman, who arrives at the uncanny Marrows: an archipielago within a vast sea that's populated by 128 Fish (150 if we're counting purchaseable DLC), some of them being quite... bizarre. Will you be able to use your fishing skills to survive, upgrade your equipment and uncover the secrets that lurk underwater?
What our walkthrough will offer to you:
A complete walkthrough to the game's Main Storyline - including both of its Endings.

We've also written a separate Endings Guide, for those solely interested in these.
A Pursuits page, which goes over all of the optional Pursuits (sidequests) you can trigger in the game.
[NEW! NOV '23] Check out our walkthrough to the Pale Reach DLC and all of its Pursuits.

You'll have to purchase this piece of downloadable content separately in order to play it.
An Ancient Shrines Guide, showing you how to solve the mysterious 'Ancient Shrine' puzzles and obtain the Ancient Equipment - otherwise unfindable.
[UPDATED W/PALE REACH!] A List of Fish, detailing information that'll help you find and capture all Fish in the game.
Table of Contents
Walkthrough
The Pale Reach (DLC)
Guides
Annex
---