Welcome to our Story of Seasons: A Wonderful Life (2023) walkthrough guide.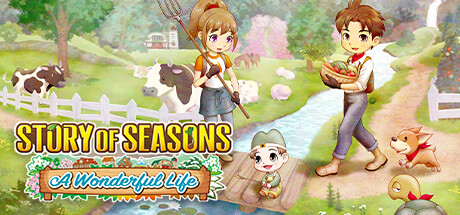 Introduction
Introducing our comprehensive series of guides for the remake of the beloved farming/life simulation game, "Story of Seasons: A Wonderful Life." Step into the shoes of the protagonist as the newly appointed owner of a farm in the serene rural town of "Forgotten Valley," bequeathed to you following the passing of your father. Prepare to embark on a remarkable adventure, where the passage of time becomes a central theme, granting you the opportunity to witness not only the evolution of your farm but also the entire tapestry of "Forgotten Valley" and its inhabitants.
While certain mechanics and elements have been simplified, it by no means implies an easier conquest. The game introduces a distinctive calendar system, revolving around 10-day "Seasons" akin to months, encompassing a full year of 40 days. Intricately woven into this temporal story are six captivating "Storyline Chapters," requiring a strategic allocation of your time to achieve each year's objectives.
Our set of guides will offer you:
A complete and comprehensive walkthrough of all of the 7 Storyline Chapters in the game, their objectives, and how to complete them.

We offer a Introductory page, intended for new players and which covers the game's base mechanics and provides useful tips and tricks in order to help them settle.
The usual Character Guides, divided into the 'Bachelors and Bachelorettes' and 'Other Residents' categories, covering each one of the NPCs' events and preferred gifts.

There's also the page titled 'Your Child' specialised on the Child you and your spouse give birth to by Year 2, their unique events, and tips on how to raise them.
Our Marriage Guide provides you with useful tips and tricks on how to get married as soon as possible, one of the game's early objectives.
An Animal Care Guide, providing you pointers into everything you need to know about how to properly take care of your Animals and get the best Produce out of them.
Our Archaeological Finds Guide includes a comprehensive list of all the Archaeological Finds there are to be found on the Dig Site.
A Fishing Guide, which will not only explain how to perform this activity, but also provide you with a list containing the location of every single Fish.
Our nifty Crop Raising Guide will provide you with everything you need to know about Crops, giving you convenient tips on how to raise them, listing those that are most profitable, and even detailing every single one of the possible Crop Fusions that you can obtain.
The usual Festivals Guide, detailing the dates of every single festivity that takes place in Forgotten Valley. Not a big focus is put on these in this game, so we've decided to compile everything into a single page.
Table of Contents
Walkthrough
Character Guides
Guides
Shops & Facilities
---