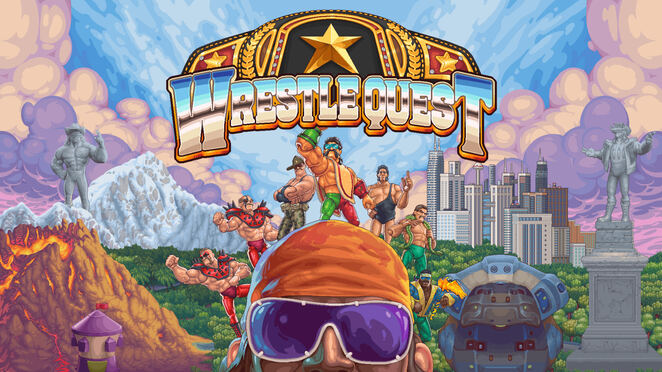 Fantastic (and plastic) wrestling action figures come to life in WrestleQuest, a pro wrestling JRPG from Mega Cat Studios. It's up to you to raise a stable of rookie slam junkies to become world champions by exploring the weird and wonderful worlds of the Toy Box, and maybe even enlist the guidance of legendary wrestling icons from real life as managers including "Macho Man" Randy Savage, Jake the Snake Roberts, André the Giant, and much more!
WrestleQuest is as much a love letter to the theatrical antics of 20th-century American professional wrestling as it is a JRPG, complete with the names and likenesses of several classic WWF wrestlers from the 1980s WrestleMania era!
In the Ring
---
What's wrestling without matches?!? Like any good JRPG, you'll frequently enter turn-based battles against enemy parties throughout the game. You'll use a combination of Strikes and Gimmicks to defeat foes, but enemy wrestlers and tough guys require additional flair to bring down!
Landing attacks (Strikes or Gimmicks) against targets will often force them back against the ropes on their respective side of the ring. A target that gets knocked back enough will be set up for a follow up attack!
Many attacks and situations (from both your party AND the enemy!) will trigger onscreen button prompts. Press this button within the time limit (depicted as a circle gauge around the prompt) to successfully complete the prompt. This will increase damage dealt by attacks, and allow you to perform follow up attacks during your turn.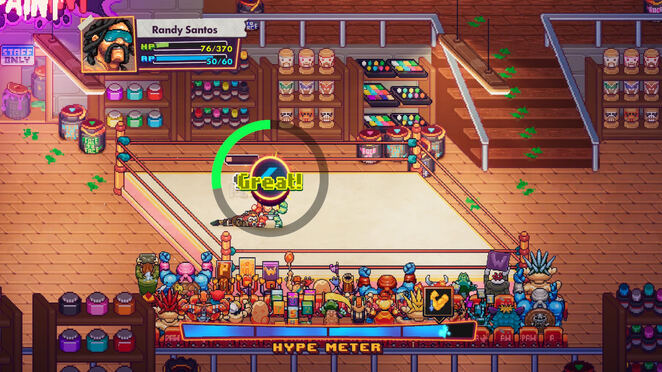 Some button prompts require you to mash the indicated button multiple times before the timer runs out. This typically occurs when the enemy manages to pin your character!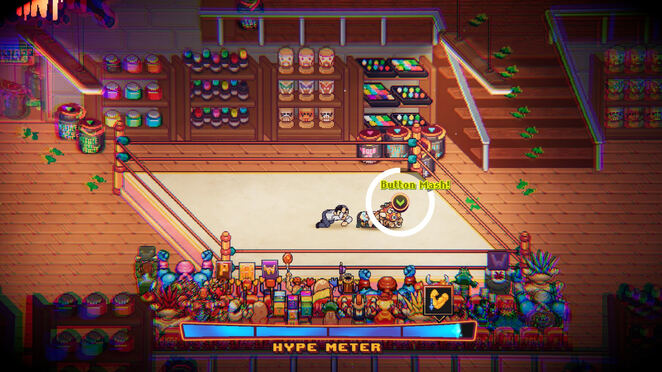 Friendly units and enemies alike become Fatigued at low HP. Once an enemy wrestler or other tough guy enters the Fallen state by losing ALL their HP, your party members can use the Pin Gimmick to put them into submission! Hit the moving green indicator three times to complete the pin attempt challenge to take them out of the fight for good. If you fail the pin attempt, the fallen opponent will revive with a small amount of HP. You'll need to drop them into fallen state again in order to Pin them again, but subsequent pin attempt challenges will become easier.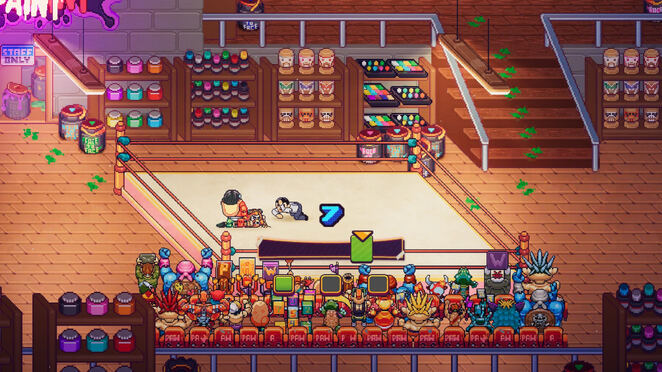 Be warned that you'll be challenged to button prompts during the opponent's turns as well. Completing these will reduce incoming damage, counter follow up attack attempts, or avoid being Pinned into submission yourself!
Know Your Role
---
All playable characters have the following stats that you can use as a rough guideline to determine their roles during combat.
| | |
| --- | --- |
| HP (Hit Points) | Character's Health |
| AP (Action Points) | Used for Gimmicks |
| ATK | Physical strike damage, determined by character's Weapon Rating and Power |
| WR (Weapon Rating) | Character's total Weapon Rating value (including equipped gear) |
| AR (Armor Rating) | Character's total Armor Rating value (including equipped gear) |
| DR% (Damage Reduction) | Percentage of how much incoming damage is reduced. Determined by character's Sturdiness and total Armor Rating. |
| STU (Sturdiness) | Character's base toughness. Affects Damage Reduction and resistance to certain negative physical status effects |
| SPD (Speed) | Determines character's inititave and ability to dodge in combat. Affects TBJ's stealing gimmick. |
| CHA (Charisma) | Affects Hype Meter generation rate |
| TLN (Talent) | Affects certain gimmicks, and resistance to certain negative mental status effects |
| LUK (Luck) | Affects many stats in small and strange ways! |
| ACC (Accuracy) | Chance to hit with physical strikes. Determined by attacker's Power + Luck, versus to target's Dodge |
| DGE (Dodge) | Chance to dodge attacks. Determined by target's Speed + Luck, versus attacker's Accuracy |
| POW (Power) | Affects damage of physical strikes |
| CRT (Critical) | Chance to land critical strikes on targets |
| INF | Hype Meter increases by this stat's amount after each action. Determined by Charisma |
You can customize your wrestlers even further with Hype Types, which serve as Wrestlequest "class" archetypes! Each Hype Type encourages different styles of play, ranging from all-out attack to support.
Hype Type
Pros
Cons
Powerhouse

Attacking generates 1+INF Hype
Defeating an enemy generates 5+INF Hype. Pinning does not count!
Each Critical Hit generates 10+INF Hype

All Gimmicks cost +10% additional AP
Damage Reduction (DR) reduced by 10%

Showman

Taunting generates 10+INF Hype
Nailing button prompts during combat generates 3+INF Hype

ALL friendly units take 50% extra damage for one turn after this character Taunts
Damage Reduction (DR) reduced by 10%

Sidekick

Performing healing or buffing Gimmicks generates 3+INF Hype
Healing a Fatigued unit generates 5+INF Hype
Reviving a Fallen unit generates 10+INF Hype
Using items generates 1+INF Hype

All Gimmicks cost +10% additional AP
Normal attacks deal -10% damange

Technician

Nailing button prompts during combat generates 3+INF Hype
Pinning an enemy generates 5+INF Hype
Inflicting any debuff on an enemy generates 3+INF Hype
Dealing bonus elemental damage on an enemy (i.e. attacking their weakness) generates 3+INF Hype

Normal attacks deal -15% damange

Underdog

Performing actions while Fatigued or debuffed generates 3+INF Hype
Performing actions while any friendly unit is Fallen generates 5+INF Hype
Breaking free of an enemy's pin attempt generates 10+INF Hype

Normal attacks deal -15% damange
---
Last edited
by Wolfwood
on